bulk of Argan Shampoo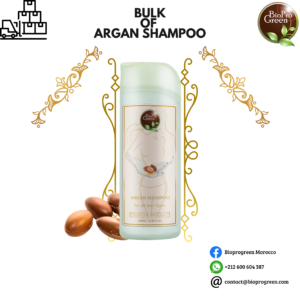 Description:
Argan oil-based shampoos are highly appreciated for their numerous benefits for hair, but purchasing options can be limited. Bulk argan shampoos offer an eco-friendly and cost-effective alternative for consumers who are conscious about their budget and the environment. In this article, we take a closer look at the benefits of bulk argan shampoos and why they are a popular option for people who want healthy and shiny hair.
The Eco-Friendly Option
Bulk argan shampoos are often offered in reusable or recyclable containers, making them an environmentally friendly option compared to individual bottles. Reusable containers can be refilled, reducing the amount of plastic waste that ends up in landfills and oceans. Bulk packaging also helps reduce greenhouse gas emissions associated with transport since shampoos can be shipped in larger and more compact quantities.
In addition to environmental benefits, bulk argan shampoos also offer economic benefits for consumers. By buying in bulk, consumers can often enjoy more affordable prices compared to individual bottles, which is particularly advantageous for frequent buyers. Additionally, reusable containers can be used multiple times, leading to long-term savings.
The hair benefits of argan shampoos are also significant. Argan oil is known to be rich in nutrients and antioxidants, which help nourish and hydrate hair while reducing frizz and protecting hair from environmental damage. Bulk argan shampoos can also be blended with other natural ingredients to enhance hair benefits.
The packaging of bulk argan shampoos is also important to ensure product quality. Reusable containers must be designed to protect argan oil from light and air to avoid nutrient degradation. Amber glass containers are often used for their ability to preserve argan oil. The containers must also be leak-proof to prevent spills and ensure the product stays fresh.
FAQ
1) How can I get samples?
To get samples of our products, just contact us and we will be happy to offer you some. For new customers, courier costs will be charged, but samples will be free. In addition, these costs will be deducted from the official order payment. To arrange an RPI (remote pickup) service on FedEx, UPS, DHL, TNT, etc., please contact us and we will help you arrange this.
2) How does your factory perform in terms of quality control?
In our factory, quality is our top priority. We have strict quality controls in place at every stage of the manufacturing process to ensure that all our products are environmentally friendly and meet the highest standards. In addition, all workers are trained to ensure quality control, whether in the stamping, printing, sewing, or packaging process. Finally, our quality control department is specifically responsible for quality control in each process.
3) Can your factory print or emboss my logo on the goods?
We are happy to personalize our products with your logo or other distinctive marks. We can print your logo on the goods or their packaging box, depending on your needs. For patent protection reasons, we usually require a letter of permission for the logo, but we can also produce the goods based on customer samples or on the image, logo, sizes, etc. Contact us for more information on customizing our products.
 N°200 Lot Al Massar, Z.I Sidi Ghanem,  Route de Safi, 40 000 Marrakech , MOROCCO
Tel:+212 524 335 449
MOB:+212 600 604 387 (Whatsapp / Viber)
Fax:+212 524 457 961
Website: www.bioprogreen.com
E-mail: contact@bioprogreen.com
Follow the US:

 http://facebook.com/bioprogreen
 https://www.instagram.com/bioprogreenmorocco
https://www.youtube.com/@bioprogreenmorocco4708