Moroccan Argan oil is all-natural, cold-pressed from the Argan tree native to South-western Morocco. No chemicals added and safe for all hair, skin and body types.  More importantly It is a sharp contrast to the excessive chemical-rich cosmetic formulas found today in the market.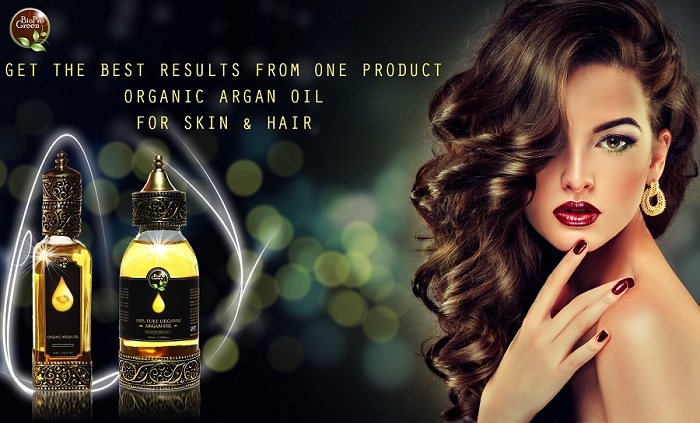 Pure and Organic Argan Oil
It's easy to see why pure argan oil is often called liquid gold – this versatile oil moisturizes while it repairs for a powerful and long-lasting difference that you'll feel every day. We import only the pure oil so that you can enjoy the full effect of its natural strength.
100% PURE. 100% Pure Organic Argan Oil. Cold-pressed, unrefined with no chemicals added.
Science + Nature. USDA Organic. Pesticide-Free. No SLS (Sulfates). No Parabens. No Artificial Colorants. No Synthetic Fragrances. No Harmful Chemicals, Gluten Free. Hypo-Allergenic. Made in Morocco. Color Safe. Dr Trusted.
Exceptional Quality. This 100% Argan Oil is manufactured using the highest industry standards.
Body, Hair & Face Treatment. Restores elasticity, softens wrinkles and fine lines heals dry scalp and restores nutrient content to skin cells treating an array of skin conditions.
Gentle Yet Effective. Specially formulated to effectively treat all hair, scalp and skin types. Also gentle enough for daily use.
Our Argan hair oil is used in many first world countries as the main component to treat hair, nurture it and make it stronger, able to face the numerous diseases of hair diseases. Argan hair oil has many benefits, we can mention the following :
Eliminate dandruff also dry scalp

Tame frizz, flyaways, and repair split ends by using it as a leave-in conditioner

Protect your hair from the heat of blow dryers and flat irons

Treat dry, brittle hair

Also Protecting your hair from swimming

Treating hair loss

Define curls

Give your hair a shinier, glowing look

Sun protection
You can enjoy these numerous benefits today, by buying our hair argan oil, your hair will suffer no longer. Even more  at Bioprogreen, we provide you with the most well-extracted argan hair oil available in the market right now. It is simple just place your order today whether it is in wholesale, bulk or individual pieces. We will provide with the quantity you want but always with the highest quality possible! And since we deal with companies most of the time, we are more than happy to offer a private labeling service for the clients wishing to resell the product in their home countries. We welcome any potential partnership opportunities.