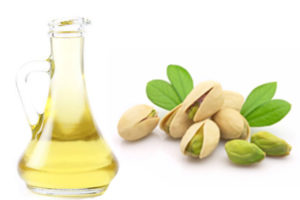 5 to 10 meters high, the pistachio tree grows in hot and dry climates, especially at altitude. Its production of grapes is biennial. It reaches its full maturity at 12 years old.
Pistachio Vegetable Oil is excellent for regulating cholesterol levels, it is rich in vitamin E and antioxidants. It is also rich in omega 9, which is too little present in our diet in general and yet essential for health. As such, its composition in oleic fatty acids is almost identical to that of olive oil.
History of Pistachio Vegetable Oil
Originally from western and minor Asia, this shrub, imported from Syria by a Roman governor, Lucius Vitellius, was acclimatized to the regions of the western Mediterranean. Its fruit, the pistachio, was already appreciated 7000 years BC.
In the Middle Eastern Muslim world, the pistachio has the reputation of being a talisman capable of dispelling love spells and it is even recognized as having an aphrodisiac nature.
The pistachio tree even served in the 18th century to demonstrate the existence of sexuality in plants. In 1702, Joseph Pitton de Tournefort brought back some pistachios from China and planted them in the National Museum of Natural History, a pistachio tree then grew. In 1718, Sébastien Vaillant noticed that this lonely pistachio tree flowered every year, but never produced fruit; just like another pistachio tree with different flowers located in Paris but too far to be pollinated. He had the idea of ​​bringing a branch from the flowering tree in the Museum and shaking it next to the other pistachio tree.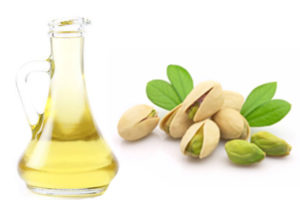 Properties of Pistachio Vegetable Oil
Pistachio Vegetable Oil is antiseptic, painkiller, stimulating and toning, antioxidant as well as a decongestant since it is rich in:
High amounts of protein, antioxidants, and unsaturated fatty acids; phytosterols;

Copper has an anti-inflammatory action and which is useful for the formation of hemoglobin and collagen;

Magnesium which is necessary for bone development, muscle contraction, the transmission of nerve impulses, energy metabolism;

Iron, is essential for the transport of oxygen and the production of red blood cells;

Potassium is involved in the transmission of nerve impulses, the balance of blood pH, and promotes digestion;

Zinc helps healing and participates in the release of insulin;

Selenium prevents the formation of free radicals in the body;

Manganese which prevents damage from free radicals;

Phosphorus which ensures the maintenance of bone and dental health participates in the balance of blood ph, intervenes in the growth and regeneration of tissues;

Vitamin K in quantity, vitamin B6, and vitamin B1;

Dietary fiber.
Attention, a risk of allergy is possible for the consumption of peanuts, hazelnuts, walnuts, cashew nuts, Brazil nuts, and almonds (oleaginous and shelled fruits).
Dietary interest:
With a high rate of unsaturated fatty acids, Pistachio Vegetable Oil is beneficial for health.
Cosmetic interest:
Excellent for the skin, Pistachio Vegetable Oil nourishes, softens, and hydrates the epidermis thanks to the vitamins it contains. Used in massages, it penetrates easily and brings suppleness and softness to the skin.
Use of Pistachio Vegetable Oil
Gastronomy:
Pistachio Vegetable Oil, with its powerful flavor, does not go with everything. Nevertheless, it is found in both savory and sweet dishes (fruit pastries). It is perfect on all kinds of green salads: endives, romaine, and lamb's lettuce, combined with balsamic vinegar or lemon juice. Pair it with avocado, and beetroot. On the fruit side, raw apple or pear. The association with fish, whether smoked or grilled, is also very successful.
Botany:
The pistachio tree belongs to the Anacardiaceae family. It is a small deciduous, branched fruit tree with a gray trunk, which can measure up to 10 meters in height and live for several hundred years. Originally from Asia, it is grown mainly in the Mediterranean regions, particularly in Sicily and Turkey, as well as in the United States.
Branding and Package Design of Pistachio Vegetable Oil
Oriental Group provides a complete branding service for client wishing to penetrate their domestic markets using their very own Pistachio Vegetable Oil Wholesale.
Bottling
We have many varieties of bottles and containers at our disposal, of course the client may supply their own, or can send us a sample for us to mass produce.
Labeling
The client can supply their own label or have one produced for them by our team of designers, we can design exactly to your specifications.
Casing
We can supply casing solutions to meet any specifications ranging from customized design cases, case printed designs and other custom requirements.
Please contact us with your requirements.
Further, you may please note that we have the strengths and capabilities to deliver international-quality of Pistachio Vegetable Oil. Our additional strength today is excellent logistic control system, which facilitates faster order processing and shipment. We have even automatized most of the production chain to ensure faster production and accuracy.
FAQ Pistachio Vegetable Oil:
How can I get some samples?
We are honoured to offer you samples. New clients are expected to pay for the courier cost, the samples are free for you, and this charge will be deducted from the payment for formal order.
Regarding the courier cost: You can arrange a RPI (remote pick-up) service upon FedEx, UPS, DHL, TNT, etc. To have the samples collected; or inform us your DHL collection account. Then you can pay the freight direct to your local carrier company.
How does your Pistachio Vegetable Oil do regarding quality control?
Quality is priority! Every worker keeps the QC from the very beginning to the very end:
All raw material we used are environmental-friendly.
Skilful workers care every detail in handing the stamping, printing, stitching, packing process.
Quality control department especially responsible for quality checking in each process.
Can your factory print or emboss my logo on the goods?
Yes, we can print your logo on the goods or their packing box, for patent protection purpose, a letter of attorney (letter of authorization) shall be provided for the logo.
We usually produce goods based on customer's samples or based on customers' picture, logo, and sizes etc. detail information design for customers.
Company Information:
Oriental Group
N°200 Lot Elmassar, Z.I Sidi Ghanem
Route de Safi
40 000 Marrakech
MOROCCO
Tel: +212 524 335 449
MOB: +212 600 604 387 (Whatsapp / Viber)
Fax: +212 524 457 961
Website : https://www.bioprogreen.com/
E-mail : contact@group-oriental.com
FOLLOW US:
http://facebook.com/grouporiental
http://twitter.com/grouporiental