Perfume Distributor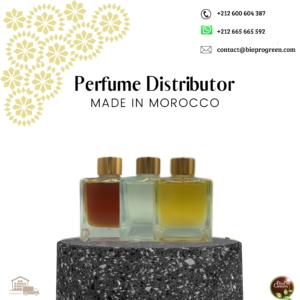 Benefits 
Distributors of perfume products offer a multitude of benefits to both retailers and consumers. By partnering with various manufacturers, distributors provide a diverse range of perfumes, giving retailers the opportunity to cater to different preferences and needs. This wide selection ensures that consumers can easily find their favorite fragrances in stores, online, or through other distribution channels. Distributors play a crucial role in promoting and marketing perfumes by collaborating with manufacturers to launch effective advertising campaigns, special promotions, and events that capture consumer attention and drive sales.
Advantages 
Perfume distributors bring numerous advantages to manufacturers, retailers, and consumers alike. With their extensive distribution networks, distributors enable manufacturers to reach a broad spectrum of retailers and consumers, enhancing the market presence and visibility of perfumes. By managing logistics and inventory, including warehousing, delivery, and restocking, distributors allow manufacturers to focus on product creation while ensuring continuous availability in the market. Additionally, distributors possess valuable market expertise and can provide guidance to manufacturers and retailers, leveraging their knowledge of trends, consumer preferences, and effective sales strategies to help industry players make informed decisions.
Marketing Strategies in Perfume Distribution
Perfume distributors employ various marketing strategies to effectively promote and distribute their products. They prioritize building strong relationships with retailers, offering exclusive deals, incentives, and support to foster loyalty and encourage retailers to stock and promote their perfume products consistently. In the digital age, distributors leverage online platforms to showcase their perfume products, establishing e-commerce channels, engaging in social media marketing, and collaborating with online retailers to expand their market reach. Active participation in trade shows, exhibitions, and industry events is also a key aspect of the marketing approach employed by perfume distributors. These events provide opportunities to network, build brand awareness, and generate valuable sales leads.
FAQ
1) How can I get samples?
To get samples of our products, just contact us and we will be happy to offer you some. For new customers, courier costs will be charged, but samples will be free. In addition, these costs will be deducted from the official order payment. To arrange an RPI (remote pickup) service on FedEx, UPS, DHL, TNT, etc., please contact us and we will help you arrange this.
2) How does your factory perform in terms of quality control?
In our factory, quality is our top priority. We have strict quality controls in place at every stage of the manufacturing process to ensure that all our products are environmentally friendly and meet the highest standards. In addition, all workers are trained to ensure quality control, whether in the stamping, printing, sewing, or packaging process. Finally, our quality control department is specifically responsible for quality control in each process.
 3) Can your factory print or emboss my logo on the goods?
We are happy to personalize our products with your logo or other distinctive marks. We can print your logo on the goods or their packaging box, depending on your needs. For patent protection reasons, we usually require a letter of permission for the logo, but we can also produce the goods based on customer samples or on the image, logo, sizes, etc. Contact us for more information on customizing our products.
 N°200 Lot Al Massar, Z.I Sidi Ghanem,  Route de Safi, 40 000 Marrakech , MOROCCO
Tel:+212 524 335 449
MOB:+212 600 604 387 (Whatsapp / Viber)
Fax:+212 524 457 961
Website: www.bioprogreen.com
E-mail: contact@www.bioprogreen.com
Follow the US:

 http://facebook.com/bioprogreen
 https://www.instagram.com/bioprogreenmorocco
https://www.youtube.com/@bioprogreenmorocco4708