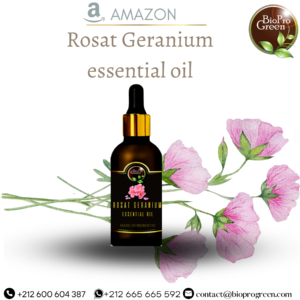 Our superior quality Rosat Geranium oil on Amazon is a natural product of exceptional quality. Extracted from the leaves of Rosat Geraniums, this essential oil is renowned for its numerous benefits for the skin and overall health. Through our meticulously controlled extraction process, this oil preserves all its therapeutic properties and delicate fragrance.
Benefits:
Skin regeneration: Our Rosat Geranium oil on Amazon promotes cellular regeneration, reducing signs of aging, scars, and skin imperfections. Achieve soft, smooth, and radiant skin.
Sebum balance: This oil regulates sebum production, making it an ideal choice for oily or acne-prone skin.
Soothing and relaxing: Its delicate floral fragrance calms the mind and helps reduce stress. Add a few drops to your diffuser for a soothing aromatic experience.
Natural repellent: Our Rosat Geranium oil on Amazon possesses repellent properties against insects, including mosquitoes. Use it as a natural alternative to harsh chemical products.
Recommended uses:
Massage: Dilute a few drops of Rosat Geranium oil with a carrier oil and gently massage onto the skin.
Facial care: Add a drop of oil to your moisturizer to benefit from its regenerative properties.
Diffusion: Add a few drops to your diffuser to create a relaxing and fragrant ambiance in your surroundings.
Experience the best of nature with Bioprogreen's organic Rosat Geranium oil. Order now and enjoy the highest quality available on the market.
FAQ on 100% Essential Oils:
How can I obtain samples?
We are pleased to offer samples. New customers are responsible for courier fees, but the samples are free for you, and these fees will be deducted from the payment of the official order. Regarding courier fees: You can arrange an RPI (remote pickup) service with FedEx, UPS, DHL, TNT, etc.
How does your factory ensure quality control?
Quality is a top priority! Each worker ensures quality control from start to finish: All raw materials used are environmentally friendly. Skilled workers take care of every detail by hand, whether it's the stamping, printing, sewing, or packaging process. The quality control department is specifically responsible for quality control at each stage.
Can your factory print or emboss my logo on the goods?
Yes, we can print your logo on the goods or their packaging box. For patent protection reasons, a lawyer's letter (authorization letter) must be provided for the logo. We generally produce goods based on customer samples or based on images, logos, sizes, etc.