Supplier of orange blossom water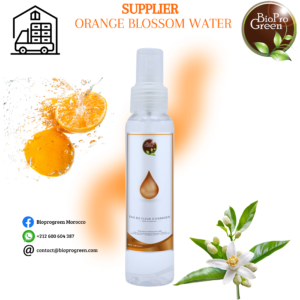 Orange blossom water suppliers: a thriving industry
Supplier of orange blossom water: orange blossom water is a popular and versatile floral water obtained from orange blossoms.
It is often used in cosmetics for its hydrating and soothing properties, as well as in cuisine to add a unique flavor to dishes.
The orange blossom water industry is thriving, with numerous suppliers worldwide.
Where are suppliers located?
Orange blossom water suppliers are primarily found in orange-producing regions such as the Mediterranean and the Middle East.
The major producers of orange blossom water are Morocco, Tunisia, Egypt, Syria, and Lebanon.
How many orange blossom water suppliers are there?
There are numerous orange blossom water suppliers worldwide, ranging from small local producers to large multinational companies.
Suppliers vary in size and scope, ranging from small family-owned businesses to large industrial corporations.
The History of the Suppliers:
The production of orange blossom water dates back centuries, with evidence of its use in ancient Egypt and Persia.
Over time, the production of orange blossom water spread to orange-producing regions, where it became an important industry for local communities.
In Morocco, for example, orange blossom water is an essential ingredient in Moroccan cuisine, where it is used to flavor both sweet and savory dishes.
Moroccan producers have worked hard to develop proven and efficient production methods to produce high-quality orange blossom water.
In Tunisia, the production of orange blossom water is an ancient tradition that dates back to Roman times.
FAQ
How can I get samples? We offer free samples, but new customers will need to pay courier fees. These fees can be deducted from the official order payment. You can arrange an RPI service through FedEx, UPS, DHL, TNT, etc.
How does your factory ensure quality? We place great importance on the quality of our products. Every worker ensures quality control from the beginning to the end of the manufacturing process using only environmentally friendly raw materials. Additionally, a dedicated quality control department is responsible for checking at each step of the process.
Can you print my logo on the goods? Yes, we can print your logo on the goods or their packaging box. However, to protect patents, you need to provide an authorization letter. Generally, we produce goods based on customer samples or on the basis of images, logos, sizes, etc.
About BioProGreen
 N°200 Lot Al Massar, Z.I Sidi Ghanem,  Route de Safi, 40 000 Marrakech , MOROCCO
Tel:+212 524 335 449
MOB :+212 600 604 387 (Whatsapp / viber )
Fax:+212 524 457 961
Website : www.bioprogreen.com
E-mail : contact@bioprogreen.com
Follow the US:
http://facebook.com/grouporiental
http://twitter.com/grouporiental