Bioprogreen: Leading the Way in Aloe Vera Oil Manufacturing with High Standards
and Certifications.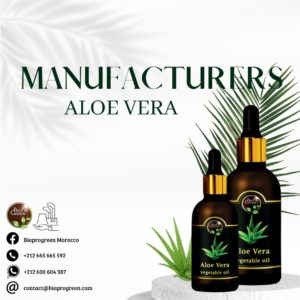 Aloe vera oil has gained widespread recognition for its exceptional health and beauty benefits, and
the manufacturers behind this remarkable oil play a crucial role in its production. Among the
industry leaders, Bioprogreen stands out with its commitment to manufacturing standards,
certifications, and innovative methods. In this article, we explore Bioprogreen's manufacturing
approach, including its stringent standards, certifications, and advanced methods.
Manufacturing Standards and Certifications.
Bioprogreen upholds rigorous manufacturing standards to ensure the highest quality aloe vera oil
reaches the market. These standards are crucial for maintaining product integrity and consumer
trust. Here are some key manufacturing standards adhered to by Bioprogreen:
1. Good Manufacturing Practices (GMP): Bioprogreen strictly follows GMP guidelines to ensure
consistent quality control throughout the manufacturing process. GMP encompasses various
aspects, including facility cleanliness, equipment maintenance, personnel training, and
documentation, all of which contribute to the production of safe and high-quality aloe vera oil.
2. Quality Control and Testing: Bioprogreen employs comprehensive quality control measures,
including advanced testing techniques, to verify the purity and potency of their aloe vera oil. This
guarantees that customers receive a product that meets stringent quality standards.
3. Organic and Natural Sourcing: Bioprogreen sources their aloe vera from organically grown
plants, free from harmful pesticides and chemicals. This commitment to organic and natural
sourcing ensures that the final product is of the highest quality and purity.
4. Certifications: Bioprogreen holds various certifications, such as organic certification, ISO
certification, and cruelty-free certifications. These certifications provide consumers with the
assurance that Bioprogreen's manufacturing processes meet stringent industry standards for
safety, quality, and ethical practices.
Manufacturing Methods at Bioprogreen.
Bioprogreen employs advanced manufacturing methods to produce high-quality aloe vera oil:
1. Cold Press Extraction: Bioprogreen utilizes the cold press extraction method, which involves
carefully separating the inner gel from fresh aloe vera leaves. The gel is then combined with a
carrier oil, such as coconut or olive oil, and allowed to infuse over time. This gentle process helps
retain the natural properties and beneficial compounds of the aloe vera plant, resulting in a potent
and effective oil.
2. Heat Infusion: Bioprogreen also utilizes the heat infusion method to extract aloe vera oil,
particularly for bulk production. This method involves heating the aloe vera gel and carrier oil
mixture to facilitate a faster infusion process. The heat helps accelerate the extraction of beneficial
compounds, ensuring a timely and efficient manufacturing process without compromising the
quality of the final product.
By implementing these manufacturing methods, Bioprogreen ensures the production of aloe vera
oil that captures the essence and potency of the aloe vera plant.
In conclusion, Bioprogreen stands as a trusted manufacturer of aloe vera oil, adhering to stringent
manufacturing standards, certifications, and innovative methods. With a commitment to GMP,
rigorous quality control, organic and natural sourcing, and certifications that validate their practices,
Bioprogreen consistently delivers high-quality aloe vera oil to the market. Customers can rely on
Bioprogreen's products, knowing they are manufactured with utmost care and precision.
FAQ 
How can I obtain samples? We offer free samples, but new customers will need to pay the courier fees. These fees can be deducted from the payment of the official order. We can arrange shipping via RPI service on FedEx, UPS, DHL, TNT, etc.
How does your factory ensure quality? We place great importance on the quality of our products. Each worker ensures quality control from the beginning to the end of the manufacturing process, using only environmentally friendly raw materials. Additionally, a dedicated quality control department is responsible for verifying each step of the process.
Can you print my logo on the goods? Yes, we can print your logo on the goods or their packaging box. However, to protect patents, you need to provide an authorization letter. Generally, we produce the goods based on customer samples or based on the image, logo, sizes, etc.
Information about BioProGreen :
 N°200 Lot Al Massar, Z.I Sidi Ghanem,  Route de Safi, 40 000 Marrakech , MOROCCO
Tel:+212 524 335 449
MOB:+212 600 604 387 (Whatsapp / Viber)
Fax:+212 524 457 961
Website: www.bioprogreen.com
E-mail: contact@bioprogreen.com
Follow us  :
 http://facebook.com/bioprogreen
 https://www.instagram.com/bioprogreenmorocco
 https://www.youtube.com/@bioprogreenmorocco4708