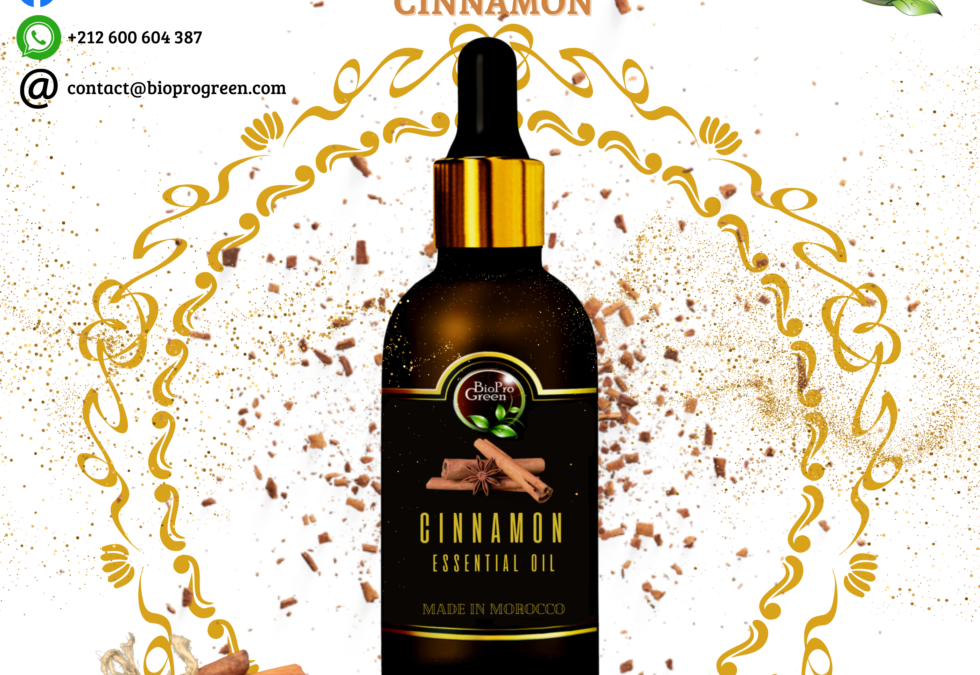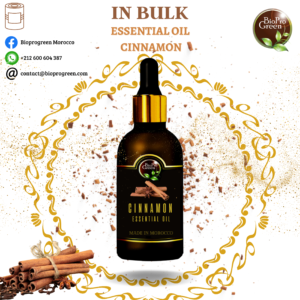 Cinnamon essential oil, a real treasure of nature, has been appreciated for centuries for its multiple miracles in cosmetics, medicine and cooking. In addition to its beneficial properties, it is interesting to know its origins and how it is obtained.
The origins
of bulk cinnamon essential oil
Cinnamon essential oil is extracted from the bark of the cinnamon tree, a tree native to parts of Asia. Since ancient times, cinnamon has been considered a precious spice and has been widely used both for its bewitching aromas and its therapeutic virtues.
 Cosmetics
of bulk cinnamon essential oil
 cinnamon essential oil is highly appreciated in cosmetics for its toning and revitalizing properties for the skin:
Reduction of acne and skin blemishes

: Thanks to its antibacterial properties,cinnamon essential oil helps eliminate bacteria responsible for acne and skin blemishes. It also contributes to reduce inflammation and promotes healing.

Improved skin radiance

: In stimulant blood flow, cinnamon essential oil helps revive skin's natural radiance, leaving it looking brighter and more youthful.

Anti-aging effect

: Thanks to its properties antioxidants, this essential oil helps fight free radicals responsible for premature aging of the skin. It helps reduce the appearance of fine lines and wrinkles, leaving the skin smoother and firmer.
Medicinal
of bulk cinnamon essential oil
Besides its miracles for the skin,bulk cinnamon essential oil also has valuable medicinal properties for health:
Strengthening of the immune system

: Thanks to its properties immuno stimulantes, this essential oil helps strengthen the immune system and prevent infections.

Relief of muscle and joint pain

: Its anti-inflammatory and analgesic properties make it an ally in relieving muscle and joint pain.

Improved digestion

: bulk cinnamon essential oil is beneficial for the digestive system, helping to relieve problems such as bloating, spasms and cramps.
Culinary uses
of bulk cinnamon essential oil
Cinnamon essential oil is also prized in the kitchen for its warm and spicy aroma. It brings an irresistible flavor to many dishes and drinks:
Pastries and desserts

: This ingredient is commonly used in pastries and desserts, adding a sweet and fragrant note to cakes, pies and cookies.

Hot drinks

: A few drops of cinnamon essential oil added to a cup of coffee, hot chocolate or tea transforms an ordinary drink into a delicious comforting drink.

Savory dishes

: It can also be used in certain savory dishes.
Do not hesitate to take advantage of its multiple benefits to take care of your skin, improve your health and brighten up your dishes with a touch of exceptional aroma and flavor.
FAQ 
How can I obtain samples? We offer free samples, but new customers will need to pay the courier fees. These fees can be deducted from the payment of the official order. We can arrange shipping via RPI service on FedEx, UPS, DHL, TNT, etc.
How does your factory ensure quality? We place great importance on the quality of our products. Each worker ensures quality control from the beginning to the end of the manufacturing process, using only environmentally friendly raw materials. Additionally, a dedicated quality control department is responsible for verifying each step of the process.
Can you print my logo on the goods? Yes, we can print your logo on the goods or their packaging box. However, to protect patents, you need to provide an authorization letter. Generally, we produce the goods based on customer samples or based on the image, logo, sizes, etc.
Information about BioProGreen :
 N°200 Lot Al Massar, Z.I Sidi Ghanem,  Route de Safi, 40 000 Marrakech , MOROCCO
Tel:+212 524 335 449
MOB:+212 600 604 387 (Whatsapp / Viber)
Fax:+212 524 457 961
Website: www.bioprogreen.com
E-mail: contact@www.bioprogreen.com
Follow us  :
 http://facebook.com/bioprogreen
 https://www.instagram.com/bioprogreenmorocco
 https://www.youtube.com/@bioprogreenmorocco4708