Bio Progreen: A Hair Care Provider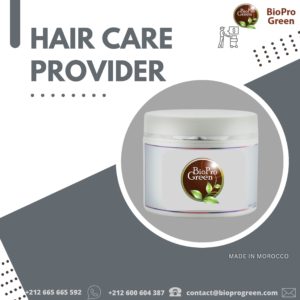 In the realm of hair care, Bio Progreen stands out as a provider with a strong commitment to values, sustainable labels, and exceptional products. In this one-page article, we will explore Bio Progreen's core values, sustainable labels, the numerous benefits of their offerings, the range of goods they produce, their evolution and innovations, their history, and their remarkable success in the industry.
Commitment to Values and Sustainable Labels:
Bio Progreen's foundation is built on a set of core values that drive every aspect of its operations. They prioritize environmental sustainability, social responsibility, and ethical practices throughout their supply chain. With a focus on organic and natural ingredients, they have earned prestigious sustainable labels that certify their commitment to minimizing their ecological footprint and promoting a healthier planet.
Delivering Exceptional Benefits:
Bio Progreen's hair care products provide a wide range of benefits for consumers seeking effective and nourishing solutions. Their offerings include shampoos, conditioners, hair masks, styling products, and more. These products are meticulously formulated using premium ingredients to address various hair concerns. Benefits range from deep hydration, repair, and restoration of damaged hair, and enhancement of hair strength and shine, to improved scalp health and a reduction in hair loss.
Range of Goods Made:
Bio Progreen's product line encompasses a diverse array of hair care solutions, ensuring they cater to different hair types and individual preferences. From volumizing and clarifying products to those designed for color-treated or curly hair. They offer a comprehensive range to meet the unique needs of their customers. Each product is carefully crafted to deliver exceptional results while adhering to its values of sustainability and efficacy.
Evolution and Innovations:
Bio Progreen constantly evolves and innovates to stay at the forefront of the hair care industry. Through continuous research and development, they explore new ingredients, advanced formulations, and cutting-edge technologies. This commitment to innovation allows them to introduce revolutionary products that push the boundaries of hair care, providing customers with groundbreaking solutions to achieve their desired hair goals.
History of Success:
Bio Progreen's success is a testament to its unwavering dedication and passion for creating exceptional hair care products. From their humble beginnings, they have grown steadily, capturing the hearts of customers worldwide. Their commitment to sustainable practices, premium ingredients, and outstanding customer service. Has earned them a loyal following and industry recognition. Bio Progreen has become a trusted name in the hair care industry, known for its quality and effectiveness.
Bio Progreen's journey in the hair care industry is characterized by its commitment to values, sustainable labels, exceptional benefits, diverse product offerings, constant evolution, innovative practices, and resounding success. Their adherence to core values and sustainable practices sets them apart. Making them a preferred choice for eco-conscious consumers. Through their remarkable products and unwavering commitment to excellence. Bio Progreen has carved a distinct place in the industry and continues to shape the future of sustainable hair care.
FAQ

How to get samples? We offer free samples, but new customers will have to pay the courier fee. This fee can be deducted from the official order payment. You can arrange RPI service on FedEx, UPS, DHL, TNT, etc.
How does your factory ensure quality? We attach great importance to the quality of our products. Each worker ensures quality control from the beginning to the end of the manufacturing process by using only environmentally friendly raw materials. In addition, a specific quality control department is responsible for verification at each stage of the process.
Can you print my logo on the goods? Yes, we can print your logo on the goods or their packaging box. However, to protect patents, you must provide a letter of authorization. In general, we produce the goods according to the customer's samples or based on the image, logo, sizes, etc.
 N°200 Lot Al Massar, Z.I Sidi Ghanem,  Route de Safi, 40 000 Marrakech , MOROCCO
Tel:+212 524 335 449
MOB :+212 600 604 387 (Whatsapp / viber )
Fax:+212 524 457 961
Website : www.bioprogreen.com
E-mail : contact@www.bioprogreen.com
Follow US:
Facebook: https://www.facebook.com/bioprogreenMorocco
Twitter: https://twitter.com/BioProGreen_MR
Pinterest: https://www.pinterest.fr/bioprogreenmorocco/
Instagram: https://www.instagram.com/bioprogreenmorocco/