Distributing orange blossom water on Amazon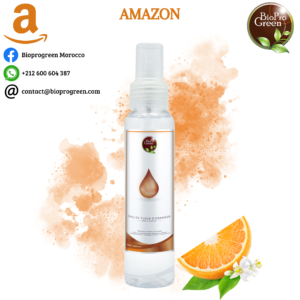 Global Audience: Amazon provides access to a vast international customer base, allowing sellers to reach a diverse audience across different regions and countries. This presents an opportunity to tap into the growing demand for exotic ingredients like orange blossom water worldwide.
Convenience and Trust: Amazon's reputation as a reliable and customer-oriented platform instills confidence in buyers. With secure payment options, efficient shipping, and customer reviews, sellers can establish trust and offer a convenient purchasing experience to customers.
Competition: With the popularity of orange blossom water, there may be a considerable number of sellers offering similar products on Amazon. It's crucial to differentiate your brand by highlighting unique qualities. Such as sourcing from specific regions or organic certification, to stand out in the competitive landscape.
Product Packaging and Shipping: Orange blossom water is a delicate liquid that requires proper packaging to avoid leakage or damage during transit. Ensuring sturdy packaging and choosing reliable shipping methods are essential to maintain product quality and customer satisfaction.
Reaching a Global Audience:
Market Research: Conduct thorough market research to identify regions where the demand for orange blossom water is high. Analyze customer preferences, cultural contexts, and existing competition to tailor your marketing and selling strategies accordingly.
Localization: Adapt your product listing and marketing materials to cater to different languages and cultural nuances. Utilize Amazon's localization features to make your product more appealing to specific regions and engage with potential customers effectively.
Selling Strategies to Succeed on Amazon:
Optimized Product Listing: Create a compelling and informative product listing that highlights the unique features and benefits of your orange blossom water. Use relevant keywords in the title, bullet points, and product description to improve discoverability and search rankings.
Visual Appeal: High-quality product images showcasing the packaging, labeling, and the product itself can significantly impact customer interest and conversion rates. Ensure the images are clear, well-lit, and accurately represent the product.
Competitive Pricing: Research the pricing of similar orange blossom water products on Amazon and set a competitive yet profitable price point. Consider offering bundle deals or discounts to attract customers and encourage repeat purchases.
Customer Reviews and Ratings: Encourage customers to leave reviews and ratings for your orange blossom water product. Positive reviews build trust and influence purchasing decisions. So, strive for exceptional product quality and customer service to generate positive feedback.
Click Here For More Information
FAQ
How do I get samples? We offer free samples, but new customers will have to pay the courier fee. This fee can be deducted from the official order payment. You can arrange RPI service on FedEx, UPS, DHL, TNT, etc.
How does your factory ensure quality? We attach great importance to the quality of our products. Each worker ensures quality control from the beginning to the end of the manufacturing process by using only environmentally friendly raw materials. In addition, a specific quality control department is responsible for verification at each stage of the process.
Can you print my logo on the goods? Yes, we can print your logo on the goods or their packaging box. However, to protect patents, you must provide a letter of authorization. Generally, we produce the goods according to the customer's samples or based on the image, logo, sizes, etc.
.
 Information about BioProGreen
 N°200 Lot Al Massar, Z.I Sidi Ghanem,  Route de Safi, 40 000 Marrakech , MOROCCO
Tel:+212 524 335 449
MOB :+212 600 604 387 (Whatsapp / Viber)
Fax:+212 524 457 961
Website: www.bioprogreen.com
E-mail: contact@bioprogreen.com
Follow Us :
Facebook: https://www.facebook.com/bioprogreenMorocco
Twitter: https://twitter.com/BioProGreen_MR
Pinterest: https://www.pinterest.fr/bioprogreenmorocco/
Instagram:https://www.instagram.com/bioprogreenmorocco/