Export of Orange Blossom water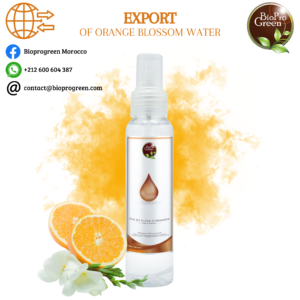 Orange Blossom water and its exquisite production
Orange Blossom water is obtained by distilling the petals of bitter or sweet orange blossoms. This ancestral method consists in infusing the petals in hot water, then collecting the condensed steam. The main producing countries of orange Blossom water include Tunisia, Morocco, Egypt, and France. The favorable climates of these regions allow for abundant flowering of orange trees, ensuring a quality harvest.
Uses of Orange Blossom water
Orange Blossom water is a popular ingredient in many industries. In the culinary field, it is used to flavor pastries, confectionery, drinks, and traditional dishes. It's delicate aroma and subtle flavor add a unique floral dimension to each recipe. In cosmetics, orange blossom water is found in lotions, toners, and skin products, offering its soothing and moisturizing properties. In addition, it is often used in aromatherapy for its relaxing and refreshing properties.
Over the years, the export of Orange Blossom water has grown exponentially due to its increasing popularity around the world. Consumers are increasingly looking for natural and authentic products, which has opened up new opportunities for orange flower water producers. Companies specializing in exports have expanded to meet the growing demand of international markets.
Exporting Orange Blossom water can present some logistical and regulatory challenges. The fragility of the flower essence requires special storage and transportation conditions to preserve its quality. In addition, customs and health regulations vary from country to country, requiring exporters to comply with strict standards. However, these challenges are outweighed by the business opportunities that come with exporting such a prized product. The markets
Managing the export of orange blossom water successfully
Exporting orange blossom water can be a profitable way for producers and distributors of this aromatic product to reach a global audience. To successfully export orange blossom water, it is important to follow good practices such as understanding export regulations and requirements, finding and selecting reliable trading partners, focusing on product quality and traceability, and creating an effective marketing strategy. By following these best practices, producers and distributors can maximize global growth opportunities for their businesses
Click Here For More Information
FAQ
How do I get samples?

We offer free samples, but new customers will have to pay the courier fee. This fee can be deducted from the official order payment. You can arrange RPI service on FedEx, UPS, DHL, TNT, etc.

How does your factory ensure quality?

We attach great importance to the quality of our products. Each worker ensures quality control from the beginning to the end of the manufacturing process by using only environmentally friendly raw materials. In addition, a specific quality control department is responsible for verification at each stage of the process.

Can you print my logo on the goods?

Yes, we can print your logo on the goods or their packaging box. However, to protect patents, you must provide a letter of authorization. Generally, we produce the goods according to the customer's samples or based on the image, logo, sizes, etc.
 N°200 Lot Al Massar, Z.I Sidi Ghanem,  Route de Safi, 40 000 Marrakech , MOROCCO
Tel:+212 524 335 449
MOB:+212 600 604 387 (Whatsapp / Viber)
Fax:+212 524 457 961
Website: www.bioprogreen.com
E-mail: contact@www.bioprogreen.com
Follow Us:
Facebook: https://www.facebook.com/bioprogreenMorocco
Twitter: https://twitter.com/BioProGreen_MR
Pinterest: https://www.pinterest.fr/bioprogreenmorocco/
Instagram:https://www.instagram.com/bioprogreenmorocco/