Macadamia oil on Amazon: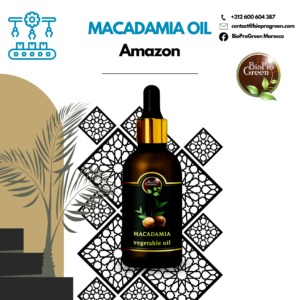 Morocco, thanks to renowned companies such as BioProGreen, plays a major role in macadamia oil exports and sales via Amazon. BioProGreen is committed to quality and excellence, offering reliable delivery methods and superior packaging to ensure that macadamia oil reaches its international customers in the best possible condition. Find out more about these essential processes for exporting macadamia oil from Morocco according to BioProGreen.
Delivery methods
BioProGreen attaches great importance to ensuring the safe and efficient delivery of its macadamia oil products to international customers. To achieve this, the company uses reliable delivery methods, such as :
BioProGreen attaches great importance to ensuring the safe and efficient delivery of its macadamia oil products to international customers. The company uses reliable delivery methods, such as sea freight, to efficiently ship large quantities of products to remote destinations. The company ensures that products are well packaged and secured to minimize the risk of damage in transit.
For urgent or small deliveries, BioProGreen favors air freight. This ensures fast, efficient delivery of macadamia oil to international customers. The company works closely with reputable carriers to ensure that products are handled with care and arrive at their destination in perfect condition.
Quality packaging
Packaging plays a crucial role in preserving the quality and freshness of macadamia oil during export. BioProGreen pays particular attention to the packaging of its products, using high-quality materials and specialized techniques. Macadamia oil bottles are packed in dark glass to protect the oil from light and oxidation, preserving its properties and quality throughout export.
Each bottle of BioProGreen macadamia oil is hermetically sealed with a security seal to guarantee product integrity. This seal assures customers that the oil has not been tampered with, and is ready for use as soon as the bottle is opened.
BioProGreen carefully labels its macadamia oil bottles, providing clear and relevant information about the product, including its origin and ingredients. This helps customers to make an informed decision when making their purchase
FAQ
1) How can I get samples?
To get samples of our products, just contact us and we will be happy to offer you some. For new customers, courier costs will be charged, but samples will be free. In addition, these costs will be deducted from the official order payment. To arrange an RPI (remote pickup) service on FedEx, UPS, DHL, TNT, etc., please contact us and we will help you arrange this.
2) How does your factory perform in terms of quality control?
In our factory, quality is our top priority. We have strict quality controls in place at every stage of the manufacturing process to ensure that all our products are environmentally friendly and meet the highest standards. In addition, all workers are trained to ensure quality control, whether in the stamping, printing, sewing, or packaging process. Finally, our quality control department is specifically responsible for quality control in each process.
3) Can your factory print or emboss my logo on the goods?
We are happy to personalize our products with your logo or other distinctive marks. We can print your logo on the goods or their packaging box, depending on your needs. For patent protection reasons, we usually require a letter of permission for the logo, but we can also produce the goods based on customer samples or on the image, logo, sizes, etc. Contact us for more information on customizing our products.
 N°200 Lot Al Massar, Z.I Sidi Ghanem,  Route de Safi, 40 000 Marrakech , MOROCCO
Tel:+212 524 335 449
MOB:+212 600 604 387 (Whatsapp / Viber)
Fax:+212 524 457 961
Website: www.bioprogreen.com
E-mail: contact@www.bioprogreen.com
Follow the US:

 http://facebook.com/bioprogreen
 https://www.instagram.com/bioprogreenmorocco
https://www.youtube.com/@bioprogreenmorocco4708