manufacturer of organic argan oil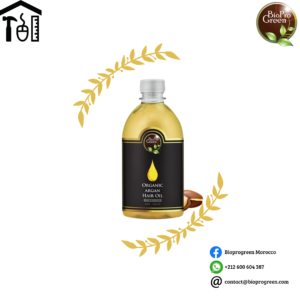 Natural and ecological products from the

manufacturer of organic argan oil

Our organic argan oil for hair is a natural and ecological product, obtained from the nuts of the argan tree, an endemic tree of Morocco. This oil is produced according to traditional and artisanal methods by an association, who harvest the nuts by hand and roast them to give the oil its characteristic taste of hazelnut.
Benefits for dry and damaged hair
Rich in unsaturated fatty acids, tocopherols, sterols, and polyphenols, our organic argan hair oil is a popular ingredient in hair care products. It is particularly beneficial for dry, damaged, or chemically treated hair. This oil nourishes, protects, and repairs the hair in depth, restoring its shine and vitality.
Practical and ecological packaging
Our organic argan oil for hair is also packaged in a glass bottle with an aluminum cap to protect the oil from light and oxidation. It is easy to dose thanks to its integrated pipette, which allows it to take the exact amount of oil necessary for a targeted application. We have chosen practical and ecological packaging to minimize our environmental impact.
Organic certification
Our organic argan oil for hair is certified organic by independent organizations: CCPB® and USDA® and FDA®, guaranteeing its production according to rigorous standards of organic farming.
FAQ

How to get samples? We offer free samples, but new customers will have to pay the courier fee. This fee can be deducted from the official order payment. You can arrange RPI service on FedEx, UPS, DHL, TNT, etc.
How does your factory ensure quality? We attach great importance to the quality of our products. Each worker ensures quality control from the beginning to the end of the manufacturing process by using only environmentally friendly raw materials. In addition, a specific quality control department is responsible for verification at each stage of the process.
Can you print my logo on the goods? Yes, we can print your logo on the goods or their packaging box. However, to protect patents, you must provide a letter of authorization. In general, we produce the goods according to the customers' samples or based on the image, logo, sizes, etc.
Information about BioProGreen
BioPro Green
N°200 Lot Al Massar, Z.I Sidi Ghanem, Route de Safi, 40 000 Marrakech , MOROCCO
Tel:+212 524 335 449
MOB:+212 600 604 387 (Whatsapp / Viber)
Fax:+212 524 457 961
Website: www.bioprogreen.com
E-mail: contact@bioprogreen.com
Follow US :
Facebook: https://www.facebook.com/bioprogreenMorocco
Twitter: https://twitter.com/BioProGreen_MR
Pinterest: https://www.pinterest.fr/bioprogreenmorocco/
Instagram: https://www.instagram.com/bioprogreenmorocco/