Manufacturers of Damascus rose water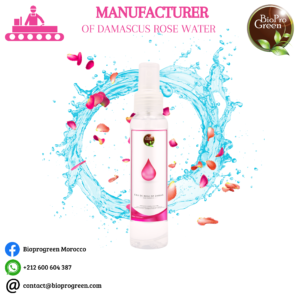 Superior quality roses for superior quality rose water
To ensure the quality of their products, manufacturers of Damascus rose water exclusively use superior-quality roses. The two most commonly employed varieties are Damascus roses and Centifolia roses. Moreover, the roses are meticulously hand-picked to avoid any damage to the delicate petals.
Proven distillation methods for natural rose water
Manufacturers of Damascus rose water use proven distillation methods to create their products. Rose petals are placed in a still filled with water, which is then heated to evaporate the essential oils contained in the petals. The vapor is then collected and condensed to form rose water.
Implementing rigorous quality control for pure and effective rose water
Manufacturers of Damask rose water go to great lengths to ensure the purity and effectiveness of their products. They subject it to rigorous quality control measures, focusing on essential oil content and the overall purity of the rose water produced. Furthermore, these manufacturers strive to meet international quality standards, providing consumers with the utmost confidence.
Strategic marketing of rose water by manufacturers
Manufacturers of rose water employ strategic marketing techniques to reach consumers worldwide. Typically, rose water is elegantly packaged in dark glass bottles to safeguard the product from light and oxidation. Additionally, manufacturers of Damask rose water leverage online sales channels to effectively reach a broader audience.
In conclusion, manufacturers of rose water are dedicated companies that produce naturally hydrating and fragrant products. By utilizing superior quality roses and employing proven distillation methods, they guarantee the exceptional quality of their offerings. Through rigorous quality control measures and strategic marketing, these manufacturers deliver pure and effective rose water. If you are seeking a natural solution to enhance your skin and overall well-being, the rose water produced by these manufacturers represents an excellent option worth considering.
Click Here For More Information
FAQ
How do I get samples? We offer free samples, but new customers will have to pay the courier fee. This fee can be deducted from the official order payment. You can arrange RPI service on FedEx, UPS, DHL, TNT, etc.
How does your factory ensure quality? We attach great importance to the quality of our products. Each worker ensures quality control from the beginning to the end of the manufacturing process by using only environmentally friendly raw materials. In addition, a specific quality control department is responsible for verification at each stage of the process.
Can you print my logo on the goods? Yes, we can print your logo on the goods or their packaging box. However, to protect patents, you must provide a letter of authorization. Generally, we produce the goods according to the customer's samples or based on the image, logo, sizes, etc.


Information about BioProGreen

 N°200 Lot Al Massar, Z.I Sidi Ghanem,  Route de Safi, 40 000 Marrakech , MOROCCO

Tel:+212 524 335 449
MOB :+212 600 604 387 (Whatsapp / Viber)
Fax:+212 524 457 961
Website: www.bioprogreen.com
E-mail: contact@www.bioprogreen.com

Follow Us :
Facebook: https://www.facebook.com/bioprogreenMorocco

Twitter: https://twitter.com/BioProGreen_MR

Pinterest: https://www.pinterest.fr/bioprogreenmorocco/

Instagram:https://www.instagram.com/bioprogreenmorocco/