Orange Blossom water in wholesale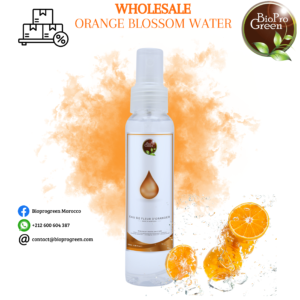 A natural product for personal care and culinary businesses: orange blossom water
Orange blossom water is a natural product extracted from the orange blossom, also known as Citrus aurantium.
It is obtained through steam distillation of the orange blossom petals and is known for its relaxing and soothing properties.
The benefits of purchasing orange blossom water in bulk
Purchasing orange blossom water in wholesale offers several advantages for businesses.
Firstly, it allows businesses to obtain high-quality products at competitive prices.
By buying in bulk, businesses can save on production, storage, and transportation costs.
Uses in the personal care industry
The personal care industry often utilizes orange blossom water due to its beneficial properties for the skin.
It contains antioxidants that help prevent signs of skin aging and protect the skin from damage.
Additionally, it is renowned for its hydrating virtues, making it an excellent skin tonic.
Uses of Orange Blossom Water in the culinary industry
Culinary businesses also utilize bulk orange blossom water to add a subtle and fragrant flavor.
It is often incorporated into desserts such as cakes and pancakes to provide a delicate and enjoyable taste.
Moreover, it can be used in beverages such as tea, coffee, smoothies, and cocktails.
Financial advantages for businesses
Purchasing orange blossom water in bulk offers significant financial benefits for businesses.
By buying in bulk, businesses save on production, storage, and transportation costs.
Additionally, they can offer competitive prices to their customers, thereby increasing their revenue and profitability.
FAQ
How can I get samples? We offer free samples, but new customers will need to pay courier fees. These fees can be deducted from the official order payment. You can arrange an RPI service through FedEx, UPS, DHL, TNT, etc.
How does your factory ensure quality? We place great importance on the quality of our products. Every worker ensures quality control from the beginning to the end of the manufacturing process using only environmentally friendly raw materials. Additionally, a dedicated quality control department is responsible for checking at each step of the process.
Can you print my logo on the goods? Yes, we can print your logo on the goods or their packaging box. However, to protect patents, you need to provide an authorization letter. Generally, we produce goods based on customer samples or on the basis of images, logos, sizes, etc.
About BioProGreen
 N°200 Lot Al Massar, Z.I Sidi Ghanem,  Route de Safi, 40 000 Marrakech , MOROCCO
Tel:+212 524 335 449
MOB:+212 600 604 387 (Whatsapp / Viber)
Fax:+212 524 457 961
Website: www.bioprogreen.com
E-mail: contact@www.bioprogreen.com
Follow the US:
http://facebook.com/grouporiental
http://twitter.com/grouporiental