Rosat Geranium Oil in wholesale and Bulk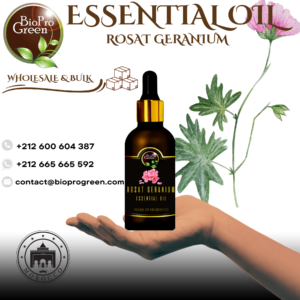 Introduction:
Rosat geranium oil is a precious and highly regarded essential oil known for its numerous benefits for the skin, hair, and overall well-being. Obtained from the Pelargonium graveolens plant, this natural product possesses an enchanting floral fragrance and is rich in soothing, regenerative, and antibacterial properties. In this article, we will explore the benefits of rosat geranium oil according to manufacturers and its recommended uses.
Benefits of Rosat Geranium Oil in wholesale and Bulk :
Manufacturers highlight the following benefits of rosat geranium oil:
Skin Care: Hydrates, regenerates, and balances the skin.
Anti-Aging: Reduces wrinkles and promotes elasticity.
Stress Relief: Soothes and relaxes.
Hair Care: Nourishes the hair and scalp.
Uses of Rosat Geranium Oil in wholesale and Bulk :
Makers of rosat geranium oil recommend using this oil in the:
Skin Care: Add a few drops to your moisturizer or use it as a facial toner.
Aromatherapy: Diffuse in a diffuser for a relaxing ambiance.
Hair Care: Add to your shampoo or prepare a hair mask.
FAQ:
How can I obtain samples?
We offer free samples, but new customers are responsible for courier fees. These fees can be deducted from the payment of the official order. You can arrange an RPI (remote pickup) service with FedEx, UPS, DHL, TNT, etc.
How does your factory ensure quality?
We place great importance on the quality of our products. Each worker ensures quality control from start to finish, using only environmentally friendly raw materials. Additionally, a dedicated quality control department is responsible for verification at each step of the process.
Can you print my logo on the goods?
Yes, we can print your logo on the goods or their packaging. However, to protect patents, you must provide an authorization letter. Generally, we produce goods based on customer samples or specifications, including images, logos, sizes, etc.
 N°200 Lot Al Massar, Z.I Sidi Ghanem,  Route de Safi, 40 000 Marrakech , MOROCCO
Tel:+212 524 335 449
MOB :+212 600 604 387 (Whatsapp / viber )
Fax:+212 524 457 961
Website : www.bioprogreen.com
E-mail : contact@group-oriental.com
Follow US:
http://facebook.com/grouporiental
http://twitter.com/grouporiental