Wholesale Aloe Vera Oil: Production Methods, Advantages, and Benefits According to
Bioprogreen.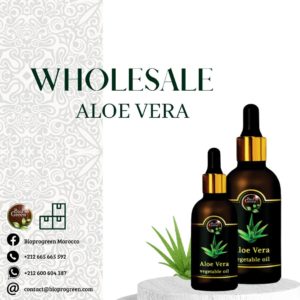 As the natural wellness movement continues to gain momentum, aloe vera oil has secured a prime
spot in the industry, celebrated for its myriad health and beauty benefits. Aiding its proliferation is
the wholesale market, with suppliers like Bioprogreen leading the way. This article delves into the
production methods of aloe vera oil, the advantages of purchasing it wholesale, and the specific
benefits of wholesale according to Bioprogreen.
Production Methods of Aloe Vera Oil.
Aloe vera oil is made by infusing aloe vera extract into a carrier oil. Here's a brief overview of the
production process:
1. Harvesting and Preparation: Fresh aloe vera leaves are carefully harvested and cleaned.
The spiny edges are trimmed, and the leaves are sliced open to reveal the aloe gel inside.
2. Extraction: The inner gel is carefully extracted and mixed with a carrier oil, such as
coconut or olive oil.
3. Infusion: The mixture is then allowed to infuse over a period, either via cold pressing or
heat infusion, to fully integrate the aloe vera's beneficial properties into the carrier oil.
4. Straining and Bottling: After infusion, the mixture is strained to separate any residual plant
material, resulting in a pure, potent aloe vera oil ready for packaging.
Bioprogreen employs these methods meticulously, ensuring that its aloe vera oil retains the
the maximum amount of beneficial compounds are of high quality and is safe for use.
Advantages of Wholesale Aloe Vera Oil.
Buying aloe vera oil wholesale comes with several advantages:
Cost Efficiency: Buying in bulk is more cost-effective in the long run, especially for businesses.
You'll get more products for your money, which can significantly reduce your costs per unit.
Availability: With wholesale, you'll always have a ready stock of aloe vera oil on hand to meet
your demands.
Quality Assurance: When you buy from a reputable wholesaler like Bioprogreen, you can be
confident in the quality and safety of the products.
Benefits of Wholesale According to Bioprogreen.
Bioprogreen, a leading wholesaler of natural and organic products, offers a variety of benefits for
wholesale customers:
1. High-Quality Products: Bioprogreen is committed to providing only the best, most natural aloe
vera oil, ensuring customer satisfaction.
2. Competitive Pricing: With its efficient production and distribution network, Bioprogreen offers
competitive pricing for its wholesale customers.
3. Customer Support: Bioprogreen provides excellent customer service, from answering queries
to facilitate smooth transactions.
4. Sustainability: Bioprogreen prioritizes sustainability in its production process, providing eco-friendly products that consumers can trust.
In conclusion, wholesale aloe vera oil is an excellent option for businesses looking for high-quality,
cost-effective natural products. With trusted wholesalers like Bioprogreen, customers can enjoy the
assurance of quality, the advantage of competitive pricing, and the satisfaction of supporting
sustainable practices. Aloe vera oil's multitude of benefits make it a must-have ingredient in the
health and beauty sector, and buying it wholesale is a wise choice for any business in this industry.
FAQ 
How can I obtain samples? We offer free samples, but new customers will need to pay the courier fees. These fees can be deducted from the payment of the official order. We can arrange shipping via RPI service on FedEx, UPS, DHL, TNT, etc.
How does your factory ensure quality? We place great importance on the quality of our products. Each worker ensures quality control from the beginning to the end of the manufacturing process, using only environmentally friendly raw materials. Additionally, a dedicated quality control department is responsible for verifying each step of the process.
Can you print my logo on the goods? Yes, we can print your logo on the goods or their packaging box. However, to protect patents, you need to provide an authorization letter. Generally, we produce the goods based on customer samples or based on the image, logo, sizes, etc.
Information about BioProGreen :
 N°200 Lot Al Massar, Z.I Sidi Ghanem,  Route de Safi, 40 000 Marrakech , MOROCCO
Tel:+212 524 335 449
MOB:+212 600 604 387 (Whatsapp / Viber)
Fax:+212 524 457 961
Website: www.bioprogreen.com
E-mail: contact@bioprogreen.com
Follow us  :
 http://facebook.com/bioprogreen
 https://www.instagram.com/bioprogreenmorocco
 https://www.youtube.com/@bioprogreenmorocco4708