Wholesale Rosat Geranium Oil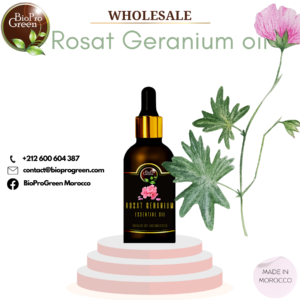 Introduction
Rosat Geranium oil is a precious essential oil highly valued for its numerous benefits for the skin, hair, and well-being. Extracted from the Pelargonium graveolens plant, it offers a captivating floral fragrance and possesses soothing and regenerative properties.
High-Quality Wholesale Rosat Geranium Oil:
Oriental Group is renowned for the superior quality of its Rosat Geranium oil:
Premium Sourcing: Oriental Group works with trusted suppliers to obtain top-quality Rosat Geranium, cultivated responsibly and in an environmentally friendly manner.
State-of-the-Art Extraction Process: We extract Rosat Geranium oil using modern methods that preserve its essential nutrients and natural benefits.
Rigorous Quality Control: Oriental Group places great importance on the quality of its Rosat Geranium oil. Each batch undergoes rigorous quality testing to ensure it meets the highest standards.
The Benefits of Rosat Geranium Oil:
Rosat Geranium oil offers a wide range of diverse benefits:
Skincare: It rejuvenates and hydrates the skin, balances sebum production, and reduces skin imperfections.
Anti-Aging: It diminishes signs of aging, such as wrinkles and fine lines, by promoting skin elasticity.
Stress Relief: It soothes and relaxes, reducing stress, anxiety, and mental tension.
Hair Care: It nourishes the hair, balances the scalp, strengthens hair follicles, and promotes healthy and shiny-looking hair.
Natural Repellent: It acts as a natural repellent against certain insects, including mosquitoes.
FAQ on 100% Essential Oils:
How can I obtain samples?
First and foremost, we are pleased to offer samples. For new customers, it is important to note that courier fees must be paid, while the samples themselves are free. These fees will be deducted from the payment of the official order. As for courier fees, it is possible to arrange an RPI (remote pickup) service with carriers such as FedEx, UPS, DHL, TNT, etc.
How does your factory perform in terms of quality control?
Rest assured, quality is a priority in our factory! Each worker ensures quality control from start to finish. All raw materials used are environmentally friendly, and skilled workers take care of every detail by hand, be it the stamping, printing, sewing, or packaging process. Additionally, we have a dedicated quality control department responsible for ensuring quality at every stage.
Can your factory print or emboss my logo on the goods?
Absolutely! We can print your logo on the goods or their packaging box. However, it is important to provide a lawyer's letter (letter of authorization) for the logo to comply with patent protection. Generally, we produce goods based on samples provided by customers or specifications such as images, logos, sizes, etc.
 N°200 Lot Al Massar, Z.I Sidi Ghanem,  Route de Safi, 40 000 Marrakech , MOROCCO
Tel:+212 524 335 449
MOB :+212 600 604 387 (Whatsapp / viber )
Fax:+212 524 457 961
Website : www.bioprogreen.com
E-mail : contact@group-oriental.com
Follow US:
http://facebook.com/grouporiental
http://twitter.com/grouporiental