Conditioner supplier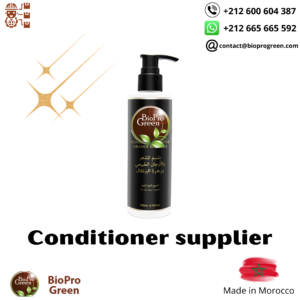 Introduction
The suppliers of Bioprogreen conditioners play a vital role in delivering high-quality products. In this article, we will delve into the history of Bioprogreen's conditioner suppliers, the benefits they provide, and the qualities that make them exceptional in the industry.
History of Bioprogreen Conditioner Supplier
The history of Bioprogreen conditioner suppliers dates back to the inception of the brand. Bioprogreen has cultivated strong relationships with reputable suppliers who share its commitment to natural and sustainable hair care. Over the years, these suppliers have contributed to the development and success of Bioprogreen's conditioner range.
Benefits of Bioprogreen Conditioner Supplier
Quality and Expertise: Bioprogreen conditioner suppliers are chosen for their unwavering dedication to quality. They possess extensive expertise in sourcing and formulating premium ingredients, ensuring that Bioprogreen conditioners deliver exceptional results.

Sustainable Practices: The suppliers align with Bioprogreen's commitment to sustainability. They prioritize environmentally friendly practices, such as utilizing organic and ethically sourced ingredients. By supporting sustainable agriculture and responsible sourcing, they contribute to the preservation of the planet.

Reliability and Consistency: Bioprogreen conditioner suppliers are known for their reliability and consistency in delivering top-notch products. They adhere to strict quality control measures, guaranteeing that each batch of conditioner meets the highest standards of excellence.
Qualities of Bioprogreen Conditioner Supplier
Ingredient Selection: Bioprogreen conditioner suppliers meticulously select natural and organic ingredients that are gentle yet effective. They prioritize botanical extracts, nourishing oils, and plant-based actives to provide maximum benefits for hair health and appearance.

Manufacturing Excellence: The suppliers employ state-of-the-art manufacturing processes to ensure the optimal preservation of the beneficial properties of the ingredients. They maintain strict quality control protocols to guarantee that the conditioner maintains its efficacy from production to application.

Commitment to Safety: Bioprogreen conditioner suppliers prioritize consumer safety. They adhere to stringent safety regulations and avoid the use of harmful chemicals, such as sulfates, parabens, and artificial fragrances. This commitment to safety ensures that Bioprogreen conditioners are gentle yet effective for all hair types.
Conclusion
The suppliers of Bioprogreen conditioner have a rich history, providing exceptional benefits and exhibiting qualities that align with the brand's values. With a commitment to quality, sustainability, and safety, these suppliers contribute to the success of Bioprogreen's conditioner range. They strive to deliver products that enhance hair health and promote a greener and more conscious approach to beauty. Embrace the benefits of Bioprogreen conditioners, knowing that they are backed by reputable suppliers who prioritize excellence and care.
FAQ
1) How can I get samples?
To get samples of our products, just contact us and we will be happy to offer you some. For new customers, courier costs will be charged, but samples will be free. In addition, these costs will be deducted from the official order payment. To arrange an RPI (remote pickup) service on FedEx, UPS, DHL, TNT, etc., please contact us and we will help you arrange this.
2) How does your factory perform in terms of quality control?
In our factory, quality is our top priority. We have strict quality controls in place at every stage of the manufacturing process to ensure that all our products are environmentally friendly and meet the highest standards. In addition, all workers are trained to ensure quality control, whether in the stamping, printing, sewing, or packaging process. Finally, our quality control department is specifically responsible for quality control in each process.
3) Can your factory print or emboss my logo on the goods?
We are happy to personalize our products with your logo or other distinctive marks. We can print your logo on the goods or their packaging box, depending on your needs. For patent protection reasons, we usually require a letter of permission for the logo, but we can also produce the goods based on customer samples or on the image, logo, sizes, etc. Contact us for more information on customizing our products.
 N°200 Lot Al Massar, Z.I Sidi Ghanem,  Route de Safi, 40 000 Marrakech , MOROCCO
Tel:+212 524 335 449
MOB:+212 600 604 387 (Whatsapp / Viber)
Fax:+212 524 457 961
Website: www.bioprogreen.com
E-mail: contact@bioprogreen.com
Follow the US:

 http://facebook.com/bioprogreen
 https://www.instagram.com/bioprogreenmorocco
https://www.youtube.com/@bioprogreenmorocco4708