Export of Damascus rose water
Click Here For More Information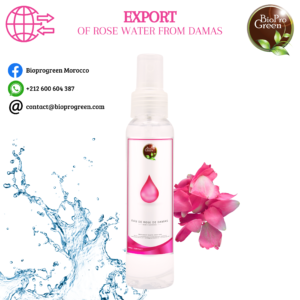 The production of rosewater
The producers of the region practice an ancient tradition of rose water production. They pick the roses by hand, sort the petals, and distill them to produce rose water. In addition, Damask roses are particularly prized for their delicate fragrance and high content of essential oils.
Exportation of rose water: an important activity for the region's economy
The region's economy benefits greatly from the rosewater export business. The main buyers are cosmetics manufacturers, skin care producers, and perfume manufacturers. In addition, rose water is sold directly to consumers around the world.
Health and beauty benefits of rose water
The moisturizing and nourishing properties of rose water for the skin are well known. In fact, it soothes skin irritations and reduces the appearance of wrinkles and fine lines. In addition, in aromatherapy, it is used for its calming and relaxing properties.
Challenges of exporting rose water
However, the export of Damascus rose water faces challenges, including competition from other global producers. It is crucial to maintain the region's reputation for producing high-quality natural products and to guarantee the quality of rosewater.
In conclusion, the export of Damascus rose water plays an essential role in the economy of the region. Rose water, a high-quality natural product, is appreciated worldwide for its moisturizing and fragrant properties. Local producers have the opportunity to promote their products in international markets thanks to the ancient tradition of rose water production.
Click Here For More Information
FAQ
How do I get samples? We offer free samples, but new customers will have to pay the courier fee. This fee can be deducted from the official order payment. You can arrange RPI service on FedEx, UPS, DHL, TNT, etc.
How does your factory ensure quality? We attach great importance to the quality of our products. Each worker ensures quality control from the beginning to the end of the manufacturing process by using only environmentally friendly raw materials. In addition, a specific quality control department is responsible for verification at each stage of the process.
Can you print my logo on the goods? Yes, we can print your logo on the goods or their packaging box. However, to protect patents, you must provide a letter of authorization. Generally, we produce the goods according to the customer's samples or based on the image, logo, sizes, etc.


 N°200 Lot Al Massar, Z.I Sidi Ghanem,  Route de Safi, 40 000 Marrakech , MOROCCO

Tel:+212 524 335 449
MOB:+212 600 604 387 (Whatsapp / Viber)
Fax:+212 524 457 961
Website: www.bioprogreen.com
E-mail: contact@bioprogreen.com

Follow Us :
Facebook: https://www.facebook.com/bioprogreenMorocco
Twitter: https://twitter.com/BioProGreen_MR
Pinterest: https://www.pinterest.fr/bioprogreenmorocco/
Instagram: https://www.instagram.com/bioprogreenmorocco/