Private label for conditioner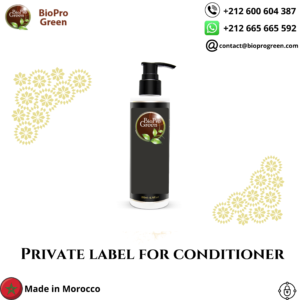 Introduction
Bioprogreen offers a private label opportunity for its conditioner, providing customized and high-quality hair care products. In this article, we will explore the history of Bioprogreen's private label for conditioner, the benefits it offers, and the success it has achieved in the industry.
History of Bioprogreen's Private Label for Conditioner
Bioprogreen's private label for conditioner has a rich history rooted in the brand's commitment to quality and customer satisfaction. With years of expertise in formulating exceptional hair care products, Bioprogreen expanded its offerings to include private label options. This allowed businesses to leverage Bioprogreen's expertise and create their own unique brand of high-quality conditioners.
Benefits of Bioprogreen's Private Label for Conditioner
Brand Customization: The private label option by Bioprogreen empowers businesses to develop their own brand identity. They can customize the label design, packaging, and even fragrance to create a unique product that aligns with their brand image and target audience.

Quality Assurance: Bioprogreen's private label conditioners are backed by the brand's reputation for excellence. Businesses can offer their customers premium quality conditioners that have been developed and tested by Bioprogreen, ensuring high standards of performance and satisfaction.

Market Differentiation: With a private label conditioner, businesses can differentiate themselves from competitors by offering a unique product that is exclusive to their brand. This allows them to stand out in the market and attract customers seeking distinctive hair care solutions.
Success of Bioprogreen's Private Label for Conditioner
Brand Recognition: Businesses that have embraced Bioprogreen's private label option have witnessed increased brand recognition and loyalty. Customers appreciate the quality and effectiveness of the conditioner, building trust and leading to repeat purchases and positive word-of-mouth recommendations.

Profitability and Growth: The success of Bioprogreen's private label for conditioner has resulted in improved profitability for businesses. The ability to offer a customized product without the need for extensive research and development allows businesses to focus on marketing and expanding their customer base, driving growth and increased revenue.
Conclusion
Bioprogreen's private label option for conditioner provides businesses with the opportunity to create their own unique brand of high-quality hair care products. With a rich history of excellence and a commitment to customer satisfaction, Bioprogreen ensures that businesses can offer premium conditioners to their customers, leading to brand differentiation, customer loyalty, and business success. Embrace the private label opportunity and unlock the potential to offer exceptional conditioners under your own brand with the support of Bioprogreen's expertise and reputation.
FAQ
1) How can I get samples?
To get samples of our products, just contact us and we will be happy to offer you some. For new customers, courier costs will be charged, but samples will be free. In addition, these costs will be deducted from the official order payment. To arrange an RPI (remote pickup) service on FedEx, UPS, DHL, TNT, etc., please contact us and we will help you arrange this.
2) How does your factory perform in terms of quality control?
In our factory, quality is our top priority. We have strict quality controls in place at every stage of the manufacturing process to ensure that all our products are environmentally friendly and meet the highest standards. In addition, all workers are trained to ensure quality control, whether in the stamping, printing, sewing, or packaging process. Finally, our quality control department is specifically responsible for quality control in each process.
3) Can your factory print or emboss my logo on the goods?
We are happy to personalize our products with your logo or other distinctive marks. We can print your logo on the goods or their packaging box, depending on your needs. For patent protection reasons, we usually require a letter of permission for the logo, but we can also produce the goods based on customer samples or on the image, logo, sizes, etc. Contact us for more information on customizing our products.
 N°200 Lot Al Massar, Z.I Sidi Ghanem,  Route de Safi, 40 000 Marrakech , MOROCCO
Tel:+212 524 335 449
MOB:+212 600 604 387 (Whatsapp / Viber)
Fax:+212 524 457 961
Website: www.bioprogreen.com
E-mail: contact@bioprogreen.com
Follow the US:

 http://facebook.com/bioprogreen
 https://www.instagram.com/bioprogreenmorocco
https://www.youtube.com/@bioprogreenmorocco4708