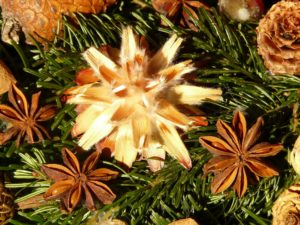 Badiane Essential Oil will help relieve bloating, promote the expulsion of intestinal gas and make digestion easier. It is known for its properties on the digestive sphere: it is carminative and stomachic.
Badiane – Illicium verum – is the fruit of the Badiane, a small tree 8 to 15 meters high, which can live for a hundred years, native to southwestern China and northern Vietnam. It is now unknown in the wild but has been cultivated since time immemorial. The fruit takes the form of a multi-pointed star. It is for this reason that it is also called Badiane, its smell reminiscent of that of green anise around the Mediterranean and with which it shares the virtues.
Furthermore, this multi-pointed star is composed of a multitude of active ingredients, the main one being:
an essential oil (5-9%) consisting mainly of trans-anethole, limonene, alpha-pinene, linalool, and estragole;
History of Badiane Essential Oil
The Chinese have been using Badiane as a masticatory for over 3000 years and revere it in temples for its strong aromatic scent. For this reason, it is a highly prized culinary herb.
Badiane was discovered in 1558 by Thomas Cawendish, an English explorer, who brought them back to London. Star fruits were imported from the 17th century, first from Russia, then from China. Folk medicine is recommended against gastritis, stomach cramps, and intestinal colic. Let's take a closer look at its properties for health and well-being.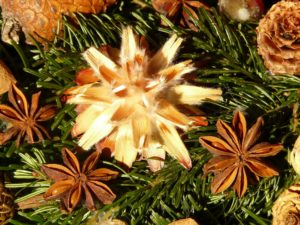 Properties of Badiane Essential Oil
In health, anise essential oil is recognized for these properties:
Estrogen mimetic, emmenagogue (promotes the onset of menstruation), galactogen (activates milk flow)
Digestive and neuromuscular antispasmodic
Aperitif helps digestion and facilitates the elimination of gases
Stomachic, carminative (fight against intestinal fermentation), stimulates intestinal peristalsis
General digestive and respiratory stimulants (at very low doses)
Rich in antiseptic active ingredients
Gastric and hepatic stimulant
Skin tonic
A remedy for digestive disorders
The medicinal uses of this fruit mainly concern the digestive sphere. Badiane is:
Antispasmodic: especially recommended to treat intestinal spasms, painful colitis, gastritis, but also menstrual pain;
Carminative: it prevents the formation of intestinal gas or facilitates their expulsion, relieving bloating, belching, and flatulence;
Digestive: known to treat food poisoning and indigestion related to shellfish and fish, it also regulates intestinal transit after diarrheal episodes.
Other uses:
Stomachic, Badiane in infusion treats small mouth wounds (cuts, canker sores for example) and sore throats without fever. Baiane is recognized to have antibacterial properties. The fruit can be used for this purpose in the form of a gargle and it is also known to relieve vomiting related to nervousness.
Badiane also has a toning action, appreciated in case of general and temporary fatigue without pathological reason. It brings a boost of vitality and will be much appreciated for its warming flavor, like cinnamon, during the cold spells of autumn and winter.
Its aromas make it a popular plant in herbal tea blends: it softens the infusions of other plants with a bitter or unpleasant taste.
Use of Badiane Essential Oil
It is traditionally used to improve the following situations:
Skin care: acne, seborrhea, water retention, cellulite
Digestive problems, dyspepsia, vomiting, aerophagia, spastic colitis, gastralgia, indigestion, constipation, flatulence, bloating
Irregular periods, menstrual pain, menopause, pre-menopause
Fatigue, lower back pain, spasmophilia, palpitations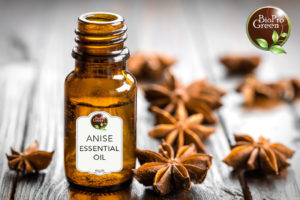 Branding and Package Design of Badiane Essential Oil
Oriental Group provides a complete branding service for clients wishing to penetrate their domestic markets using their very own Badiane Essential Oil Wholesale.
Bottling
We have many varieties of bottles and containers at our disposal, of course, the client may supply their own, or can send us a sample for us to mass produce.
Labeling
The client can supply their own label or have one produced for them by our team of designers, we can design exactly to your specifications.
Casing
We can supply casing solutions to meet any specifications ranging from customized design cases, case-printed designs, and other custom requirements.
Please contact us with your requirements.
Further, you may please note that we have the strengths and capabilities to deliver an international quality Badiane Essential Oil. Our additional strength today is an excellent logistic control system, which facilitates faster order processing and shipment. We have even automatized most of the production chain to ensure faster production and accuracy.
FAQ Badiane Essential Oil:
How can I get some samples?
We are honored to offer you samples. New clients are expected to pay for the courier cost, the samples are free for you, and this charge will be deducted from the payment for the formal order.
Regarding the courier cost: You can arrange an RPI (remote pick-up) service with FedEx, UPS, DHL, TNT, etc. To have the samples collected, inform us of your DHL collection account. Then you can pay the freight direct to your local carrier company.
What does your Badiane Essential Oil do regarding quality control?
Quality is a priority! Every worker keeps the QC from the very beginning to the very end:
All raw materials we used are environmental-friendly.
Skillful workers care about every detail in handling the stamping, printing, stitching, and packing process.
The quality control department is specially responsible for quality checking in each process.
Can your factory print or emboss my logo on the goods?
Yes, we can print your logo on the goods or their packing box, for patent protection purposes, a letter of attorney (letter of authorization) shall be provided for the logo.
We usually produce goods based on customers' samples or based on customers' pictures, logos, sizes, etc. detailed information design for customers.
Company Information:
Oriental Group
N°200 Lot Elmassar, Z.I Sidi Ghanem
Route de Safi
40 000 Marrakech
MOROCCO
Tel: +212 524 335 449
MOB: +212 600 604 387 (Whatsapp / Viber)
Fax: +212 524 457 961
Website: https://www.bioprogreen.com/
E-mail : contact@group-oriental.com
FOLLOW US:
http://facebook.com/grouporiental
http://twitter.com/grouporiental