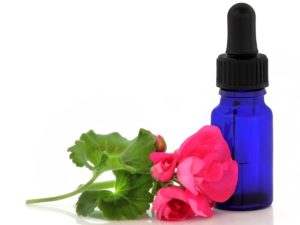 Geranium Essential Oil is an essential oil of rose Geranium which initially comes from Reunion Island, then from Madagascar.
Very beautiful essential oil, this essential oil inspires trust and kindness.
It has a rather varied composition of active substances. This allows it to be effective in many therapeutic indications while remaining safe.
Geranium Essential Oil will soothe inflamed skin, fungal infections, redness, acne, and inflammation of the mouth. It will reduce the signs of time, and restore radiance to dull skin or puffy faces. It will also be of great help for all the intimate problems of women, and metabolic disorders such as those related to diabetes or cholesterol.
To all these qualities is finally added that of possessing a delicate, very floral fragrance, with more or less pronounced notes of rose.
Geranium Essential Oil is generally well tolerated. People with atopic skin will remain cautious. The internal route will not be recommended for people with a hormone-dependent history. Pregnant women will naturally also be cautious.
History of Geranium Essential Oil
Originally from South Africa, this flower was introduced to Europe in the 17th century. It is now found across the world.
In the Middle East and Europe, it has been widely used for medical purposes, in particular, to treat inflammatory pain, constipation, and nervous disorders, to improve healing or to manage cholesterol problems.
Geranium Essential Oil is now commonly used for its therapeutic and cosmetic properties. Decongestant, hemostatic, healing, and anti-infective, this essential oil is undoubtedly one of the essential oils to draw in emergency situations.
Given its potential, it seems certain that new clinical studies will soon be carried out to further prove its interest in medical aromatherapy.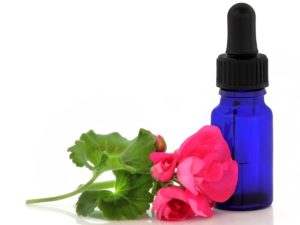 Use of Geranium Essential Oil
Beauty: wrinkles, dull skin, puffy face, acne

Skin disorders

Bacterial dermatitis

Fungal infections

Cuts, bleeding

Wounds
Oral inflammations: stomatitis, mucositis, glossitis, Aphtosis

Urogenital disorders

Vaginitis

Prostatitis

Chronic vaginal candidiasis

Urogenital atrophy
Nervous fatigue, stress, irritability, depression

Menopause

Circulatory disorders

Hemorrhoids

phlebitis

Breast congestion
Metabolic disorders

Diabetes

Obesity

Dyslipidemia
Skin regeneration and anti-aging action
Anti-aging and regenerating properties
Geranium Essential Oil first of all exerts an anti-inflammatory, antioxidant and anti-microbial action beneficial to the healing and balance of the skin.
Then remember that the essential oil of Geranium contains geraniol which has an interesting anti-elastase and anti-keratinase activity both in the management of skin infections and in the limitation of skin aging.
Added to this is the fact that it tremendously increases the regenerative capacities of the skin.
In various studies, it has been observed, for example, that it contributes to an increase in the deposition of collagen in the skin and that it improves wound closure.
Finally, it is known to have tonic and astringent properties for the skin.
Geranium Essential Oil will therefore be particularly interesting in face care:
As an anti-aging treatment

To restore radiance to dull skin,

To decongest puffy faces.
Skin disorders and bleeding
As evidenced by the various studies carried out, the healing and regenerating properties of Geranium Essential Oil are of great interest in the care of wounds of all kinds.
For example, a cream enriched with 2% Geranium rose essential oil and Den oil (oil rich in Thymol):
– was as effective as a conventional antibiotic cream (mupirocin) for the care of resistant staphylococcal wounds.
– has made it possible to completely close wounds in diabetic subjects in less than 13 days.
Geranium Essential Oil is also recommended to stop bleeding from a cut or bloody wound.
Thus the essential oil of Geranium may be suitable as well:
for the

treatment of simple wounds, or chronic wounds, infected or not.

in the treatment of

dermatitis or eczema

(provided that the eczema is not linked to an allergy to cosmetics)

in case of

cut

in case of small bleeding or

hemorrhoids
Warning: the pure application of the essential oil of Geranium on a wound causes tingling or even a burning sensation, it must therefore always be diluted.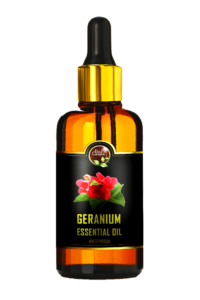 Metabolic Disorders
Diabesity is the hybrid term that brings together 2 of the current evils of our consumer society, namely diabetes, and obesity.
Diabetes
It has already been mentioned previously, the essential oil Geranium will be one of the essential oils recommended treating wounds and ulcers related to diabetes.
Then, because of its hypoglycemic properties, the absorption of Geranium Essential Oil leads to a decrease in blood glucose. Among the mechanisms of action, we should mention in particular that geraniol increases the secretion of insulin.
The action of this essential oil is not limited only to blood sugar: indeed, in the event of diabetes, phenomena of oxidation and accumulation of fat gradually deteriorate the cells of the liver and kidneys. By limiting these phenomena, Geranium Essential Oil will also have a protective effect on these liver and kidney cells.
Geranium Essential Oil could therefore be considered as a preventive measure,
when there is the emergence of type II diabetes.

or to limit complications related to existing diabetes.
People who are already on anti-diabetic treatment will however be very careful with Geranium Essential Oil, so as not to disturb their current treatment and their blood sugar.
Cholesterol and other dietary fats
In traditional medicine, Geranium in the form of a plant is one of the remedies used in the Middle East to lower cholesterol.
Cholesterol-lowering properties.
Additionally, Geranium Essential Oil has been shown to decrease the absorption of dietary fats, also known as triglycerides (by inhibiting pancreatic lipase activity).
Taking into account all its benefits mentioned above, Geranium Essential Oil is indeed one of the natural remedies that can accompany people suffering from diabesity.
Precautions for Geranium Essential Oil 
Caution in people with allergies or prone to skin dermatitis: As with all essential oils, it is recommended to first perform a skin test in the bend of the elbow to check that no skin reaction appears.

As a precautionary principle: Oral route and/or prolonged treatment is not recommended for people on tamoxifen or with a hormone-dependent history. If in doubt, seek advice from your pharmacist or doctor.
Branding and Package Design of Geranium Essential Oil
Oriental Group provides a complete branding service for clients wishing to penetrate their domestic markets using their very own Essential Oil Wholesale.
Bottling
We have many varieties of bottles and containers at our disposal, of course, the client may supply their own, or can send us a sample for us to mass produce.
Labeling
The client can supply their own label or have one produced for them by our team of designers, we can design exactly to your specifications.
Casing
We can supply casing solutions to meet any specifications ranging from customized design cases to case-printed designs, and other custom requirements.
Please contact us with your requirements.
Further, you may please note that we have the strengths and capabilities to deliver international quality Essential Oil. Our additional strength today is the excellent logistic control system, which facilitates faster order processing and shipment. We have even automatized most of the production chain to ensure faster production and accuracy.
FAQ Essential Oil:
How can I get some samples?
We are honored to offer you samples. New clients are expected to pay for the courier cost, the samples are free for you, and this charge will be deducted from the payment for the formal order.
Regarding the courier cost: You can arrange an RPI (remote pick-up) service with FedEx, UPS, DHL, TNT, etc. To have the samples collected, inform us of your DHL collection account. Then you can pay the freight direct to your local carrier company.
What does your Essential Oil do regarding quality control?
Quality is a priority! Every worker keeps the QC from the very beginning to the very end:
All raw materials we used are environmental-friendly.
Skillful workers care about every detail in handling the stamping, printing, stitching, and packing process.
Quality control department is specially responsible for quality checking in each process.
Can your factory print or emboss my logo on the goods?
Yes, we can print your logo on the goods or their packing box, for patent protection purposes, a letter of attorney (letter of authorization) shall be provided for the logo.
We usually produce goods based on customers' samples or based on customers' pictures, logos, sizes, etc. detailed information design for customers.
Company Information:
Oriental Group
N°200 Lot Elmassar, Z.I Sidi Ghanem
Route de Safi
40 000 Marrakech
MOROCCO
Tel: +212 524 335 449
MOB: +212 600 604 387 (Whatsapp / Viber)
Fax: +212 524 457 961
Website : https://www.bioprogreen.com/
E-mail : contact@group-oriental.com
FOLLOW US:
http://facebook.com/grouporiental