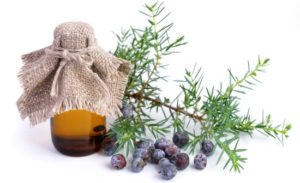 Juniper is well known for its blueberries which perfume sauerkraut, the essential oil of juniper extracted from the branches brings beautiful analgesic, anti-inflammatory, and antiseptic properties. The essential oil extracted from juniper berries will be more specifically anti-lithiasis but also drains the liver and the pancreas.
History of Juniper Essential Oil 
It is an evergreen shrub of the cypress family that is easily found on dry soils, moors, in the plains, and at altitudes up to 3,000 m. Its reddish-brown trunk bears branches with sharp leaves, which end in sharp points.
The green berries ripen in 2 years to take on their dark blue color. They have been used since antiquity as a sudorific, depurative, digestive, diuretic, and urinary antiseptic, and against gout.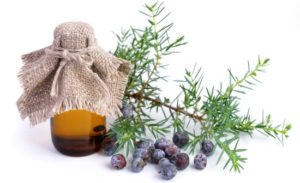 Properties of juniper essential oil
The properties of juniper essential oil are explained by the presence of active compounds originally present in the berries of Juniperus communis.
Diuretic, fluid regulator
The richness of the oil in alpha-pinene and terpinen-4-ol facilitates the drainage of the urinary and biliary tracts, as well as the excretion of water.
Anti-rheumatic
Juniper essential oil contains a large number of monoterpenes (myrcene, sabinene, pinenes, widdrene) capable of combating rheumatic and neuralgia pain such as sciatica.
Other properties:
-Kidney purifier
-Analgesic
-Brain tonic
-Anti-fatigue
A general tonic and stimulant
Thanks to its richness in monoterpenes, juniper essential oil is a general tonic and stimulant for the body. This property is explained by the stimulation of the adrenal cortex.
Indications of juniper essential oil
Juniper oil has multiple indications thanks to the many properties described above.
Muscle and joint pain
The analgesic properties of the oil allow it to be recommended for people with pain of various origins: body aches, arthritis, osteoarthritis and rheumatism.
Kidney and urinary disorders
Juniper essential oil is a renal purifier and can therefore be indicated to treat renal lithiasis and urinary tract infections.
Digestive cures
The depurative properties of the oil mean that it is also used as a cure for poisoning and digestive disorders.
Immunodeficiency
It also has anti-fatigue properties that make it useful in case of fatigue or viral or bacterial infection (chickenpox, scarlet fever, measles, whooping cough, etc.)
Some skin problems
As juniper oil is draining, it can be used to treat various skin disorders: acne, various dermatoses and dermatitis (skin inflammation), skin infections (furuncle, impetigo, mycosis, shingles, paronychia), skin oily, dull skin and tired, bruised feet, etc.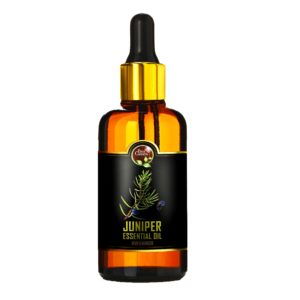 Insomnia, anxiety
In diffusion, thanks to an essential oil diffuser, the oil can help to find sleep and calm thanks to its relaxing and sedative properties.
Other indications:
-Anguish and anxiety
-Psychic shock (mourning, etc.)
-Latent depression: in olfaction
-Physical and mental fatigue
-Changing moods (cyclothymia)
-Nervousness and inner restlessness
-Stress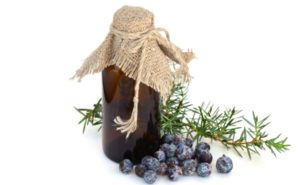 Uses of Juniper Essential Oil
Juniper essential oil can be used in very different ways for a wide spectrum of conditions and symptoms. Nevertheless, in case of doubt, it is recommended to contact a professional in order to collect personalized and secure information, adapted to your medical situation, your profile, and your age.
Cutaneous application, massage
For all skin problems, dilute 1 drop of essential oil with at least 4 drops of vegetable oil, then apply and massage the affected area.
For pain:

dilute with vegetable oil and massage the affected part.

Aches:

dilute with vegetable oil and massage the affected part.

Arthritis, osteoarthritis:

dilute with vegetable oil and massage the affected part.

Rheumatism:

dilute with vegetable oil and massage the part concerned.

To stimulate the immune system

: dilute with vegetable oil and massage the back and soles of the feet.

For fatigue:

dilute with vegetable oil and massage along the spine.

In case of infections:

dilute with vegetable oil and massage the back and the soles of the feet.

For kidney disorders:

dilute with vegetable oil and massage the back (at the level of the kidneys).

Feet (tired, bruised, etc.):

in a footbath.

For skin disorders:

dilute with vegetable oil and apply to the affected parts.

Dull, mature, oily skin:

dilute with vegetable oil or cream

Renal lithiasis:

dilute with vegetable oil, massage the back (at the level of the kidneys)

Urinary infections:

dilute with vegetable oil and massage the back (at the level of the kidneys)
Branding and Package Design of Juniper Essential Oil
Oriental Group provides a complete branding service for clients wishing to penetrate their domestic markets using their very own Juniper Essential Oil Wholesale.
Bottling
We have many varieties of bottles and containers at our disposal, of course, the client may supply their own, or can send us a sample for us to mass produce.
Labeling
The client can supply their own label or have one produced for them by our team of designers, we can design exactly to your specifications.
Casing
We can supply casing solutions to meet any specifications ranging from customized design cases, case printed designs and other custom requirements.
Please contact us with your requirements.
Further, you may please note that we have the strengths and capabilities to deliver international quality Juniper Essential Oil. Our additional strength today is the excellent logistic control system, which facilitates faster order processing and shipment. We have even automatized most of the production chain to ensure faster production and accuracy.
FAQ Juniper Essential Oil:
How can I get some samples?
We are honored to offer you samples. New clients are expected to pay for the courier cost, the samples are free for you, and this charge will be deducted from the payment for the formal order.
Regarding the courier cost: You can arrange an RPI (remote pick-up) service with FedEx, UPS, DHL, TNT, etc. To have the samples collected, or inform us of your DHL collection account. Then you can pay the freight direct to your local carrier company.
What does your Juniper Essential Oil do regarding quality control?
Quality is a priority! Every worker keeps the QC from the very beginning to the very end:
All raw materials we used is environmental-friendly.
Skillful workers care about every detail in handling the stamping, printing, stitching, and packing process.
The quality control department is specially responsible for quality checking in each process.
Can your factory print or emboss my logo on the goods?
Yes, we can print your logo on the goods or their packing box, for patent protection purposes, a letter of attorney (letter of authorization) shall be provided for the logo.
We usually produce goods based on customers' samples or based on customers' pictures, logos, sizes etc. detailed information design for customers.
Company Information:
Oriental Group
N°200 Lot Elmassar, Z.I Sidi Ghanem
Route de Safi
40 000 Marrakech
MOROCCO
Tel: +212 524 335 449
MOB: +212 600 604 387 (Whatsapp / Viber)
Fax: +212 524 457 961
Website: https://www.bioprogreen.com/
E-mail : contact@group-oriental.com
FOLLOW US:
http://facebook.com/grouporiental
http://twitter.com/grouporiental