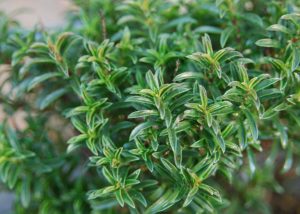 Major oil of aromatherapy, it has powerful purifying effects and is often recommended as an accompaniment during infectious episodes. It is also known for its stimulating properties which are very useful in case of fatigue.
History of Savory Essential Oil
Don't be fooled by its nickname: "Devil's weed" is not really demonic. This is the nickname given to it by Westerners in the Middle Ages because of its aphrodisiac properties. Much later, during the Second World War, this time it took the nickname "pepperette" because it was a good substitute for pepper, which had become rare in these times of scarcity.
Today, it is found fresh in the markets or more commonly in the form of ground dried herbs that are added to cooked dishes at the end of their cooking. But to really benefit from its therapeutic virtues, its essential oil is much more suitable. Cultivated mainly in European countries, it is also used in the manufacture of toothpaste.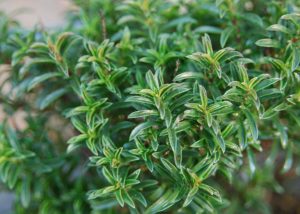 Properties of Savory Essential Oil
The properties of Savory Essential Oil are explained by the presence of active compounds originally present in the flowering twigs of Satureja montana ssp montana carvacrolifera.
Anti-infectious and antibacterial
Oils that contain monoterpene phenols such as thymol and carvacrol are all bactericides, virucides, fungicides, parasiticides, tonics, but be careful because they are also caustic when applied locally to the skin and mucous membranes. The monoterpenes contained in the oil complete their action synergistically.
Immune stimulant
The richness of the oil in phenols (carvacrol and thymol in particular) makes it an outstanding immune stimulant. They increase the amount of CD4 and CD8 lymphocytes, T lymphocytes, and phagocytosis.
General, physical and sexual tonic
Thanks to its richness in monoterpenes and monoterpene phenols, Savory Essential Oil is a general tonic and stimulant for the body. This property is explained by the stimulation of the adrenal cortex. It is known to fight against fatigue and improve mental and sexual functions.
Other properties:
Hypertensive

Analgesic

Circulatory tonic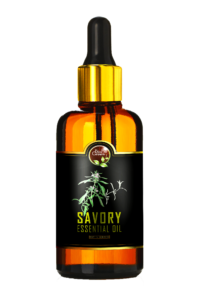 Psychically stimulating and energizing
Thymol influences the activity of gamma-aminobutyric acid (GABA), the main inhibitory neurotransmitter of the central nervous system (brain and spinal cord). It allows a general stimulation of the organism.
Positive
Thanks to thymol and carvacrol, it is a slightly antidepressant oil, that is to say capable of interacting with the level and functioning of certain neurotransmitters involved in depression.
Indications of Savory Essential Oil
Thanks to the many properties described above, savory oil has multiple indications.
Immune deficiencies
The contribution of Savory Essential Oil to the antioxidant system and its immunostimulant capacity make it possible to globally increase the immune response to external aggressions. It can be used in case of viral or bacterial infections, epidemics, physical fatigue, tropical fever (malaria, typhus).
Skin infections
As a powerful anti-infective, Savory Essential Oil can treat dermatoses of infectious and parasitic origin (mycosis, scabies, abscess).
Digestive disorders
Thanks to the tonic properties of savory and its anti-infective power, its oil is used to treat infectious diarrhea, flatulence, intestinal fermentation and intestinal infections (dysentery, amoebiasis, malaria).
ENT and respiratory disorders
The anti-infectious properties of savory oil allow it to be used in the treatment of many disorders affecting the ENT sphere:
Angina

Bronchitis

Flu

Laryngitis

Tracheitis
Anxiety

Trust (lack)

Latent, seasonal depression

Ordeal, hard blow

Intellectual, nervous and/or physical fatigue

Sexual fatigue, low libido

Chilliness

Sadness, melancholy, nostalgia, dark thoughts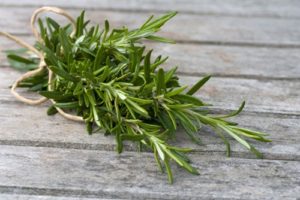 Use of Savory Essential Oil
    Savory Essential Oil can be used in very different ways for a wide spectrum of illnesses and symptoms. Nevertheless, in case of doubt, it is recommended to contact a professional in order to collect personalized and secure information, adapted to your medical situation, your profile and your age.
Cutaneous application, massage
Because of its significant dermocausticity, Savory Essential Oil must be strongly diluted (5 to 10% maximum). In addition, it is essential to carry out a skin test beforehand at the level of the bend of the elbow. If the skin becomes warm and/or red, the dilution should be increased until there is no reaction.
For all respiratory infections: dilute a drop of essential oil with at least nine drops of vegetable oil, then apply and massage the arch of the foot.
For digestive disorders: dilute in vegetable oil and massage the abdomen.
Precautions for using Savory Essential Oil
Savory Essential Oil is strictly contraindicated in pregnant and breastfeeding women and in children under 15 years of age.
At high doses or in the repeated application, Savory Essential Oil is toxic to the liver. It is therefore contraindicated in the case of hepatic disorders. When taken internally, it must be, imperatively, on the advice of a specialist.
Finally, people prone to hypertension should use it with caution.
Warning: The properties and indications mentioned in this sheet are based on a body of research that presents a traditional use of the essential oil, recognized by experts in aromatherapy.
Nevertheless, it is still recommended for the use of essential oils to contact an aromatherapy professional in order to collect personalized and secure information, adapted to your medical situation, your profile and your age.
Branding and Package Design of Savory Essential Oil
Oriental Group provides a complete branding service for client wishing to penetrate their domestic markets using their very own Savory Essential Oil Wholesale.
Bottling
We have many varieties of bottles and containers at our disposal, of course the client may supply their own, or can send us a sample for us to mass produce.
Labeling
The client can supply their own label or have one produced for them by our team of designers, we can design exactly to your specifications.
Casing
We can supply casing solutions to meet any specifications ranging from customized design cases, case printed designs and other custom requirements.
Please contact us with your requirements.
Further, you may please note that we have the strengths and capabilities to deliver international quality of Savory Essential Oil. Our additional strength to day is excellent logistic control system, which facilitates faster order processing and shipment. We have even automatized most of the production chain to ensure faster production and accuracy.
FAQ Savory Essential Oil:
How can I get some samples?
We are honoured to offer you samples. New clients are expected to pay for the courier cost, the samples are free for you, and this charge will be deducted from the payment for formal order.
Regarding the courier cost: You can arrange a RPI (remote pick-up) service upon FedEx, UPS, DHL, TNT, etc. To have the samples collected; or inform us your DHL collection account. Then you can pay the freight direct to your local carrier company.
How does your Savory Essential Oil do regarding quality control?
Quality is priority! Every worker keeps the QC from the very beginning to the very end:
All raw material we used are environmental-friendly.
Skilful workers care every detail in handing the stamping, printing, stitching, packing process.
Quality control department especially responsible for quality checking in each process.
Can your factory print or emboss my logo on the goods?
Yes, we can print your logo on the goods or their packing box, for patent protection purpose, a letter of attorney (letter of authorization) shall be provided for the logo.
We usually produce goods based on customer's samples or based on customers' picture, logo, and sizes etc. detail information design for customers.
Company Information:
Oriental Group
N°200 Lot Elmassar, Z.I Sidi Ghanem
Route de Safi
40 000 Marrakech
MOROCCO
Tel: +212 524 335 449
MOB: +212 600 604 387 (Whatsapp / Viber)
Fax: +212 524 457 961
Website : https://www.bioprogreen.com/
E-mail : contact@group-oriental.com
FOLLOW US:
http://facebook.com/grouporiental
http://twitter.com/grouporiental