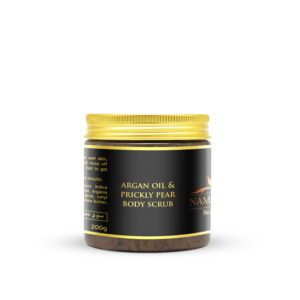 Cactus Scrub 100g

cactus scrub:
Bring out the beauty in you with our cactus scrub which contains rich nutrients that help to exfoliate and brighten all skin types. Firstly, Our cactus scrub is sustainably sourced natural ingredients that are good for you and the environment, making it environmentally friendly. This cactus scrub does not only protect your skin from germs, it nourishes your skin and makes it glow beautifully to ensure you look beautiful all day long.
The cactus is excellent at storing and retaining moisture—which is a quality any grooming brand would want to emulate with its products. When cactus-infused products are applied to the skin, they rely on the vitamins and minerals found within cactus oils and extracts to deliver the same proactive but protective benefits of the ultra-hydrated desert plant.
Check out the following vitamins and minerals found inside the prickly pear cactus. They contribute to its hydrating, toxin-blocking, anti-inflammatory, anti-aging powers when used in skincare:
Vitamin A:
An anti-inflammatory that keeps breakouts at bay, and an antioxidant that defends skin against toxins and pollution. Helps brighten the complexion and is an excellent hydrator.
Vitamin D:
Provides a boost to cellular turnover and metabolism, in turn promoting a healthy, clear complexion. Also has antioxidant powers to shield it from skin-aging aggressors.
Vitamin E:
Cactus delivers Vitamin E in super high doses, which provides skin with heaps of the vitamins' outstanding skin-nourishing, firming, healing, anti-aging, moisturizing, and toxin-fighting abilities.
Vitamin K:
Firms the skin by boosting collagen production and elasticity.
Oriental Group
N°200 Lot Elmassar,Sidi Ghanem Industrial Estate
Route de Safi
40 000 Marrakech
MOROCCO
Tel: +212 524 335 449
MOB : +212 600 604 387
Fax:+212 524 457 961