Bioprogreen Aloe Vera Oil Distributors: Embracing Quality Certifications and
Innovations.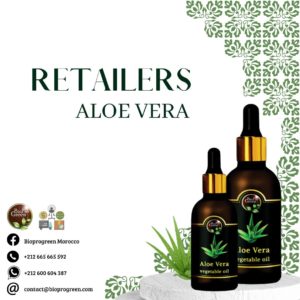 As the popularity of natural health and beauty products continues to surge, aloe vera oil has
established itself as a staple ingredient. At the forefront of its proliferation are distributors like
Bioprogreen ensures this valuable product reaches consumers in its purest form. This article
highlights the importance of quality certifications and the role of innovation in Bioprogreen's aloe
vera oil distribution.
The Role of Quality Certifications. 
Bioprogreen, as a trusted distributor of aloe vera oil, understands the value of quality certifications.
These certifications indicate that the product meets certain standards for safety, quality, and
performance. Bioprogreen is committed to providing products that are not only effective but also
safe and ethically produced.
Here are some of the notable quality certifications that Bioprogreen prioritizes:
1. Organic Certification: Bioprogreen's aloe vera oil is organically certified, assuring customers
that the oil is free from harmful chemicals and pesticides.
2. ISO Certifications: Adherence to ISO standards demonstrates Bioprogreen's commitment to
safety, reliability, and quality in their aloe vera oil.
3. Cruelty-Free and Vegan Certifications: Bioprogreen's aloe vera oil is not tested on animals
and contains no animal-derived ingredients, making it an ethical choice for conscious consumers.
4. Fair Trade Certification: Bioprogreen ensures that their aloe vera oil is produced under fair
labor conditions and that farmers are compensated fairly.
Embracing Innovations at Bioprogreen.
Innovation is integral to Bioprogreen's operation, allowing them to offer superior products and
services. Here's how Bioprogreen is innovating within the aloe vera oil distribution landscape:
1. Eco-Friendly Packaging: Bioprogreen uses sustainable packaging materials for its aloe vera
oil, reducing environmental impact and aligning with consumers' increasing eco-consciousness.
2. Advanced Quality Testing: To guarantee the quality of their aloe vera oil, Bioprogreen employs
advanced testing methods, ensuring the purity and potency of the oil.
3. Efficient Distribution Network: Bioprogreen has established an efficient distribution network to
ensure timely delivery of aloe vera oil to retailers and end consumers.
4. Digital Traceability: Bioprogreen is embracing digital innovations like blockchain technology to
provide full transparency to their customers, allowing them to trace the product's journey from the field
top shelf.
In conclusion, Bioprogreen stands as a testament to the positive impact of upholding quality
certifications and embracing innovation in the distribution of aloe vera oil. By ensuring the delivery
of high-quality, certified aloe vera oil, and continuously innovating their processes, Bioprogreen
sets a high bar in the industry. It's not just about offering a product; it's about providing a product
that consumers can trust, from a company that values quality, ethics, and innovation.
FAQ 
How can I obtain samples? We offer free samples, but new customers will need to pay the courier fees. These fees can be deducted from the payment of the official order. We can arrange shipping via RPI service on FedEx, UPS, DHL, TNT, etc.
How does your factory ensure quality? We place great importance on the quality of our products. Each worker ensures quality control from the beginning to the end of the manufacturing process, using only environmentally friendly raw materials. Additionally, a dedicated quality control department is responsible for verifying each step of the process.
Can you print my logo on the goods? Yes, we can print your logo on the goods or their packaging box. However, to protect patents, you need to provide an authorization letter. Generally, we produce the goods based on customer samples or based on the image, logo, sizes, etc.
Information about BioProGreen :
 N°200 Lot Al Massar, Z.I Sidi Ghanem,  Route de Safi, 40 000 Marrakech , MOROCCO
Tel:+212 524 335 449
MOB:+212 600 604 387 (Whatsapp / Viber)
Fax:+212 524 457 961
Website: www.bioprogreen.com
E-mail: contact@bioprogreen.com
Follow us  :
 http://facebook.com/bioprogreen
 https://www.instagram.com/bioprogreenmorocco
 https://www.youtube.com/@bioprogreenmorocco4708