anti-wrinkle cream Factory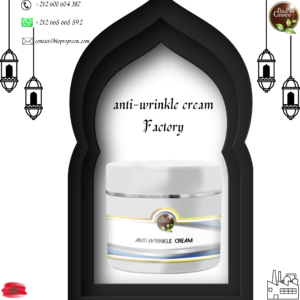 Bioprogreen, a leading anti-wrinkle cream factory, produces high-quality skincare products that effectively target and reduce the signs of aging. Additionally, their focus on natural ingredients, nourishing benefits, and sustainable packaging has established them as a trusted manufacturer in the beauty industry.
With a strong background in skincare research and development, Bioprogreen's team of experts formulates effective products catering to individuals seeking to combat visible signs of aging. By utilizing natural and organic ingredients, Bioprogreen ensures that their creams are safe, gentle, and deliver visible results.
Benefits
The anti-wrinkle creams produced at Bioprogreen offer numerous benefits. Specifically formulated to reduce fine lines and wrinkles, they provide a smoother and more youthful-looking complexion. By incorporating carefully selected natural ingredients like potent antioxidants, vitamins, and peptides, these creams improve skin elasticity, promote collagen production, and enhance overall skin health. Regular use of Bioprogreen's anti-wrinkle creams can result in firmer, more supple, and radiant skin.
Using Bioprogreen's anti-wrinkle creams is straightforward and convenient. After thoroughly cleansing your face, gently massage a small amount of the cream onto your face and neck using upward motions until fully absorbed. For optimal results, incorporate the cream into your daily skincare routine, applying it twice a day—once in the morning and once in the evening. Consistency is key to achieving the desired outcomes and experiencing the full benefits of Bioprogreen's creams.
Packaging and environment
Bioprogreen is committed to sustainable packaging practices at their factory. The anti-wrinkle creams are packaged in containers made from recyclable materials, reducing environmental impact and promoting responsible consumption. The packaging is designed for convenience, ensuring easy access to the product and efficient storage.
In summary, Bioprogreen's anti-wrinkle cream factory produces high-quality skincare products that deliver visible results. Their expertise in skincare research, combined with a commitment to natural ingredients, ensures the effectiveness and safety of their creams. Benefits include reducing wrinkles, improving skin elasticity, and promoting a radiant complexion. Bioprogreen demonstrates their commitment to responsible manufacturing and environmental stewardship through sustainable packaging practices. For a quality, innovative, and sustainable anti-wrinkle cream factory, choose Bioprogreen.
FAQ
1) How can I get samples?
To get samples of our products, just contact us and we will be happy to offer you some. For new customers, courier costs will be charged, but samples will be free. In addition, these costs will be deducted from the official order payment. To arrange an RPI (remote pickup) service on FedEx, UPS, DHL, TNT, etc., please contact us and we will help you arrange this.
2) How does your factory perform in terms of quality control?
In our factory, quality is our top priority. We have strict quality controls in place at every stage of the manufacturing process to ensure that all our products are environmentally friendly and meet the highest standards. In addition, all workers are trained to ensure quality control, whether in the stamping, printing, sewing, or packaging process. Finally, our quality control department is specifically responsible for quality control in each process.
3) Can your factory print or emboss my logo on the goods?
We are happy to personalize our products with your logo or other distinctive marks. We can print your logo on the goods or their packaging box, depending on your needs. For patent protection reasons, we usually require a letter of permission for the logo, but we can also produce the goods based on customer samples or on the image, logo, sizes, etc. Contact us for more information on customizing our products.
 N°200 Lot Al Massar, Z.I Sidi Ghanem,  Route de Safi, 40 000 Marrakech , MOROCCO
Tel:+212 524 335 449
MOB:+212 600 604 387 (Whatsapp / Viber)
Fax:+212 524 457 961
Website: www.bioprogreen.com
E-mail: contact@bioprogreen.com
Follow the US:

 http://facebook.com/bioprogreen
 https://www.instagram.com/bioprogreenmorocco
https://www.youtube.com/@bioprogreenmorocco4708