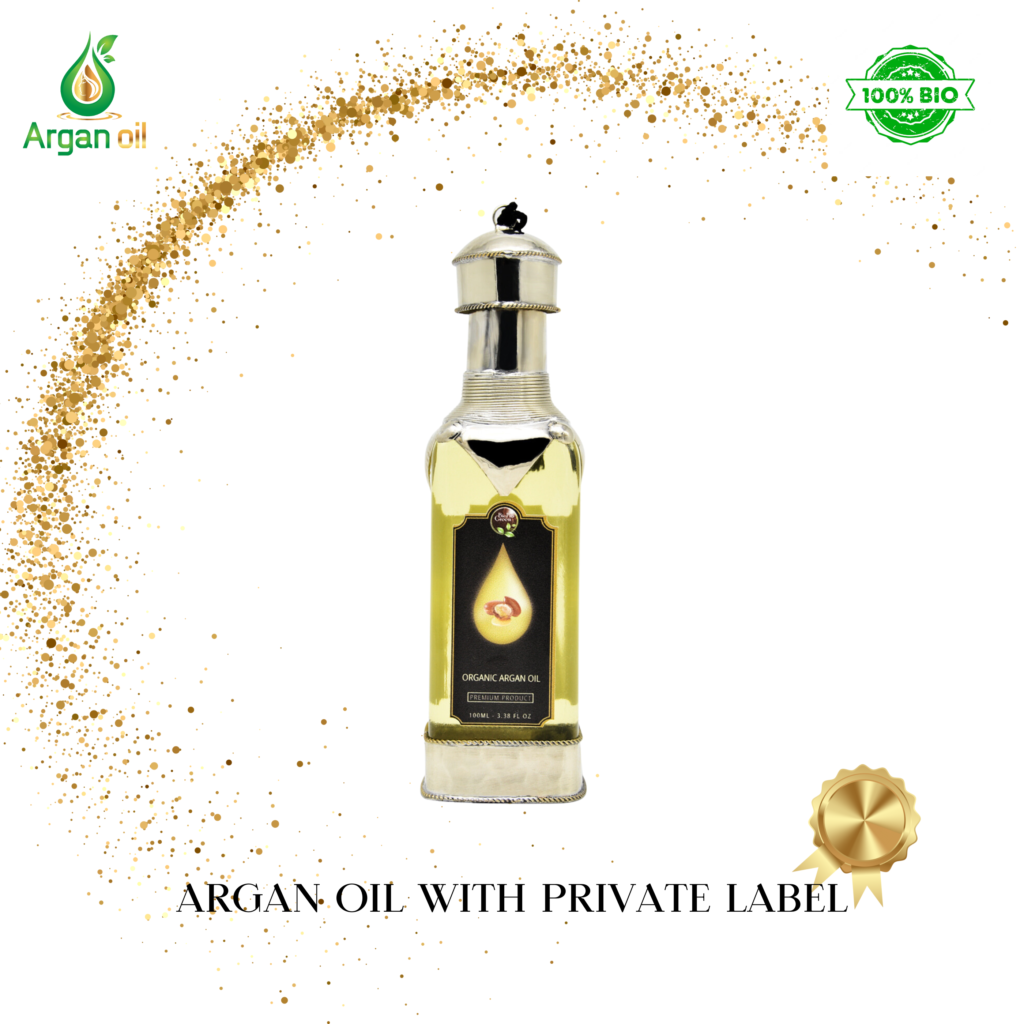 Description
As a private label supplier, you can offer your customers high-quality argan oil, extracted from the nuts of the argan tree, which is native to Morocco. This natural oil is rich in essential fatty acids, vitamin E and antioxidants, giving it nourishing and protective properties for the skin, hair and digestion.
At Bioprogreen, we use traditional extraction methods to ensure the purity of the oil, and our products are certified organic to guarantee the sustainability of the production. You can offer argan oil pure or blended with other ingredients to create unique cosmetic or food products, such as body lotions, hand creams, shampoos or soaps made with argan oil. You can also sell pure argan oil in bottles for customers to use as they wish.
Benefits of Argan Oil
Improves skin elasticity with its moisturising and antioxidant properties
Soothes irritated skin and reduces inflammation for sensitive and problem skin
Strengthens nails and prevents breakage due to its nourishing and protective properties
Versatile use as an ingredient in personal care products such as moisturizers, hair oils, soaps and lotions
Ability to improve skin texture by reducing blemishes and dark spots
Scalp health benefits, helping to prevent dandruff and stimulate hair growth
UV protection: Argan oil contains natural antioxidants that can help protect the skin from damage caused by the sun's UV rays.
Additional information
INCI name: Argania Spinosa Kernel Oil
Type of processing: Cold pressed
Type of cultivation: Organic
All our Argan Oils have been certified organic by CCPB/ and to this end meet the regulatory standards of: (EC) No. 834/2007, No889/2008 and USDA/US NOP of the highest quality natural Argan Oil 100% & Premium.
Minimum quantity: 5 litres
Supply capacity: 20,000 litres/litres per week
Port: Casablanca / Tangier MED / Agadir
Payment terms: L/C, T/T, Western Union, MoneyGram, PAYPAL
Packaging and delivery
Delivery time: 15 days after confirmation of all details and deposit
Argan oil can be in 40ml, 60ml, 100ml ,125ml, in PET plastic with pump250ml, 500 ml, 1Liter, 10 Liters, 20 liters, 25 liters ,33 Liters in plastic with cap ,Argan oil can be in 40ml, 60ml, 100ml ,250ml, 500 ml in transprent or tinted glass bottle
Quick details
Place of origin: Morocco
Type of processing: cold pressed
Form: Oil
Use: Body, face and hair (use in a hair salon)
Type of supply: OBM (Original Brand Manufacturing)
Brand: BioProGreen or private label
Price: ex works
Certification: MSDS, CCPB / NOP USDA Program
Type of cultivation: Organic
Main ingredient: Argania Spinosa kernel
FOB price: Contact us
Product available in private labeling contact us for more information: Oriental Group
Informations de l'entreprise:
BioProGreen
N°200 Lot Al Massar, Z.I Sidi Ghanem
Route de Safi
40 000 Marrakech
MOROCCO
Tel:+212 524 335 449
MOB :+212 600 604 387 (Whatsapp / Viber)
Fax:+212 524 457 961
Website : https://www.bioprogreen.com/
E-mail : contact@bioprogreen.com
Follow US:
https://www.facebook.com/bioprogreenMorocco
https://www.instagram.com/bioprogreenmorocco
https://www.youtube.com/@bioprogreenmorocco4708