Bio Pro Green wholesale hair care company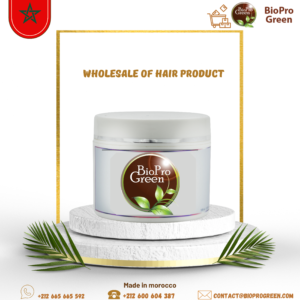 The hair mask industry has witnessed the rise of a remarkable company that sells wholesale, embracing values, sustainable labels, and delivering exceptional benefits. In this one-page article, we will explore the story behind this hair mask company, its core values, the wide range of benefits it offers, the assets it creates, its evolution, innovations, and the resounding success it has achieved in the industry.
Embracing Core Values and Sustainable Labels:
At the heart of this hair mask company's success lies its unwavering commitment to core values. From its inception, the company has placed great importance on ethical practices, social responsibility, and environmental sustainability. Their dedication to using natural and organic ingredients has led to the attainment of prestigious sustainable labels. These labels serve as a testament to their commitment to minimizing their environmental impact and providing customers with environmentally friendly options.
Delivering Exceptional Benefits:
The hair masks produced by this company offer a myriad of benefits for various hair types and concerns. From deep hydration and nourishment to repairing damaged strands, reducing frizz, enhancing shine, and improving overall hair health, these masks provide transformative results. They are carefully formulated with high-quality ingredients to cater to diverse hair care needs, ensuring that customers can achieve the desired results with each use.
Creating Valuable Assets:
As a wholesale hair mask company, one of its most valuable assets is the ability to provide its products in bulk quantities. This allows salons, spas, and retailers to access high-quality hair masks at competitive prices. By offering their products wholesale, they create a mutually beneficial partnership that allows businesses to expand their offerings while ensuring a consistent supply of quality products.
Evolution and Innovations:
The hair mask company has continuously evolved to stay ahead in the competitive market. Through ongoing research and development, they explore new ingredients, formulations, and manufacturing techniques. This commitment to innovation enables them to introduce cutting-edge hair masks that address emerging customer needs and preferences. By incorporating the latest industry trends and technologies, they ensure their products remain at the forefront of innovation.
The Story of Success:
The success of this hair mask company is rooted in a story of passion, dedication, and perseverance. It began with a small team of hair care enthusiasts who shared a vision to create exceptional products that deliver tangible results. Over time, they overcame challenges, honed their expertise, and forged strong relationships with customers and partners. Their commitment to quality, innovation, and customer satisfaction propelled them to become a trusted name in the industry.
Resounding Success:
The hair mask company's success is evident through the recognition and loyalty they have garnered from customers and industry professionals alike. Their commitment to values, sustainable practices, and delivering exceptional benefits has solidified their position as a leading wholesale supplier of hair masks. The positive feedback, repeat business, and continued growth are a testament to their success and the impact they have made in the industry.
The hair mask company's wholesale success can be attributed to its unwavering commitment to values, sustainable labels, exceptional benefits, valuable assets, continuous evolution, and innovative practices. By prioritizing ethical practices, embracing sustainability, and delivering outstanding results, they have carved a distinct place in the industry. Their wholesale offerings cater to businesses' needs while maintaining product quality and affordability. With a track record of success, this hair mask company continues to thrive, shaping the future of the industry and meeting the evolving needs of customers.
FAQ
1) How can I get samples?
To get samples of our products, just contact us and we will be happy to offer you some. For new customers, courier costs will be charged, but samples will be free. In addition, these costs will be deducted from the official order payment. To arrange an RPI (remote pickup) service on FedEx, UPS, DHL, TNT, etc., please contact us and we will help you arrange this.
2) How does your factory perform in terms of quality control?
In our factory, quality is our top priority. We have strict quality controls in place at every stage of the manufacturing process to ensure that all our products are environmentally friendly and meet the highest standards. In addition, all workers are trained to ensure quality control, whether in the stamping, printing, sewing, or packaging process. Finally, our quality control department is specifically responsible for quality control in each process.
3) Can your factory print or emboss my logo on the goods?
We are happy to personalize our products with your logo or other distinctive marks. We can print your logo on the goods or their packaging box, depending on your needs. For patent protection reasons, we usually require a letter of permission for the logo, but we can also produce the goods based on customer samples or on the image, logo, sizes, etc. Contact us for more information on customizing our products.
 N°200 Lot Al Massar, Z.I Sidi Ghanem,  Route de Safi, 40 000 Marrakech , MOROCCO
Tel:+212 524 335 449
MOB:+212 600 604 387 (Whatsapp / Viber)
Fax:+212 524 457 961
Website: www.bioprogreen.com
E-mail: contact@bioprogreen.com
Follow the US:
http://facebook.com/bioprogreen
https://www.instagram.com/bioprogreenmorocco
https://www.youtube.com/@bioprogreenmorocco4708