Bulk Anti-Cellulite Massage Oil – A Natural Solution for Smooth Skin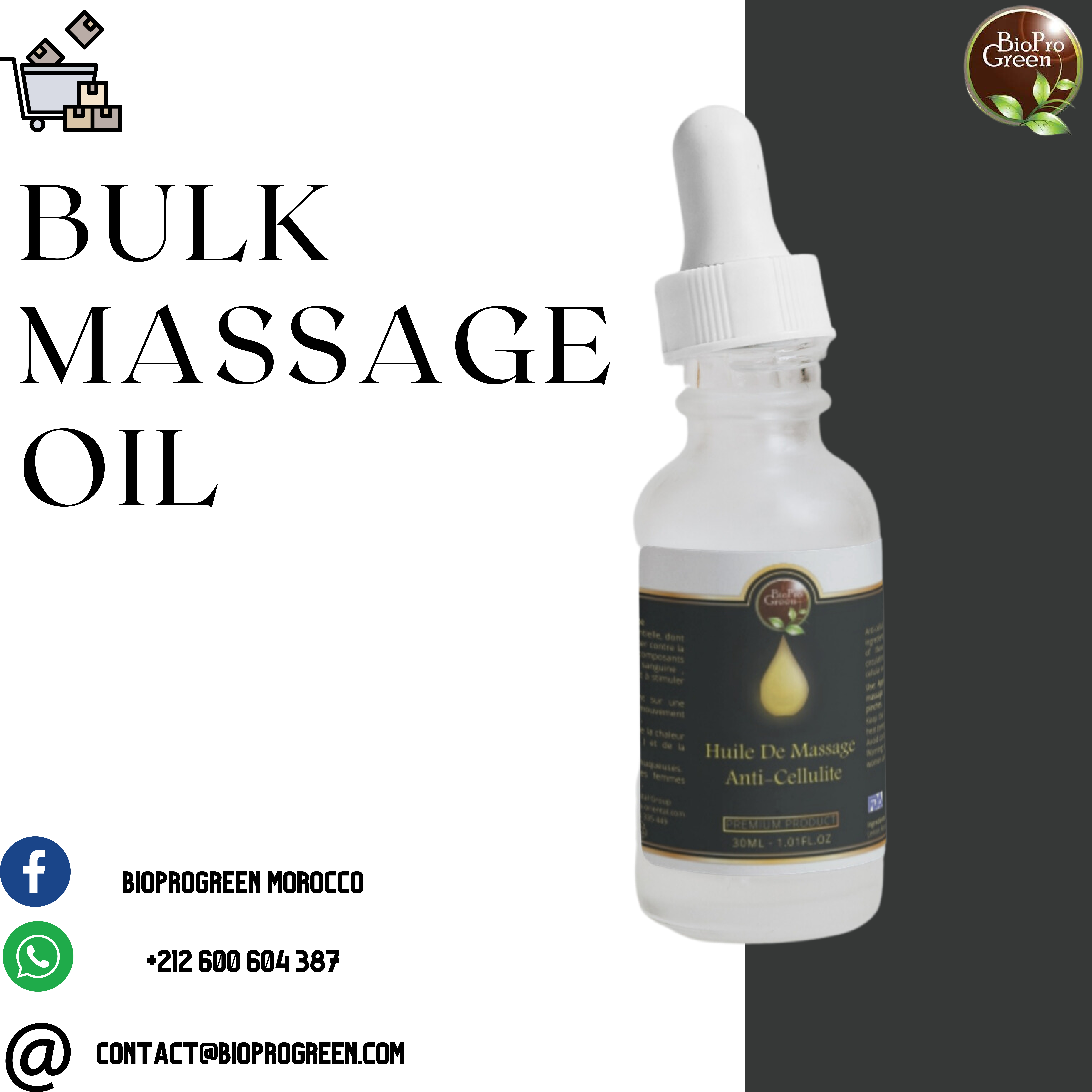 Product Description:
Our bulk anti-cellulite massage oil is specially formulated to target cellulite-prone areas and help improve the appearance of the skin. With natural ingredients and an effective formula, this bulk massage oil offers a convenient and cost-effective solution to combat cellulite and achieve smoother, firmer skin.
Benefits of Anti-Cellulite Massage Oil:
Our massage oil is designed to help reduce the appearance of cellulite. It promotes blood circulation, stimulates lymphatic drainage, and aids in breaking down subcutaneous fat deposits. By regularly using our anti-cellulite massage oil, you can contribute to improving the texture of the skin and reducing the presence of unwanted dimples.
Natural and High-Quality Ingredients:
Our bulk anti-cellulite massage oil is formulated with premium natural ingredients. It contains nourishing essential oils such as geranium, lemon, grapefruit, cypress, and juniper. These ingredients are known for their moisturizing, regenerating, and toning properties, enhancing the health and appearance of the skin. With our bulk massage oil, you'll experience a refreshing sensation and the benefits of these natural ingredients for your skin.
Recommended Use:
Apply a small amount of the anti-cellulite massage oil to the areas you wish to target. Gently massage in circular motions, paying special attention to areas where cellulite is present. For best results, use the massage oil regularly after showering or bathing when the skin pores are open and receptive to nutrient absorption.
Economical and Eco-Friendly Packaging:
Our anti-cellulite massage oil is offered in bulk, allowing for economical use and reducing packaging waste. By opting for our bulk product, you make an environmentally friendly choice while enjoying the benefits of the massage oil. You can also customize the amount of oil used according to your specific needs.
Satisfaction Guaranteed:
At Bioprogreen, we are committed to customer satisfaction. We are confident in the effectiveness of our bulk anti-cellulite massage oil and its benefits for your skin.
FAQ
How do I get samples? We offer free samples, but new customers will have to pay the courier fee. This fee can be deducted from the official order payment. You can arrange RPI service on FedEx, UPS, DHL, TNT, etc.
How does your factory ensure quality? We attach great importance to the quality of our products. Each worker ensures quality control from the beginning to the end of the manufacturing process by using only environmentally friendly raw materials. In addition, a specific quality control department is responsible for verification at each stage of the process.
Can you print my logo on the goods? Yes, we can print your logo on the goods or their packaging box. However, to protect patents, you must provide a letter of authorization. In general, we produce the goods according to the customers' samples or based on the image, logo, sizes, etc.
Information about BioProGreen
BioProGreen
N°200 Lot Al Massar, Z.I Sidi Ghanem
Route de Safi
40 000 Marrakech
MOROCCO
Tel:+212 524 335 449
MOB :+212 600 604 387 (Whatsapp / viber )
Fax: +212 524 457 961
Website : https://www.bioprogreen.com/
E-mail : contact@bioprogreen.com
Follow US:
 http://facebook.com/bioprogreen
 https://www.instagram.com/bioprogreenmorocco
https://www.youtube.com/@bioprogreenmorocco4708