Dark circle cream factory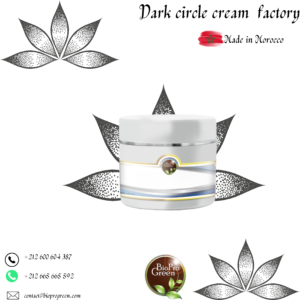 Bioprogreen: Your Reliable Dark Circle Cream Factory
When it comes to manufacturing dark circle cream, Bioprogreen is a name you can trust. As a reputable dark circle cream factory, Bioprogreen has a strong background in skincare, user-friendly formulations, numerous benefits, and meticulous packaging, making it the ideal choice for businesses in need of high-quality products.
Background:
Bioprogreen's dark circle cream factory boasts a rich background in the skincare industry. With extensive knowledge and expertise, the factory is equipped with cutting-edge technology and state-of-the-art facilities to produce exceptional dark-circle creams. Bioprogreen's commitment to research and innovation ensures that their factory is at the forefront of skincare manufacturing, offering businesses reliable and effective solutions for dark circles.
Use:
Using Bioprogreen's dark circle creams is a breeze, thanks to their user-friendly formulations. Start by cleansing the face and gently patting the under-eye area dry. Apply a small amount of the cream to the skin, focusing on the areas affected by dark circles. Massage the cream into the skin using gentle, circular motions until fully absorbed. Encourage your customers to incorporate the cream into their daily skincare routine, applying it in the morning and evening for optimal results. Consistent use will lead to a noticeable reduction in the appearance of dark circles and a rejuvenated under-eye area.
Benefits:
Bioprogreen's dark circle creams offer a plethora of benefits for both businesses and end consumers. The carefully formulated creams are designed to target dark circles, reduce puffiness, and improve skin texture. Infused with powerful ingredients, such as peptides, antioxidants, and natural extracts, these creams nourish and revitalize the delicate skin around the eyes. Regular use of Bioprogreen's dark circle creams will result in a brighter, more youthful-looking under-eye area, boosting your customers' confidence and satisfaction.
Packaging
At Bioprogreen's dark circle cream factory, the packaging is taken seriously to preserve the quality and effectiveness of the products. The creams are meticulously packaged in containers that provide maximum protection against air, light, and contamination. Bioprogreen's attention to packaging ensures that the creams maintain their freshness and potency, guaranteeing optimal results for consumers. The factory's commitment to quality packaging reflects their dedication to delivering dark circle creams of the highest standard.
In conclusion, Bioprogreen stands as a reliable dark circle cream factory. With a strong background, user-friendly formulations, numerous benefits, and meticulous packaging, they offer businesses the opportunity to provide their customers with high-quality skincare products. Choose Bioprogreen as your dark circle cream factory and offer your customers a solution that effectively targets dark circles and revitalizes the under-eye area. Trust in Bioprogreen for all your dark circle cream manufacturing needs.
FAQ
1) How can I get samples?
To get samples of our products, just contact us and we will be happy to offer you some. For new customers, courier costs will be charged, but samples will be free. In addition, these costs will be deducted from the official order payment. To arrange an RPI (remote pickup) service on FedEx, UPS, DHL, TNT, etc., please contact us and we will help you arrange this.
2) How does your factory perform in terms of quality control?
In our factory, quality is our top priority. We have strict quality controls in place at every stage of the manufacturing process to ensure that all our products are environmentally friendly and meet the highest standards. In addition, all workers are trained to ensure quality control, whether in the stamping, printing, sewing, or packaging process. Finally, our quality control department is specifically responsible for quality control in each process.
3) Can your factory print or emboss my logo on the goods?
We are happy to personalize our products with your logo or other distinctive marks. We can print your logo on the goods or their packaging box, depending on your needs. For patent protection reasons, we usually require a letter of permission for the logo, but we can also produce the goods based on customer samples or on the image, logo, sizes, etc. Contact us for more information on customizing our products.
 N°200 Lot Al Massar, Z.I Sidi Ghanem,  Route de Safi, 40 000 Marrakech , MOROCCO
Tel:+212 524 335 449
MOB:+212 600 604 387 (Whatsapp / Viber)
Fax:+212 524 457 961
Website: www.bioprogreen.com
E-mail: contact@bioprogreen.com
Follow the US:

 http://facebook.com/bioprogreen
 https://www.instagram.com/bioprogreenmorocco
https://www.youtube.com/@bioprogreenmorocco4708