Distributing Damascus rose water on Amazon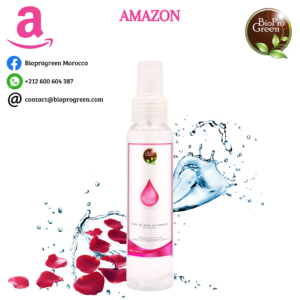 1. Global Reach: By leveraging Amazon's expansive reach, you can tap into a vast customer base across multiple countries. With access to international markets, you can connect with customers actively seeking Damascus rose water and expand your business's global footprint.
2. Credibility and Trust: Amazon's reputation for reliability and trustworthiness provides a significant advantage. Selling your rose water on Amazon enhances your brand's credibility, as customers inherently trust products and sellers associated with the platform.
3. Fulfillment by Amazon (FBA): Amazon's Fulfillment by Amazon (FBA) program is a game-changer. By utilizing this service, you can leverage Amazon's comprehensive fulfillment infrastructure, including storage, packaging, and shipping. This allows you to focus on delivering high-quality products and marketing, while Amazon handles the logistics efficiently.
4. Enhanced Discoverability: Amazon's search algorithms are designed to help customers find the products they're searching for easily. By optimizing your product listings with relevant keywords, compelling descriptions, and captivating images, you can significantly improve your visibility, attract potential customers, and increase sales.
Key Considerations for Success:
1. Product Differentiation: To stand out from the competition, emphasize the unique qualities of your Damascus rose water. Highlight aspects such as organic sourcing, traditional extraction methods, or specific benefits for skincare and aromatherapy. Crafting a compelling value proposition will differentiate your product in the crowded marketplace.
2. High-Quality Images and Descriptions: Invest in professional product photography that showcases the elegance of your rose water. Craft informative and persuasive descriptions that emphasize its features, benefits, and potential applications. Incorporate relevant keywords strategically to optimize your listings for improved search visibility.
3. Customer Reviews and Ratings: Encourage satisfied customers to leave positive reviews and ratings for your rose water. Positive feedback builds trust and credibility, driving sales and attracting new customers. Monitor customer feedback closely and respond promptly to any concerns or issues raised.
4. Competitive Pricing and Promotions: Conduct thorough market research to determine competitive pricing for your rose water. Set a price that is both competitive and profitable. Consider running promotions, offering discounts, or creating attractive product bundles to entice customers and gain a competitive edge.
5. Marketing and Advertising: Develop a comprehensive marketing strategy to drive traffic and sales to your rose water listings. Utilize Amazon's advertising platform to target relevant keywords and reach potential customers effectively. Additionally, explore external marketing channels, such as social media platforms and influencer collaborations, to increase brand awareness and drive traffic to your Amazon listings.
Conclusion:
Distributing Damascus rose water on Amazon opens up extraordinary opportunities to reach a vast global customer base, enhance brand credibility, and streamline logistical operations. By capitalizing on Amazon's powerful distribution network, leveraging FBA services, optimizing product listings with captivating visuals and persuasive descriptions, and implementing effective marketing strategies, you can position your rose water business for remarkable success on this influential platform. Embrace the unparalleled distribution potential of Amazon and watch your Damascus rose water business flourish in the dynamic world of e-commerce.
FAQ
How do I get samples? We offer free samples, but new customers will have to pay the courier fee. This fee can be deducted from the official order payment. You can arrange RPI service on FedEx, UPS, DHL, TNT, etc.
How does your factory ensure quality? We attach great importance to the quality of our products. Each worker ensures quality control from the beginning to the end of the manufacturing process by using only environmentally friendly raw materials. In addition, a specific quality control department is responsible for verification at each stage of the process.
Can you print my logo on the goods? Yes, we can print your logo on the goods or their packaging box. However, to protect patents, you must provide a letter of authorization. Generally, we produce the goods according to the customer's samples or based on the image, logo, sizes, etc.


Information about BioProGreen

 N°200 Lot Al Massar, Z.I Sidi Ghanem,  Route de Safi, 40 000 Marrakech , MOROCCO

Tel:+212 524 335 449
MOB:+212 600 604 387 (Whatsapp / Viber)
Fax:+212 524 457 961
Website: www.bioprogreen.com
E-mail: contact@bioprogreen.com

Follow Us :
Facebook: https://www.facebook.com/bioprogreenMorocco

Twitter: https://twitter.com/BioProGreen_MR

Pinterest: https://www.pinterest.fr/bioprogreenmorocco/

Instagram:https://www.instagram.com/bioprogreenmorocco/