Essential oil manufacturer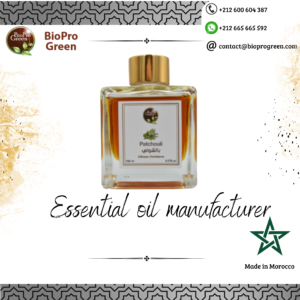 Description :
Essential oils are aromatic plant extracts used for their fragrance and therapeutic properties.
Essential oil manufacturers are key players in this industry, which is constantly expanding.
They have been used for thousands of years for their medicinal and cosmetic properties.
They are now very popular worldwide and their use is becoming increasingly widespread.
Essential oil manufacturers are responsible for the production, distribution, and marketing of these products.
They must ensure that the essential oils they produce are of the highest quality and meet the strictest safety standards.
The quality of essential oils depends largely on the production methods used by manufacturers.
Essential oil manufacturers must choose the best plants, grow them in ideal conditions, and harvest them at the optimum time to ensure the best quality oil.
The extraction process of essential oils is also crucial to ensure their quality.
Manufacturers can use various extraction methods, such as steam distillation, cold expression, and solvent extraction.
Extraction methods should be chosen carefully depending on the type of plant and the quality of the oil desired.
Essential oil manufacturer: product use :
Essential oils can be used for a variety of purposes.
Some are used in cosmetic products such as lotions, soaps, and shampoos.
Others are used in aromatherapy to relieve stress, anxiety, and pain.
Some essential oils are also used in cooking to add flavor to various dishes.
Essential oil manufacturers play a crucial role in the production, distribution, and marketing of these products.
It is important to choose reliable and experienced essential oil manufacturers to ensure the quality and effectiveness of the essential oils you use.
Essential Oil FAQs
1) How to get samples?
We are pleased to provide you with samples. New customers need to pay the shipping cost, samples are free for you.
Samples are free for you, these charges will be deducted from the formal order payment.
Regarding courier costs: You can arrange a remote collection service (RPI) with FedEx, UPS, DHL, TNT, etc.
To collect samples, let us know your DHL pickup account. You can then pay the shipping costs directly to
directly to your local transport company.
2) How does your factory perform in quality control?
Quality is a priority! Each employee ensures quality control from start to finish:
All raw materials used are environmentally friendly.
Skilled workers take care of every detail of the stamping, printing, sewing, and packaging process.
The quality control department is specifically responsible for quality control in each process.
3) Can your factory print or emboss my logo on the products?
Yes, we can print your logo on the goods or their packaging.
For patent protection reasons, a lawyer's letter (authorization letter) must be provided for the logo.
We usually produce goods based on customers' samples or based on the picture, logo, dimensions, etc. client,
dimensions, etc. detailed design information for customers.)
 N°200 Lot Al Massar, Z.I Sidi Ghanem,  Route de Safi, 40 000 Marrakech , MOROCCO
Tel:+212 524 335 449
MOB:+212 600 604 387 (Whatsapp / Viber)
Fax:+212 524 457 961
Website: www.bioprogreen.com
E-mail : contact@group-oriental.com
Follow US:
http://facebook.com/grouporiental
http://twitter.com/grouporiental