Factory of sugar body scrub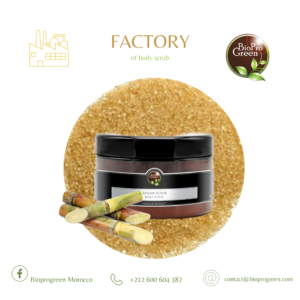 Cost-effective production: By producing sugar body scrub in bulk, manufacturing plants can reduce costs and pass the savings on to customers.
Consistent quality: Manufacturing plants can ensure that each batch of sugar body scrub is made to the same high standard, ensuring consistent quality for customers.
Scalability: As demand for sugar body scrub grows, manufacturing plants can easily scale up production to meet demand.
In addition to the benefits mentioned above, there are several advantages to setting up a sugar body scrub manufacturing plant. These include:
Customization: Manufacturing plants can offer customization options to customers, such as choosing specific oils or scents for their sugar body scrub.
Innovation: By having a dedicated facility for a sugar body scrub production, manufacturers can experiment with new ingredients and formulations to create innovative products.
Quality control: Manufacturing plants can implement rigorous quality control measures to ensure that each batch of sugar body scrub is safe and effective for customers.
Description of sugar body scrub
Sugar body scrub manufacturing plants typically consist of large-scale machinery and equipment used for mixing, blending, and packaging. The manufacturing process involves combining sugar, natural oils, and other ingredients to create a smooth, exfoliating paste. The paste is then packaged in containers and shipped to retailers or wholesalers.
Sugar body scrub manufacturing plants can vary in size, from small-scale operations to large factories. Some plants may specialize in producing organic or all-natural sugar body scrubs, while others may focus on creating more affordable options for mass-market retailers.
FAQ
1) How can I get samples?
To get samples of our products, just contact us and we will be happy to offer you some. For new customers, courier costs will be charged, but samples will be free. In addition, these costs will be deducted from the official order payment. To arrange an RPI (remote pickup) service on FedEx, UPS, DHL, TNT, etc., please contact us and we will help you arrange this.
2) How does your factory perform in terms of quality control?
In our factory, quality is our top priority. We have strict quality controls in place at every stage of the manufacturing process to ensure that all our products are environmentally friendly and meet the highest standards. In addition, all workers are trained to ensure quality control, whether in the stamping, printing, sewing, or packaging process. Finally, our quality control department is specifically responsible for quality control in each process.
3) Can your factory print or emboss my logo on the goods?
We are happy to personalize our products with your logo or other distinctive marks. We can print your logo on the goods or their packaging box, depending on your needs. For patent protection reasons, we usually require a letter of permission for the logo, but we can also produce the goods based on customer samples or on the image, logo, sizes, etc. Contact us for more information on customizing our products.
 N°200 Lot Al Massar, Z.I Sidi Ghanem,  Route de Safi, 40 000 Marrakech , MOROCCO
Tel:+212 524 335 449
MOB:+212 600 604 387 (Whatsapp / Viber)
Fax:+212 524 457 961
Website: www.bioprogreen.com
E-mail: contact@bioprogreen.com
Follow the US:

 http://facebook.com/bioprogreen
 https://www.instagram.com/bioprogreenmorocco
https://www.youtube.com/@bioprogreenmorocco4708