Ginger Oil Distributor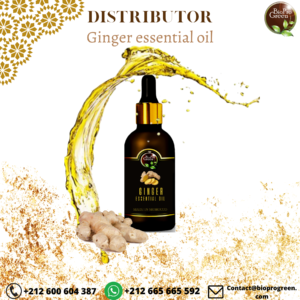 Bioprogreen: Your Trusted Ginger Essential Oil Distributor
Welcome to Bioprogreen, your trusted distributor of premium ginger essential oil. If you're seeking natural, pure, and high-quality ginger essential oil, you've come to the right place. At Bioprogreen, we take pride in offering you the finest ginger essential oil products, carefully selected and processed to ensure their therapeutic benefits and aromatic richness.
Key Benefits of Choosing Bioprogreen as Your Trusted Partner
Natural Approach
Unlike chemical and synthetic products, Bioprogreen's distributor prioritizes a natural approach to enhance your well-being without any unwanted side effects.
Superior Quality
Bioprogreen is committed to using only the highest-quality ingredients to guarantee the effectiveness and safety of its products.
Customer Trust
Thousands of satisfied customers trust Bioprogreen for their natural well-being products.
Bioprogreen's Ethical Commitment: Certified Organic and Fair Trade
Certified Organic Ginger Essential Oil
At Bioprogreen, we place utmost importance on the quality of our products. Our ginger essential oil is proudly certified organic.
Fair Trade Certification
Bioprogreen's ethical commitment goes beyond product quality. We are proud to hold the fair trade certification, a recognition of our dedication to responsible business practices.
In Brief
At Bioprogreen, our dedication to quality, ethics, and sustainability lies at the core of everything we do. Our certified organic and fair trade ginger essential oil reflects our commitment to providing customers with top-notch products while upholding ethical values. Join us in this journey towards authentic well-being and environmental respect.
FAQ
What are the beneficial properties of Bioprogreen's ginger essential oil?
Bioprogreen's ginger essential oil is renowned for its anti-inflammatory, stimulating, and digestive properties.
How does Bioprogreen ensure the purity of its ginger essential oil?
Bioprogreen ensures the purity of its ginger essential oil by using organic farming practices and conducting rigorous testing at every stage of the production process.
What is the shelf life of Bioprogreen's ginger essential oil?
Bioprogreen's ginger essential oil is stored under optimal conditions to ensure its quality and shelf life, which is typically around two years.
How can I use Bioprogreen's ginger essential oil?
Bioprogreen's ginger essential oil can be used in aromatherapy, diluted in a carrier oil for massages, or added to cosmetic or personal care products.
Does Bioprogreen offer other essential oils besides ginger essential oil?
Yes, Bioprogreen offers a wide range of premium essential oils, providing you with a variety of options to meet your specific needs.
Information about BioProGreen :
 N°200 Lot Al Massar, Z.I Sidi Ghanem,  Route de Safi, 40 000 Marrakech , MOROCCO
Tel:+212 524 335 449
MOB:+212 600 604 387 (Whatsapp / Viber)
Fax:+212 524 457 961
Website: www.bioprogreen.com
E-mail: contact@bioprogreen.com
Follow us  :
 http://facebook.com/bioprogreen
https://www.instagram.com/bioprogreenmorocco
https://www.youtube.com/@bioprogreenmorocco4708