Ginger Oil Exports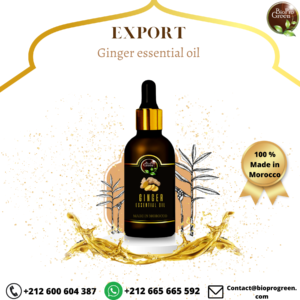 Discover Bioprogreen: Your Premium Ginger Essential Oil Exporter
Welcome to Bioprogreen, your privileged partner for ginger essential oil exportation! If you're seeking natural products of high quality, eco-friendly, and with unparalleled benefits of ginger, you've come to the right place. We are committed to providing pure and authentic products to meet your highest demands.
Why Choose Bioprogreen as Your Ginger Essential Oil Export Partner?
Uncompromising Quality
At Bioprogreen, we firmly believe in quality above all. We work closely with carefully selected ginger producers, ensuring that every drop of essential oil we export is sourced from the finest raw materials available.
Comprehensive Customer Service
Your satisfaction is our top priority. Our dedicated team is always ready to answer your questions, provide advice, and accompany you throughout your journey with Bioprogreen.
Traceability and Transparency
At Bioprogreen, we place great importance on product traceability. We provide our customers with detailed information about the origin of our ginger essential oil and its production process.
The Ginger Essential Oil Exportation Process at Bioprogreen: Excellence in Logistics
Careful and Adapted Packaging for Optimal Freshness
We understand the importance of appropriate packaging to preserve the freshness and quality of our ginger essential oil during transportation. That's why at Bioprogreen, we use safe and sturdy packaging.
Adherence to Stringent International Standards
At Bioprogreen, our commitment to excellence extends to strict adherence to international standards during the exportation of our products. We scrupulously ensure that all customs regulations and requirements are met, ensuring that our customers worldwide receive top-quality essential oils.
In Summary
By choosing Bioprogreen as your ginger essential oil supplier, you opt for quality and compliance with international standards. Trust us to bring you the best of ginger, and discover how our commitment to logistics excellence ensures an unparalleled customer experience.
FAQ
What are the beneficial properties of Bioprogreen's ginger essential oil?
Bioprogreen's ginger essential oil is renowned for its anti-inflammatory, stimulating, and digestive properties.
How does Bioprogreen ensure the purity of its ginger essential oil?
Bioprogreen ensures the purity of its ginger essential oil by using organic farming practices and conducting rigorous testing at every stage of the production process.
What is the shelf life of Bioprogreen's ginger essential oil?
Bioprogreen's ginger essential oil is stored under optimal conditions to ensure its quality and shelf life, which is typically around two years.
How can I use Bioprogreen's ginger essential oil?
Bioprogreen's ginger essential oil can be used in aromatherapy, diluted in a carrier oil for massages, or added to cosmetic or personal care products.
Does Bioprogreen offer other essential oils besides ginger essential oil?
Yes, Bioprogreen offers a wide range of premium essential oils, providing you with a variety of options to meet your specific needs.
Information about BioProGreen :
 N°200 Lot Al Massar, Z.I Sidi Ghanem,  Route de Safi, 40 000 Marrakech , MOROCCO
Tel:+212 524 335 449
MOB:+212 600 604 387 (Whatsapp / Viber)
Fax:+212 524 457 961
Website: www.bioprogreen.com
E-mail: contact@bioprogreen.com
Follow us  :
 http://facebook.com/bioprogreen
https://www.instagram.com/bioprogreenmorocco
https://www.youtube.com/@bioprogreenmorocco4708