Ginger Essential Oil Private Label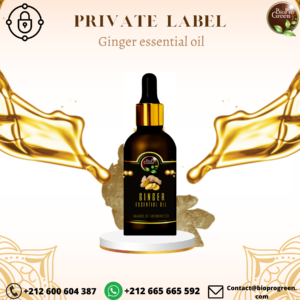 Private Label Partner for Ginger Essential Oil – Bioprogreen: Your Trusted Choice
Looking to add premium-quality ginger essential oil to your product range without the hassle of manufacturing and sourcing raw materials? Look no further! Bioprogreen, a leading manufacturer specializing in high-quality ginger essential oil, offers an exceptional private label partnership opportunity that will elevate your brand and captivate your customers.
Why Choose Our Private Label Partnership?
Guaranteed Superior Quality
Our commitment to quality is our top priority. Rest assured, your customers will receive authentic, pure ginger essential oil free from contaminants.
Brand Customization
With our private label partnership, you have the option to personalize the packaging and presentation of your products, reinforcing your brand identity.
Flexibility in Ordering
We understand that every business has unique needs. That's why we offer flexible ordering options tailored to your specific requirements.
Our Private Label Partnership Process
Consultation
We begin our collaboration with an in-depth consultation to understand your specific product needs and requirements.
Design and Packaging
Our team of professional designers will guide you in creating labels and packaging that align with your company's brand image.
Manufacturing and Quality Control
Once the details are finalized, we handle manufacturing according to the strictest standards, conducting rigorous quality control at each stage of the process.
In Summary
With Bioprogreen as your private label partner for ginger essential oil, you can be confident in offering your customers a top-quality product that reflects your brand's values. Our commitment to sustainability, ethics, and authenticity ensures a fruitful partnership and lasting customer satisfaction. Contact us today to embark on this journey towards the success of your ginger essential oil product range in private label.
FAQ
What are the beneficial properties of Bioprogreen's ginger essential oil?
Bioprogreen's ginger essential oil is renowned for its anti-inflammatory, stimulating, and digestive properties.
How does Bioprogreen ensure the purity of its ginger essential oil?
Bioprogreen ensures the purity of its ginger essential oil by using organic farming practices and conducting rigorous testing at every stage of the production process.
What is the shelf life of Bioprogreen's ginger essential oil?
Bioprogreen's ginger essential oil is stored under optimal conditions to ensure its quality and shelf life, which is typically around two years.
How can I use Bioprogreen's ginger essential oil?
Bioprogreen's ginger essential oil can be used in aromatherapy, diluted in a carrier oil for massages, or added to cosmetic or personal care products.
Does Bioprogreen offer other essential oils besides ginger essential oil?
Yes, Bioprogreen offers a wide range of premium essential oils, providing you with a variety of options to meet your specific needs.
Information about BioProGreen :
 N°200 Lot Al Massar, Z.I Sidi Ghanem,  Route de Safi, 40 000 Marrakech , MOROCCO
Tel:+212 524 335 449
MOB:+212 600 604 387 (Whatsapp / Viber)
Fax:+212 524 457 961
Website: www.bioprogreen.com
E-mail: contact@bioprogreen.com
Follow us  :
 http://facebook.com/bioprogreen
https://www.instagram.com/bioprogreenmorocco
https://www.youtube.com/@bioprogreenmorocco4708