Orange blossom water private label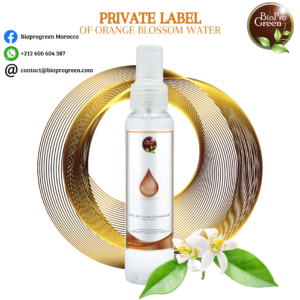 Private Label: A touch of elegance and exclusivity for your brand
Orange blossom water is a delicate, fragrant essence that has been appreciated for centuries around the world for its enchanting aroma and soothing properties. Today, more and more brands are turning to private labels to offer their own version of orange blossom water, adding a touch of elegance and exclusivity to their products.
Personalization and exclusivity: create your own formula
The private label offers you the possibility to personalize your product according to your preferences. This customization allows you to stand out in the market and meet the specific needs of your customers.
The practical advantages of the private label
By opting for the private label, you benefit from the expertise and know-how of a manufacturer specialized in the production of orange blossom water. You can thus guarantee the quality and conformity of your product. In addition, it saves you time and resources in research and development.
Orange blossom water versatility and market opportunities
Orange blossom water offers exceptional versatility and can be used in a variety of applications. In cosmetics, it is known for its soothing and moisturizing properties, making it an ideal ingredient for lotions, creams, toners, and masks. In cooking, it adds a delicate floral note to many dishes and desserts, such as pastries, confections, and drinks. With the growing popularity of natural and botanical products, orange blossom water on private labels offers great market opportunities.
The benefits of the orange blossom water private label for your brand
Market differentiation: The private label allows you to stand out from the competition by offering an exclusive product.
Brand reinforcement: By associating your brand with orange blossom water, you reinforce your company's image of quality and elegance.
Flexibility and control: With the private label, you have full control over the manufacturing process and can adjust more parameters as the market.
Cost-effectiveness and savings: Working with a private label manufacturer allows you to realize significant savings in production and research and development costs.
Challenges of orange blossom water private labeling
The orange blossom water private label can also present challenges for distributors. Indeed, finding a reliable and competent producer and complying with current food labeling regulations.
Click Here For More Information
FAQ
How do I get samples? We offer free samples, but new customers will have to pay the courier fee. This fee can be deducted from the official order payment. You can arrange RPI service on FedEx, UPS, DHL, TNT, etc.
How does your factory ensure quality? We attach great importance to the quality of our products. Each worker ensures quality control from the beginning to the end of the manufacturing process by using only environmentally friendly raw materials. In addition, a specific quality control department is responsible for verification at each stage of the process.
Can you print my logo on the goods? Yes, we can print your logo on the goods or their packaging box. However, to protect patents, you must provide a letter of authorization. Generally, we produce the goods according to the customer's samples or based on the image, logo, sizes, etc.
.
 Information about BioProGreen
 N°200 Lot Al Massar, Z.I Sidi Ghanem,  Route de Safi, 40 000 Marrakech , MOROCCO
Tel:+212 524 335 449
MOB:+212 600 604 387 (Whatsapp / Viber)
Fax:+212 524 457 961
Website: www.bioprogreen.com
E-mail: contact@bioprogreen.com
Follow Us :
Facebook: https://www.facebook.com/bioprogreenMorocco
Twitter: https://twitter.com/BioProGreen_MR
Pinterest: https://www.pinterest.fr/bioprogreenmorocco/
Instagram:https://www.instagram.com/bioprogreenmorocco/