Private labeling Damascus rose water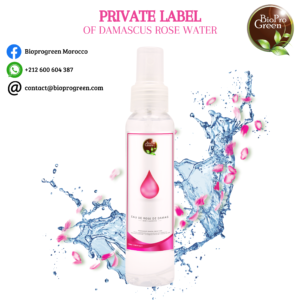 The Essence of Private Labeling:
Private labeling involves creating a brand and product line by leveraging existing high-quality rose water and packaging it under your own label. It allows businesses to establish a distinct identity, cater to specific target markets, and offer a unique proposition to customers. Private labeling Damascus rose water provides a competitive advantage as it enables customization, branding control, and tailoring of products to meet the specific needs and preferences of the target audience.
1. Brand Differentiation: Private labeling enables you to differentiate your brand by creating a unique identity and offering a specialized product. Develop a compelling story around the sourcing of Damascus roses, the traditional extraction methods, and the rich heritage associated with this precious ingredient.
2. Quality Control: Partner with reputable suppliers who produce premium Damascus rose water to ensure consistent quality and authenticity. Building trust among customers strengthens your brand reputation.
3. Customization and Flexibility: Private labeling allows you to customize the product to align with your brand values and target audience. Choose packaging design, bottle size, and labeling that resonates with your brand aesthetic and appeals to customers.
4. Market Expansion: Private labeling Damascus rose water opens doors to new market segments and geographic regions. Tailor your product to cater to specific consumer preferences and demands, positioning your brand as a unique offering.
5. Profit Margins: Private labeling offers the potential for higher profit margins compared to reselling existing products. By establishing your brand and product line, you can capture a greater share of the market value.
Conclusion:
Private labeling Damascus rose water presents an exciting opportunity to establish your brand in the beauty and wellness industry. By leveraging the exquisite properties of Damascus rose water and customizing it under your own label, you can differentiate your brand, cater to specific market segments, and unlock the full potential of this cherished elixir. Embrace the beauty and business possibilities of private labeling Damascus rose water and embark on a fragrant journey to success.
Click Here For More Information
FAQ
How do I get samples? We offer free samples, but new customers will have to pay the courier fee. This fee can be deducted from the official order payment. You can arrange RPI service on FedEx, UPS, DHL, TNT, etc.
How does your factory ensure quality? We attach great importance to the quality of our products. Each worker ensures quality control from the beginning to the end of the manufacturing process by using only environmentally friendly raw materials. In addition, a specific quality control department is responsible for verification at each stage of the process.
Can you print my logo on the goods? Yes, we can print your logo on the goods or their packaging box. However, to protect patents, you must provide a letter of authorization. Generally, we produce the goods according to the customer's samples or based on the image, logo, sizes, etc.

Information about BioProGreen

 N°200 Lot Al Massar, Z.I Sidi Ghanem,  Route de Safi, 40 000 Marrakech , MOROCCO

Tel:+212 524 335 449
MOB:+212 600 604 387 (Whatsapp / Viber)
Fax:+212 524 457 961
Website: www.bioprogreen.com
E-mail: contact@bioprogreen.com

Follow Us :
Facebook: https://www.facebook.com/bioprogreenMorocco

Twitter: https://twitter.com/BioProGreen_MR

Pinterest: https://www.pinterest.fr/bioprogreenmorocco/

Instagram:https://www.instagram.com/bioprogreenmorocco/