Bioprogreen, your trusted producer of high-quality Geranium essential oil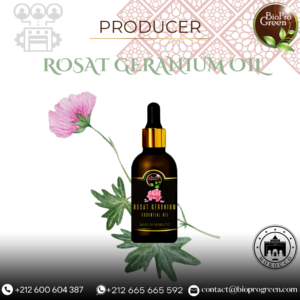 Welcome to the world of Bioprogreen, the producer of Rosat Geranium essential oil. With our expertise and commitment to excellence, Bioprogreen strives to offer you an exceptional product.
Benefits:
Skin Regeneration: Rosat Geranium oil promotes cellular regeneration, reducing signs of aging, scars, and skin imperfections. Achieve soft, smooth, and radiant skin.
Sebum Balance: This oil regulates sebum production, making it an ideal choice for oily or acne-prone skin.
Soothing and Relaxing: Its delicate floral scent calms the mind and helps reduce stress. Add a few drops to your diffuser for a soothing aromatic experience.
Natural Repellent: Rosat Geranium oil possesses repellent properties against insects, including mosquitoes. Use it as a natural alternative to harsh chemicals.
Recommended Uses:
Massage: Dilute a few drops of Rosat Geranium oil with a carrier oil and gently massage onto the skin.
Facial Care: Add a drop of oil to your moisturizer to benefit from its regenerating properties.
Diffusion: Add a few drops to your diffuser to create a relaxing and fragrant ambiance in your surroundings.
The Advantages of Choosing Bioprogreen as Your Rosat Geranium Essential Oil Supplier:
Superior Quality:
At Bioprogreen, we are committed to providing the highest quality Rosat Geranium essential oil. Our meticulous production process and strict quality control standards ensure that our products meet the highest expectations.
Transparency:
We firmly believe in transparency. We are committed to openly sharing information about our production process, extraction methods, and rigorous quality testing. Our aim is to provide you with a clear understanding of the origin and uncompromising quality of our Rosat Geranium essential oil.
Customer Satisfaction Commitment:
Your satisfaction is our top priority. We are here to answer any questions and guide you in using our Rosat Geranium essential oil. We are committed to providing superior customer service, ensuring that you feel fully supported at every step of your journey with Bioprogreen.
FAQ on 100% Essential Oils with Our Factory:
How can I get samples?
We are pleased to offer samples. New customers need to pay courier fees, while the samples are free. These fees will be deducted from the payment of the official order. Regarding courier fees: You can arrange a Remote Pickup Service (RPI) on FedEx, UPS, DHL, TNT, etc.
How does your factory ensure quality control?
Quality is a priority! Each worker ensures quality control from start to finish. All raw materials used are environmentally friendly. Skilled workers take care of every detail by hand, whether it's stamping, printing, sewing, or packaging. The Quality Control department is specifically responsible for quality control in every process.
Can your factory print or emboss my logo on the goods?
Yes, we can definitely print your logo on the goods or their packaging box. For patent protection reasons, a lawyer's letter (authorization letter) must be provided for the logo. We usually produce goods based on customer samples or based on images, logos, sizes, etc.
 N°200 Lot Al Massar, Z.I Sidi Ghanem,  Route de Safi, 40 000 Marrakech , MOROCCO
Tel:+212 524 335 449
MOB :+212 600 604 387 (Whatsapp / viber )
Fax:+212 524 457 961
Website : www.bioprogreen.com
E-mail : contact@group-oriental.com
Follow US:
http://facebook.com/grouporiental
http://twitter.com/grouporiental