Sugar body scrub in bulk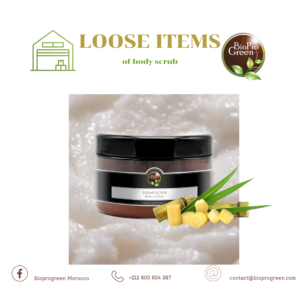 Natural exfoliant: Sugar is a gentle yet effective exfoliant that removes dead skin cells and promotes healthy skin cell regeneration.
Moisturizing: The natural glycolic acid in sugar helps to moisturize and hydrate the skin, leaving it feeling soft and supple.
Anti-aging: Sugar also has natural alpha-hydroxy acids (AHAs) that help to reduce the appearance of fine lines and wrinkles.
Versatile: Bulk sugar scrub can be used on the face and body, making it a versatile product that can be used for all skin types.
To use a bulk sugar scrub, simply wet your skin and apply a small amount of the scrub in a circular motion. Rinse thoroughly with warm water and pat dry. For best results, use 2-3 times per week.
Description of sugar body scrub
Our bulk sugar scrub is made with natural and organic ingredients, including pure cane sugar, coconut oil, and essential oils. It is free from harsh chemicals, synthetic fragrances, and artificial colors. Our bulk packaging allows you to stock up on this amazing product, ensuring that you always have it on hand.
FAQ
1) How can I get samples?
To get samples of our products, just contact us and we will be happy to offer you some. For new customers, courier costs will be charged, but samples will be free. In addition, these costs will be deducted from the official order payment. To arrange an RPI (remote pickup) service on FedEx, UPS, DHL, TNT, etc., please contact us and we will help you arrange this.
2) How does your factory perform in terms of quality control?
In our factory, quality is our top priority. We have strict quality controls in place at every stage of the manufacturing process to ensure that all our products are environmentally friendly and meet the highest standards. In addition, all workers are trained to ensure quality control, whether in the stamping, printing, sewing, or packaging process. Finally, our quality control department is specifically responsible for quality control in each process.
3) Can your factory print or emboss my logo on the goods?
We are happy to personalize our products with your logo or other distinctive marks. We can print your logo on the goods or their packaging box, depending on your needs. For patent protection reasons, we usually require a letter of permission for the logo, but we can also produce the goods based on customer samples or on the image, logo, sizes, etc. Contact us for more information on customizing our products.
 N°200 Lot Al Massar, Z.I Sidi Ghanem,  Route de Safi, 40 000 Marrakech , MOROCCO
Tel:+212 524 335 449
MOB:+212 600 604 387 (Whatsapp / Viber)
Fax:+212 524 457 961
Website: www.bioprogreen.com
E-mail: contact@www.bioprogreen.com
Follow the US:

 http://facebook.com/bioprogreen
 https://www.instagram.com/bioprogreenmorocco
https://www.youtube.com/@bioprogreenmorocco4708