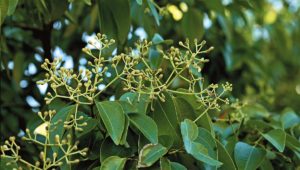 Ravintsara Essential Oil is quite similar to that of Eucalyptus Radiata: we will therefore find, unsurprisingly, many indications common to Eucalyptus, in particular respiratory infections such as rhinitis, nasopharyngitis, fatty cough. Superb antiviral, it will also be a useful ally for the prevention of the flu, and to fight against any form of viral infection: herpes, hepatitis… Energizing, it will accompany you and support you in case of physical fatigue or during your convalescence. Finally, its followers attribute to it a scent of freshness, imbued with sweetness.
As for Ravintsara Essential Oil, it is best to dilute it in vegetable oil. For safe use, the quality of Ravintsara Essential Oil is obviously important, and in general, the one obtained directly from Madagascar is a guarantee of good quality.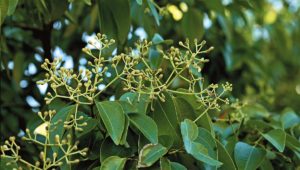 History of Ravintsara Essential Oil
As its Latin name « Cinnamomum camphora » suggests, the Ravintsara is part of the family of camphor trees, trees native to Asia.
Several centuries ago, it was imported to the island of Madagascar. It then quickly adapts to the climatic conditions of this island lost in the Indian Ocean and develops rapidly. Its acclimatization then changes its chemical composition: the high levels of camphor disappear in favor of that of 1,8-cineole (eucalyptol).
From then on, the Malagasy will use the medicinal properties of this tree and baptize it Ravintsara which means « leaf good for everything ». They still use it today in many indications, whether against viral diseases, respiratory disorders or to relax the muscles.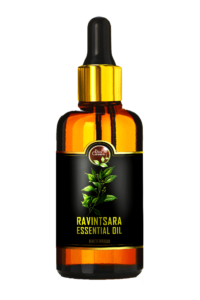 Use of Ravintsara essential oil
Colds, Rhinitis

Nasopharyngitis

Sinusitis

Otitis

Wet cough

Bronchitis

Influenza

Viral pathologies

Herpes

Shingles

Varicella

muscle or joint pain

Physical tiredness

Convalescence
ENT disorders
Ravintsara essential oil is very rich in 1,8-cineole, a molecule more commonly known as eucalyptol: its use will therefore give you the benefit, in the respiratory tract, of its anti-inflammatory, expectorant and antitussive properties ( wet cough). (For more information on the properties of eucalyptol, do not hesitate to consult the Eucalyptus radiata sheet)
Anti-catarrhal activity:
Nasal catarrh is an acute inflammation of the nasal mucous membranes with hyperproduction of mucus: in other words, the nose runs very abundantly, liquid and clear. Eucalyptol not only improves the expulsion of mucus, via the activation of the ciliary cells of the respiratory tree, but it also limits the production of mucus: it dries out the airways.
Respiratory viral diseases
The mechanism of action of the antiviral activity of essential oils, and of Ravintsara in particular, is far from being completely elucidated. Nevertheless, it was demonstrated in a model of rhinosinusitis that Eucalyptol stimulated the body's antiviral response (via the activation of the IFR3 factor).
This observation, therefore, confirms, if it were still necessary, the use of Ravintsara during viral respiratory and other diseases.
It is imperative to use Ravintsara essential oil at the first signs of infection (itchy throat, a small bar on the forehead, etc.) and to respect a minimum of 3 applications per day to effectively weaken the virus!
Influenza and other viral pathologies
Antiviral activity in cases of hepatitis B or C
To illustrate these remarks, let us quote the work of the French Doctor A.M. Giraud who wrote a very nice article highlighting, in particular, the use and the effectiveness of Ravintsara as an antiviral treatment in patients with hepatitis B or C.
Treatment of warts
Ravintsara is one of the antiviral oils that can be used for the care of warts, to be combined with other anti-infectious and keratolytic essential oils, or with mother tinctures such as that of celandine or that of cedar.
In addition to its antiviral activity, Ravintsara essential oil has immuno-modulating and disinfectant properties conducive to the prevention of respiratory diseases.
Immuno-regulatory activity:
By inhibiting pro-inflammatory mediators, Eucalyptol exerts effective anti-inflammatory activity in the respiratory tract. In 2016, a team of researchers demonstrated that reducing this inflammatory activity increased the level of protection against the flu virus.
Disinfection and air purification:
Just like the Eucalyptus radiata, the Ravintsara will bring a note of freshness and a purification of the air, very useful in times of flu epidemics.
Joint and muscle pain
For pain, the properties of eucalyptol are again brought into play, namely:
Anti-inflammatory activity

Rubefacient activity

(local activation of blood circulation inducing a painkiller effect)

Skin penetration activator
Eucalyptol, but also alpha-terpineol, increase the penetration of other active substance through the skin. Thus, in the case of joint or muscle pain, the incorporation of HE of ravintsara in a preparation for cutaneous application, will allow both an anti-inflammatory action specific to the HE, and an amplification of the absorption of other substances. pain reliever via the penetrating action of eucalyptol. You can also benefit from these benefits during a hot bath.
States of fatigue
Without being exciting, ravintsara allows you to "recover" when you are convalescent, to recharge your batteries when you are physically tired. In diffusion, in massage, in a hot bath, do not hesitate to do yourself good naturally!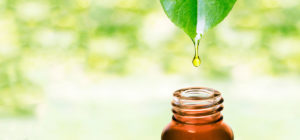 Precautions for Ravintsara essential oil
Even today, the confusion between Ravintsara and Ravensare persists.
Indeed, we still often hear consumers, or even sellers, say that they are identical essential oils, it's just the name that changes… this is obviously wrong: ravintsara is rich in Eucalyptol, while Ravensara contains, depending on the case, estragole, limonene, sesquiterpenes, and will therefore not have the same properties as Ravintsara.
Usage precautions
Do not inhale or instill into the nose before the age of 12

Oral route not recommended for children under 12 years old

Diffusion and inhalation not recommended for subjects with asthma or with dry cornea.

Not recommended for pregnant and breastfeeding women without the advice of an aromatherapist
Branding and Package Design of Ravintsara Essential Oil
Oriental Group provides a complete branding service for client wishing to penetrate their domestic markets using their very own Essential Oil Wholesale.
Bottling
We have many varieties of bottles and containers at our disposal, of course the client may supply their own, or can send us a sample for us to mass produce.
Labeling
The client can supply their own label or have one produced for them by our team of designers, we can design exactly to your specifications.
Casing
We can supply casing solutions to meet any specifications ranging from customized design cases, case printed designs and other custom requirements.
Please contact us with your requirements.
Further, you may please note that we have the strengths and capabilities to deliver international quality Essential Oil. Our additional strength today is the excellent logistic control system, which facilitates faster order processing and shipment. We have even automatized most of the production chain to ensure faster production and accuracy.
FAQ Essential Oil:
How can I get some samples?
We are honored to offer you samples. New clients are expected to pay for the courier cost, the samples are free for you, and this charge will be deducted from the payment for the formal order.
Regarding the courier cost: You can arrange a RPI (remote pick-up) service upon FedEx, UPS, DHL, TNT, etc. To have the samples collected; or inform us your DHL collection account. Then you can pay the freight direct to your local carrier company.
How does your Juniper Essential Oil do regarding quality control?
Quality is priority! Every worker keeps the QC from the very beginning to the very end:
All raw material we used are environmental-friendly.
Skilful workers care every detail in handing the stamping, printing, stitching, packing process.
Quality control department specially responsible for quality checking in each process.
Can your factory print or emboss my logo on the goods?
Yes, we can print your logo on the goods or their packing box, for patent protection purpose, a letter of attorney (letter of authorization) shall be provided for the logo.
We usually produce goods based on customer's samples or based on customer's picture, logo, and sizes etc. detail information design for customers.
Company Information:
Oriental Group
N°200 Lot Elmassar, Z.I Sidi Ghanem
Route de Safi
40 000 Marrakech
MOROCCO
Tel: +212 524 335 449
MOB: +212 600 604 387 (Whatsapp / Viber)
Fax: +212 524 457 961
Website : www.group-oriental.com
E-mail : contact@group-oriental.com
FOLLOW US:
http://facebook.com/grouporiental
http://twitter.com/grouporiental