Wholesale Ginger Oil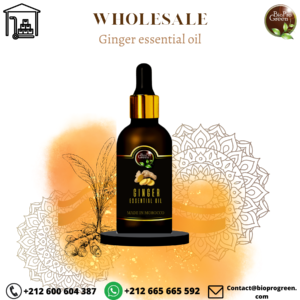 Wholesale ginger essential oil: Choose top quality with Bioprogreen
Welcome to the world of wholesale ginger essential oil from Bioprogreen. As a trusted producer, we offer premium quality ginger essential oil, ideal for your wholesale needs.
Wholesale premium ginger essential oil: Bioprogreen, your preferred partner
The guarantee of superior quality
Our rigorous production process and commitment to excellence make Bioprogreen the ideal choice for professionals seeking ginger essential oil of exceptional quality. Discover the benefits of working with us and offer your customers an unparalleled sensory experience.
The importance of transparency
When you choose Bioprogreen as your wholesale ginger essential oil supplier, you benefit from superior quality, backed by total transparency. We gladly share information about our production process, extraction methods and quality tests, enabling you to meet your own customers' expectations.
Comprehensive customer service
We understand the importance of customer satisfaction, which is why our team is here to support you every step of the way. We're available to answer any questions you may have and provide expert advice on the use of our ginger essential oil. With Bioprogreen, you benefit from exceptional customer service, which helps strengthen your relationship with your own customers.
Benefits of Bioprogreen Ginger Essential Oil
Muscle pain relief
Apply ginger essential oil locally to relieve muscle and joint pain. Its anti-inflammatory properties help reduce discomfort and promote rapid recovery.
Strengthening the immune system
Ginger is known for its antioxidant and immune-boosting properties. By incorporating it into your daily routine, you can boost your immune system and protect yourself against infection.
Benefits for skin and hair
Due to its antioxidant properties, ginger essential oil can be used to improve the appearance of skin and hair. Add a few drops to your hair care products or moisturizer for nourished, radiant skin and hair.
FAQ
What are the beneficial properties of Bioprogreen's ginger essential oil?
Bioprogreen's ginger essential oil is renowned for its anti-inflammatory, stimulating, and digestive properties.
How does Bioprogreen ensure the purity of its ginger essential oil?
Bioprogreen ensures the purity of its ginger essential oil by using organic farming practices and conducting rigorous testing at every stage of the production process.
What is the shelf life of Bioprogreen's ginger essential oil?
Bioprogreen's ginger essential oil is stored under optimal conditions to ensure its quality and shelf life, which is typically around two years.
How can I use Bioprogreen's ginger essential oil?
Bioprogreen's ginger essential oil can be used in aromatherapy, diluted in a carrier oil for massages, or added to cosmetic or personal care products.
Does Bioprogreen offer other essential oils besides ginger essential oil?
Yes, Bioprogreen offers a wide range of premium essential oils, providing you with a variety of options to meet your specific needs.
Information about BioProGreen :
 N°200 Lot Al Massar, Z.I Sidi Ghanem,  Route de Safi, 40 000 Marrakech , MOROCCO
Tel:+212 524 335 449
MOB:+212 600 604 387 (Whatsapp / Viber)
Fax:+212 524 457 961
Website: www.bioprogreen.com
E-mail: contact@bioprogreen.com
Follow us  :
http://facebook.com/bioprogreen
https://www.instagram.com/bioprogreenmorocco/
https://www.youtube.com/@bioprogreenmorocco4708