Bio Progreen: A Hair Cream Manufacturer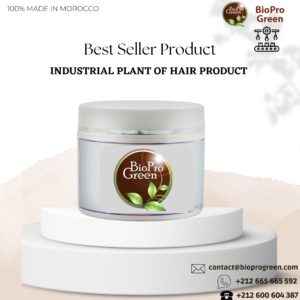 Bio Progreen has established itself as a prominent manufacturer of bulk hair cream, known for its unwavering commitment to values, sustainable labels, innovative properties, rich history, and remarkable success. In this one-page article, we will delve into Bio Progreen's core values, the significance of labels, its brand image, the unique properties of its bulk hair cream, its continuous innovations, the inspiring history behind its journey, and the resounding success they have achieved.
Embracing Core Values:
Bio Progreen operates with a strong set of core values that shape its company culture. They prioritize integrity, quality, and customer satisfaction. These values are reflected in every aspect of their manufacturing process, ensuring that their bulk hair cream adheres to the highest standards of excellence.
Significance of Labels:
Bio Progreen takes great pride in the sustainable labels they have earned. These labels are a testament to their dedication to sustainability, organic ingredients, and ethical practices. Customers can trust that the bulk hair cream manufactured by Bio Progreen not only meets their expectations for quality but also aligns with their values for environmentally conscious products.
Brand Image:
Bio Progreen has cultivated a strong brand image built on trust, reliability, and exceptional quality. Their commitment to delivering superior bulk hair cream has solidified their reputation as a reputable manufacturer in the industry. Customers recognize Bio Progreen as a trusted brand that consistently provides high-quality products.
Unique Properties of Bulk Hair Cream:
Bio Progreen's bulk hair cream stands out due to its unique properties. The carefully formulated blend of nourishing ingredients makes their hair cream highly effective in moisturizing, conditioning, and revitalizing the hair. It provides deep hydration, reduces frizz, enhances shine, and promotes overall hair health. The bulk packaging allows businesses to access these exceptional properties at a larger scale.
Continuous Innovations:
Bio Progreen thrives on continuous innovation to stay at the forefront of the hair care industry. Through extensive research and development, they explore new ingredients, formulations, and manufacturing techniques. By embracing innovative technologies and industry advancements, Bio Progreen ensures that its bulk hair cream remains at the cutting edge of hair care, providing customers with the best possible solutions.
Inspiring History:
Bio Progreen's history is marked by a journey of passion, dedication, and growth. From their modest beginnings, they have evolved into a leading manufacturer of bulk hair creams. Through their unwavering commitment to quality, innovation, and customer satisfaction, they have overcome challenges and established themselves as a trusted name in the market.
Remarkable Success:
Bio Progreen's success is evident through its achievements and industry recognition. Their commitment to values, sustainable labels, exceptional products, and continuous innovations has propelled their remarkable success. The positive feedback, customer loyalty, and sustained growth are a testament to Bio Progreen's exceptional journey and the positive impact they have made in the industry.
Bio Progreen, as a bulk hair cream manufacturer, embodies values, sustainable labels, continuous innovations, and remarkable success. With a commitment to integrity, sustainability, and customer satisfaction, they have become a trusted name in the industry. Through its unique properties, continuous innovations, and inspiring history, Bio Progreen continues to shape the future of hair care manufacturing, delivering exceptional bulk hair cream that meets the needs and exceeds the expectations of its customers.
FAQ
1) How can I get samples?
To get samples of our products, just contact us and we will be happy to offer you some. For new customers, courier costs will be charged, but samples will be free. In addition, these costs will be deducted from the official order payment. To arrange an RPI (remote pickup) service on FedEx, UPS, DHL, TNT, etc., please contact us and we will help you arrange this.
2) How does your factory perform in terms of quality control?
In our factory, quality is our top priority. We have strict quality controls in place at every stage of the manufacturing process to ensure that all our products are environmentally friendly and meet the highest standards. In addition, all workers are trained to ensure quality control, whether in the stamping, printing, sewing, or packaging process. Finally, our quality control department is specifically responsible for quality control in each process.
3) Can your factory print or emboss my logo on the goods?
We are happy to personalize our products with your logo or other distinctive marks. We can print your logo on the goods or their packaging box, depending on your needs. For patent protection reasons, we usually require a letter of permission for the logo, but we can also produce the goods based on customer samples or on the image, logo, sizes, etc. Contact us for more information on customizing our products.
 N°200 Lot Al Massar, Z.I Sidi Ghanem,  Route de Safi, 40 000 Marrakech , MOROCCO
Tel:+212 524 335 449
MOB:+212 600 604 387 (Whatsapp / Viber)
Fax:+212 524 457 961
Website: www.bioprogreen.com
E-mail: contact@bioprogreen.com
Follow the US:
http://facebook.com/bioprogreen
https://www.instagram.com/bioprogreenmorocco
https://www.youtube.com/@bioprogreenmorocco4708