Bulk and Wholesale Perfume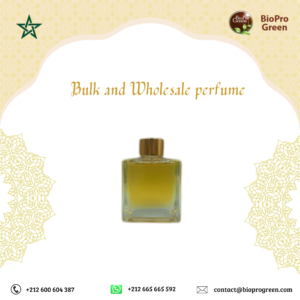 Packaging 
When designing the packaging for wholesale and bulk perfumes, we prioritize practicality and efficiency. We package these perfumes in larger containers such as bottles, jugs, or barrels, which make handling and storage during transportation and distribution easier. Additionally, the packaging includes clear labeling of product information, including the fragrance name, brand, volume, and any regulatory details. While the branding elements may be simplified compared to retail packaging, they still reflect the brand identity. Our packaging aims to protect the perfumes during transit and storage, utilizing sturdy materials and secure closures to prevent leakage, breakage, and exposure to light or air, thus preserving the fragrance's quality.
Exporting 
Exportation plays a vital role in the wholesale and bulk perfume business as it enables global distribution. Our team of wholesale and bulk perfume exporters ensures compliance with international regulations, including safety standards, labeling requirements, and necessary documentation for customs clearance in various countries. Managing the supply chain, from sourcing the perfumes to organizing logistics, shipping, and documentation, is a crucial part of the exportation process. We collaborate closely with freight forwarders and shipping agents to guarantee timely and secure delivery. Moreover, we tailor wholesale and bulk perfumes to meet the preferences and regulatory requirements of different markets. By working closely with local distributors and retailers, we gain insights into specific market needs, ensuring the fragrances' suitability.
Utilization 
Wholesale and bulk perfumes find applications across various industries and customer segments. Retailers and resellers procure these perfumes to stock their shelves and meet customer demands. They benefit from cost savings, a diverse range of fragrances, and the flexibility to create custom sets or gift packages. Additionally, wholesale and bulk perfumes are popular choices for corporate gifting or promotional campaigns. Companies can enhance their brand visibility and create a memorable impression by customizing the packaging or labels with their branding. Furthermore, fragrance manufacturers consider wholesale and bulk perfumes as essential components. They utilize them as base fragrances or ingredients for creating customized scents in perfumes, cosmetics, candles, and other scented products.
FAQ
1) How can I get samples?
To get samples of our products, just contact us and we will be happy to offer you some. For new customers, courier costs will be charged, but samples will be free. In addition, these costs will be deducted from the official order payment. To arrange an RPI (remote pickup) service on FedEx, UPS, DHL, TNT, etc., please contact us and we will help you arrange this.
2) How does your factory perform in terms of quality control?
In our factory, quality is our top priority. We have strict quality controls in place at every stage of the manufacturing process to ensure that all our products are environmentally friendly and meet the highest standards. In addition, all workers are trained to ensure quality control, whether in the stamping, printing, sewing, or packaging process. Finally, our quality control department is specifically responsible for quality control in each process.
3) Can your factory print or emboss my logo on the goods?
We are happy to personalize our products with your logo or other distinctive marks. We can print your logo on the goods or their packaging box, depending on your needs. For patent protection reasons, we usually require a letter of permission for the logo, but we can also produce the goods based on customer samples or on the image, logo, sizes, etc. Contact us for more information on customizing our products.
 N°200 Lot Al Massar, Z.I Sidi Ghanem,  Route de Safi, 40 000 Marrakech , MOROCCO
Tel:+212 524 335 449
MOB:+212 600 604 387 (Whatsapp / Viber)
Fax:+212 524 457 961
Website: www.bioprogreen.com
E-mail: contact@www.bioprogreen.com
Follow the US:

 http://facebook.com/bioprogreen
 https://www.instagram.com/bioprogreenmorocco
https://www.youtube.com/@bioprogreenmorocco4708