Bulk Haircare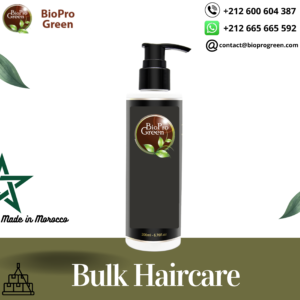 Introduction
Bioprogreen has revolutionized the hair care industry with its bulk hair care offerings. In this article, we will explore the success of Bioprogreen in the bulk hair care market, the benefits it provides, and how it has evolved to meet the changing needs of consumers and professionals.
Benefits of Bulk Hair Care by Bioprogreen
Cost-Effective Solution: Bulk hair care products offered by Bioprogreen provide significant cost savings for professionals and salons. Buying in bulk reduces packaging costs and eliminates the need for frequent restocking, resulting in better profit margins and improved business sustainability.

Consistency and Convenience: Bioprogreen ensures consistency in quality and performance across its bulk hair care range. Professionals can rely on the brand's commitment to excellence, knowing that each product will deliver consistent results. The convenience of having a steady supply of high-quality products readily available enables smooth operations and client satisfaction.

Customizability: Bioprogreen understands that every client has unique hair care needs. With bulk options, professionals have the flexibility to customize their offerings, tailoring their services to cater to individual preferences. This versatility allows for a personalized approach, enhancing the overall client experience and fostering loyalty.
Evolution of Bulk Hair Care by Bioprogreen
Bioprogreen has continually evolved its bulk hair care offerings to meet the changing demands of the market. This evolution is evident in several aspects:
Expanded Product Range: Bioprogreen has expanded its bulk hair care range to include a diverse selection of products. From shampoos and conditioners to styling and treatment options, professionals can find everything they need to address various hair care concerns.

Enhanced Formulations: Bioprogreen's commitment to research and development has led to enhanced formulations in their bulk products. By incorporating natural and organic ingredients, the brand ensures that professionals can offer their clients high-quality, effective, and environmentally friendly hair care solutions.

Innovative Packaging: Bioprogreen has embraced eco-friendly packaging options for their bulk products. Utilizing recyclable and sustainable materials, the brand reduces its environmental impact while maintaining product integrity. The innovative packaging also enhances convenience and ease of use for professionals.
Conclusion
Bioprogreen's success in bulk hair care is a testament to its commitment to excellence, sustainability, and meeting the needs of professionals and consumers alike. With cost-effectiveness, consistency, and customizability, Bioprogreen's bulk hair care offerings have become a go-to choice for salons and beauty professionals. As the brand continues to evolve and innovate, it sets new standards in the industry, promoting responsible hair care practices while delivering exceptional results.
FAQ
1) How can I get samples?
To get samples of our products, just contact us and we will be happy to offer you some. For new customers, courier costs will be charged, but samples will be free. In addition, these costs will be deducted from the official order payment. To arrange an RPI (remote pickup) service on FedEx, UPS, DHL, TNT, etc., please contact us and we will help you arrange this.
2) How does your factory perform in terms of quality control?
In our factory, quality is our top priority. We have strict quality controls in place at every stage of the manufacturing process to ensure that all our products are environmentally friendly and meet the highest standards. In addition, all workers are trained to ensure quality control, whether in the stamping, printing, sewing, or packaging process. Finally, our quality control department is specifically responsible for quality control in each process.
3) Can your factory print or emboss my logo on the goods?
We are happy to personalize our products with your logo or other distinctive marks. We can print your logo on the goods or their packaging box, depending on your needs. For patent protection reasons, we usually require a letter of permission for the logo, but we can also produce the goods based on customer samples or on the image, logo, sizes, etc. Contact us for more information on customizing our products.
 N°200 Lot Al Massar, Z.I Sidi Ghanem,  Route de Safi, 40 000 Marrakech , MOROCCO
Tel:+212 524 335 449
MOB:+212 600 604 387 (Whatsapp / Viber)
Fax:+212 524 457 961
Website: www.bioprogreen.com
E-mail: contact@bioprogreen.com
Follow the US:

 http://facebook.com/bioprogreen
 https://www.instagram.com/bioprogreenmorocco
https://www.youtube.com/@bioprogreenmorocco4708