Known for its purifying qualities, the very powerful Cinnamon bark essential oil is traditionally recommended to fight against warts. Tonic and stimulating, with a fine, warm and sweet smell, it is also used to compose perfumes. In psycho-energetic aromatherapy, it is reputed to warm up emotional, affective, and sexual coldness (stimulates sensuality).
History of Cinnamon Essential Oil
Appearing in the 12th century, the term "cinnamon" originally means "reed", probably in allusion to the pipe shape of bark sticks. It is one of the oldest known spices. It also appears in ancient Chinese, Sanskrit, Egyptian texts, and even the Old Testament. Originally, it was mainly used for its medicinal properties, as well as for religious ceremonies and magic rites. It is thought that the Chinese were already cultivating it more than 2500 years ago, while elsewhere they probably exploited those that grew in the wild, in huge colonies.
At one time, it was as precious as gold: only very rich people could have access to it. From the Renaissance, its use will gradually be democratized and everyone can now obtain this dried and rolled bark, either in the form of crumbly sticks resembling tubes or in the form of essential oil of cinnamon bark. It is also possible to buy essential oil of cinnamon leaves, cheaper but quite different in terms of composition: its smell is stronger than that extracted from the bark. It is somewhat reminiscent of clove because of its high eugenol content.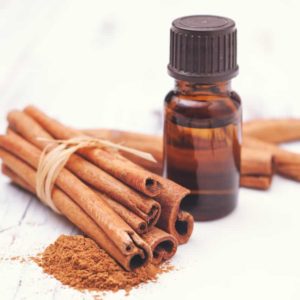 Properties of Cinnamon Essential Oil
The properties of Cinnamon Essential Oil are explained by the presence of active compounds originally present in the leaves of Cinnamomum Verum eugenoliferum or Cinnamomum zeylanicum eugenoliferum.
Anti-infectious, anti-fungal, antiviral, antibacterial, anti-parasite
Researchers have demonstrated the very strong antibacterial activity of Cinnamon Essential Oil due to its richness in eugenol. The spectrum of action of this molecule is very broad since it can also attack the cell membranes of fungi (by reducing the quantity of ergosterol, an essential component of their membrane), but also viruses and parasites.
Digestive stimulant
Eugenol also helps stimulate digestion by increasing the synthesis of gastric mucus, which also protects against gastric ulcers.
Other properties
General tonic

Immune system booster
Nervous system tonic, sexual tonic
Cinnamon Essential Oil is a central nervous system tonic: these aromatic compounds, responsible for its smell, also act on the hypothalamus and produce a general stimulating, neurotic, and slightly aphrodisiac effect.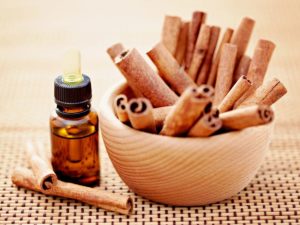 Indications of Cinnamon Essential Oil 
Cinnamon Essential Oil has multiple indications thanks to the many properties described above.
Immune deficiencies
The contribution of Cinnamon Essential Oil to the antioxidant system makes it possible to globally increase the immune response to external aggressions. It is used in case of fatigue, tropical illness (amoebiasis, typhoid fever, etc.), or when the immune system is weakened.
Digestive disorders
In view of its digestive stimulating properties, Cinnamon Essential Oil is indicated for treating infectious diarrhea and all intestinal infections (streptococcus, staphylococcus, coli bacteria, candidiasis, etc.).
ENT and respiratory disorders
Thanks to the antibacterial and anti-infectious properties of cinnamon, the oil can also help fight ENT infections such as the flu, pharyngitis, and the common cold.
Fungal infections and warts
Its powerful antifungal and anti-parasitic properties also allow it to combat these common skin disorders.
Other indications:
Urinary tract infection (cystitis, etc.)

Genital infection

For the well-being

Anguish

Physical and/or mental asthenia

Latent depression, dark thoughts

Frigidity, impotence

mental inhibitions

Drowsiness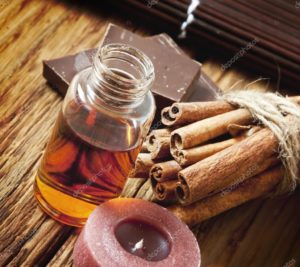 Use of Cinnamon Essential Oil
Cinnamon Essential Oil can be used in many ways for a wide spectrum of conditions and symptoms. Nevertheless, in case of doubt, it is recommended to contact a professional in order to collect personalized and secure information, adapted to your medical situation, your profile, and your age.
Cutaneous application, massage
When used on the skin, it is recommended to use it strongly diluted, because the essential oil of cinnamon is dermocaustic, i.e. it irritates the skin. Always precede the cutaneous use of a test in the fold of the elbow, in order to be certain that your skin reacts well to the essential oil of cinnamon.
For the main indications, dilute a drop of essential oil in 10 to 15 drops of vegetable oil, then apply and massage the area concerned.
Fatigue:

diluted in vegetable oil, massage the back and the soles of the feet.

Infectious diarrhea:

diluted in vegetable oil, massage the abdomen.

Flu:

diluted in vegetable oil, massage the spine and arches.

For ENT disorders:

diluted in vegetable oil, massage the back and arches of the foot.

Mycosis of the feet:

diluted in vegetable oil, apply directly to the affected areas.

Warts:

pure directly on the wart (be careful not to apply on the skin).
Branding and Package Design of Cinnamon Essential Oil
Oriental Group provides a complete branding service for clients wishing to penetrate their domestic markets using their very own Cinnamon Essential Oil Wholesale.
Bottling
We have many varieties of bottles and containers at our disposal, of course, the client may supply their own, or can send us a sample for us to mass produce.
Labeling
The client can supply their own label or have one produced for them by our team of designers, we can design exactly to your specifications.
Casing
We can supply casing solutions to meet any specifications ranging from customized design cases, to case-printed designs, and other custom requirements.
Please contact us with your requirements.
Further, you may please note that we have the strengths and capabilities to deliver international-quality of Cinnamon Essential Oil. Our additional strength today is the excellent logistic control system, which facilitates faster order processing and shipment. We have even automatized most of the production chain to ensure faster production and accuracy.
FAQ Cinnamon Essential Oil:
How can I get some samples?
We are honored to offer you samples. New clients are expected to pay for the courier cost, the samples are free for you, and this charge will be deducted from the payment for the formal order.
Regarding the courier cost: You can arrange an RPI (remote pick-up) service with FedEx, UPS, DHL, TNT, etc. To have the samples collected, inform us of your DHL collection account. Then you can pay the freight direct to your local carrier company.
What does your Cinnamon Essential Oil do regarding quality control?
Quality is a priority! Every worker keeps the QC from the very beginning to the very end:
All raw material we used is environmental-friendly.
Skillful workers care about every detail in handling the stamping, printing, stitching, and packing process.
The quality control department is specially responsible for quality checking in each process.
Can your factory print or emboss my logo on the goods?
Yes, we can print your logo on the goods or their packing box, for patent protection purposes, a letter of attorney (letter of authorization) shall be provided for the logo.
We usually produce goods based on customers' samples or based on customers' pictures, logos, sizes, etc. detailed information design for customers.
Company Information:
Oriental Group
N°200 Lot Elmassar, Z.I Sidi Ghanem
Route de Safi
40 000 Marrakech
MOROCCO
Tel: +212 524 335 449
MOB: +212 600 604 387 (Whatsapp / Viber)
Fax: +212 524 457 961
Website : www.group-oriental.com
E-mail : contact@group-oriental.com
FOLLOW US:
http://facebook.com/grouporiental