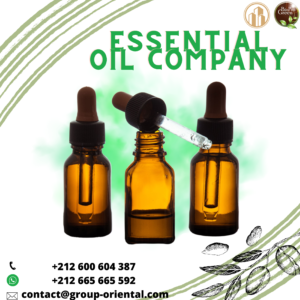 Introduction 
Essential oils are natural plant extracts known for their therapeutic, aromatic, and cosmetic properties. For thousands of years, they have been used for their benefits on health and well-being. Today, they are widely present in our daily lives and are used in a variety of products such as cosmetics, perfumes, cleaning products, and wellness items.
Experts dedicated to quality
Essential oil companies play a key role in the industry. They offer a wide variety of essential oils derived from different plants and cater to the needs of various clients, including suppliers, distributors, manufacturers, and exporters. They also provide the option to create private-label products based on essential oils.
An essential oil company: Packaging of essential oils
Packaging of essential oils is crucial to ensure their quality and effectiveness. Essential oils are sold in tinted glass bottles to protect them from light and air, and they need to be tightly sealed to prevent any contamination. It is important to choose appropriate packaging to shield the oils from light, heat, and moisture.
Essential oils offer numerous therapeutic benefits. They can be used to relieve headaches, reduce stress and anxiety, boost the immune system, improve sleep quality, alleviate muscle and joint pain, and aid digestion. They are also widely used in aromatherapy to create a relaxing and soothing ambiance.
FAQ
1) How can I get samples?
To get samples of our products, just contact us and we will be happy to offer you some. For new customers, courier costs will be charged, but samples will be free. In addition, these costs will be deducted from the official order payment. To arrange an RPI (remote pickup) service on FedEx, UPS, DHL, TNT, etc., please contact us and we will help you arrange this.
2) How does your factory perform in terms of quality control?
In our factory, quality is our top priority. We have strict quality controls in place at every stage of the manufacturing process to ensure that all our products are environmentally friendly and meet the highest standards. In addition, all workers are trained to ensure quality control, whether in the stamping, printing, sewing, or packaging process. Finally, our quality control department is specifically responsible for quality control in each process.
3) Can your factory print or emboss my logo on the goods?
We are happy to personalize our products with your logo or other distinctive marks. We can print your logo on the goods or their packaging box, depending on your needs. For patent protection reasons, we usually require a letter of permission for the logo, but we can also produce the goods based on customer samples or on the image, logo, sizes, etc. Contact us for more information on customizing our products.
 N°200 Lot Al Massar, Z.I Sidi Ghanem,  Route de Safi, 40 000 Marrakech , MOROCCO
Tel:+212 524 335 449
MOB:+212 600 604 387 (Whatsapp / Viber)
Fax:+212 524 457 961
Website: www.bioprogreen.com
E-mail: contact@www.bioprogreen.com
Follow the US:

 http://facebook.com/bioprogreen
 https://www.instagram.com/bioprogreenmorocco
https://www.youtube.com/@bioprogreenmorocco4708