Factory of Argan Anti-Acne Cream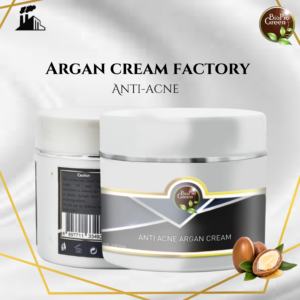 Description of Argan Anti-Acne Cream
Firstly, if you're looking for a natural solution to treat skin issues, our argan anti-acne cream is a smart choice. Made from argan oil extracted from the nuts of the argan tree, our cream is carefully produced by our argan oil production factories. We use traditional techniques to ensure the quality and purity of our product.
Argan Oil Production Process
The process of producing argan oil begins with the harvest of argan nuts in the forests of Morocco. The nuts are then dried in the sun to facilitate the extraction of the oil. These nuts are then cracked to extract the almonds, which are then roasted to give them their distinct color and flavor. The almonds are also then ground to produce a paste that is pressed to extract the argan oil.
Manufacturing of Argan Anti-Acne Cream
In fact, once the argan oil is extracted, it is transported to our production factories where it is used to manufacture our argan anti-acne cream. We use a natural formulation for our cream, adding ingredients such as vitamins, essential fatty acids, and antioxidants to help moisturize the skin and prevent the onset of acne. We also use environmentally friendly production techniques to minimize our impact on the environment.
Application of Argan Anti-Acne Cream
Besides argan anti-acne cream should be applied to clean, dry skin. It can be used in the morning and evening, or as needed. A small amount of argan cream should be applied to the face and gently massaged until it is completely absorbed by the skin. Moreover, it's important not to use too much cream, as this could make the skin oily and cause new acne problems.
Benefits of Argan Anti-Acne Cream
In other words Argan anti-acne cream is so beneficial for the skin in several ways. It helps to remove impurities from the skin, reduce redness and inflammation, and prevent the onset of new breakouts. It moisturizes the skin and prevents dryness, which is important for maintaining healthy skin. This argan cream is also beneficial for existing acne scars, as it helps to reduce their appearance. Finally, our cream is environmentally friendly, as it is made from sustainably extracted argan oil and our production factories use environmentally friendly production techniques.
FAQ
How do I get samples? We offer free samples, but new customers will have to pay the courier fee. This fee can be deducted from the official order payment. You can arrange RPI service on FedEx, UPS, DHL, TNT, etc.
How does your factory ensure quality? We attach great importance to the quality of our products. Each worker ensures quality control from the beginning to the end of the manufacturing process by using only environmentally friendly raw materials. In addition, a specific quality control department is responsible for verification at each stage of the process.
Can you print my logo on the goods? Yes, we can print your logo on the goods or their packaging box. However, to protect patents, you must provide a letter of authorization. In general, we produce the goods according to the customers' samples or based on the image, logo, sizes, etc.
Information about BioProGreen
BioProGreen
N°200 Lot Al Massar, Z.I Sidi Ghanem
Route de Safi
40 000 Marrakech
MOROCCO
Tel:+212 524 335 449
MOB :+212 600 604 387 (Whatsapp / viber )
Fax: +212 524 457 961
Website : https://www.bioprogreen.com/
E-mail : contact@bioprogreen.com
Follow US:
 http://facebook.com/bioprogreen
 https://www.instagram.com/bioprogreenmorocco
https://www.youtube.com/@bioprogreenmorocco4708